Andie MacDowell Talks About New Show 'Jane By Design' & Her Fashion Sense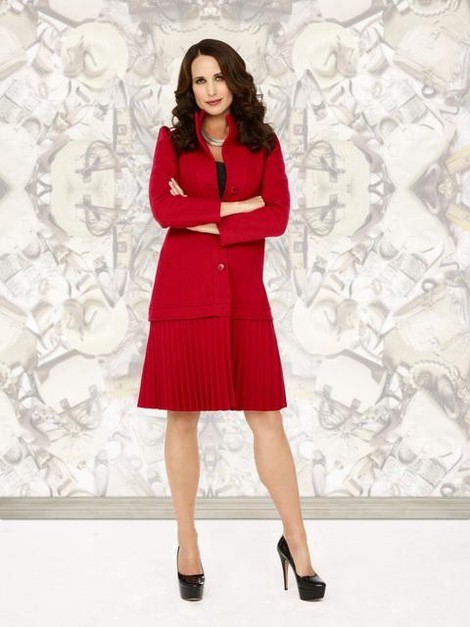 "Jane By Design" centers on a teenager who lands a job at a hip fashion house where they mistake her for an adult. Jane (Erica Dasher) soon finds herself juggling life both as a regular high school student and as an assistant to high powered executive Gray Chandler (Andie MacDowell) in the cutthroat world of fashion...all while trying to keep her true identity a secret.
The series premieres Jan. 3 on ABC Family.
Who or what inspired your personal fashion style?
Andie MacDowell: My personal fashion style—I think it's my nature probably more than anything.  I just go with things that I like my personal self.  The things that make me feel warm and comfortable.  I'm really into boots.  I like jeans.  I don't know, I'm kind of a country girl, but yet I can also enjoy dressing up because I think I was exposed to certain things in the fashion world. 
I come from a small town and I grew up very simply so I think there's a piece of me that will always be that.  But I've been exposed to high fashion so there's also going to be that piece as well.
How have the fashion elements enhanced the show either for you personally or for the quality of the show overall?
I think the set's beautiful, and I think the clothes are beautiful.  It's fun to go to work everyday and put on amazing Alexander McQueen and Gucci and Vivienne Westwood.  It's a lot of fun.  … was sort of deja vu of how I started out.  I played so many mommy characters that didn't wear anything nice, and it's a lot of fun to play this particular character because I enjoy getting dressed up every day and going to work. 
And Erica looks amazing, really fun.  I think that the kids are really going to—the young people are going to love just seeing how she's dressed.  And India too, they look great. 
How do you feel about comparisons made between a show like "Jane by Design" and The Devil Wears Prada, for example?
I just think that's an easy comparison.  So if you want to tell somebody what it's like—because I've even used it, to tell you the truth.  If you want to explain it to somebody in a nutshell kind of what the show is, you can say, 'It's not really this, but it's kind of like that.'  And that's the truth.  It's not really that.  It's only kind of like it. 
So it's not exactly that story by any means.  There's much more to it because she has the whole high school life going on, and that is really an important part of the story. That's one of the most powerful things of the story is being able to see the difference between these two worlds, and that wasn't at all in The Devil Wears Prada. 
So you can compare it to it because it is about an assistant and a boss and it is the fashion world.  So those are really the main similarities.
Check out "Jane By Design" on Facebook, and talk about your fashion style!