Andew WK talks Lee "Scratch" Perry Album

In 2006,
Andrew WK
released
Close Calls with Brick Walls
, his first collection of new material since 2003's The Wolf. The 18 track long journey of meticulously produced infectious rock songs kicked off an exciting year for WK, which included starting production on his own television show, a nation wide party tour where Andrew DJ'ed and spoke to his legion of fans on topics ranging from philosophy to the quest for happiness, and the anticipated release of even more new WK albums. However, Andrew put those new recordings on hold to collaborate on a new album with Reggae and Dub pioneer
Lee "Scratch" Perry
. Starpulse spoke with Andrew about what he's learned from the experience and what fans should expect from the duo.
How has your experience working with Lee "Scratch" Perry been?
It's been absolutely life changing and very powerful. Not just in the mechanics of the experience, meaning making the songs and listening to him record and seeing how he approaches the recording process; those are equally exciting experiences I've had. What's been most valuable is to be around him as an individual. To witness someone who's lived the life that he's lived and continues to do so. He continues to be as in the moment and as powerful as I think he's ever been, in different ways. I feel like he's more advanced now and focused now in these ways. He must have been when he was younger. He's just been accumulating these experiences and powers this whole time. He was operating on a level--not just in music, but also as a human-that I had never really experienced before, that I had never really watched or witnessed before. I'm, incredibly, and endlessly grateful just to have been in his presence.
What are some things that you think you've learned from working with him?
He confirmed a lot of hunches about the creative processes of life. I think that every aspect of life is creative and artistic, whether we realize it to be or not. Not just moments where we're making music, or doing something that's thought of to be artistic. The fact that we're constantly making choices, just like I choose what note to play or you choose what color to put on a canvas; you choose what decision to make, time and time again, throughout every day. Each one of those choices is part of the creative process. I think he is someone who has embodied that so fundamentally that its not even second nature. He is an artist in every possible sense of the word. His life is art. I think that we all are, in fact, doing the same thing. But he's very aware of it, and he's made other people very aware of it, and maybe that's the difference.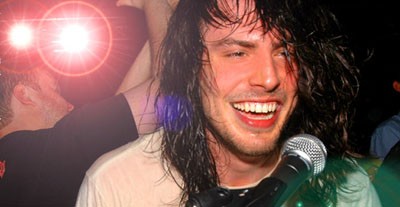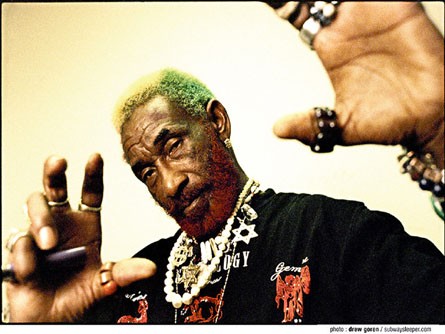 Do you think there's anything that he learned from you in the process?
(Laughs) I don't know. He said some very nice things to me. I think he's wise enough to understand that every teacher is a student and every student is also a teacher. But, I would never be so bold as to speak for him or put words in his mouth or even assume what he's thinking. Part of what has made him so exciting to be around is that I really don't know anything about him. It's impossible to know. He's a very mysterious, magical man that also inspires a sort of curiosity and I think he understands that that draws people to him.
We were doing an interview at the same time, someone asking us questions back and forth, and they asked him what the process is for when we're recording and for when we're making a song, or how does it work. "How do you tell Andrew what to do?" and he said, "I don't tell Andrew what to do." They said, "what do you mean?" and he says, "I just think about what I want to happen and I think about what I want the song to sound like and I think about what I want the end result to be and then it happens." And that's a very magical approach where his will is so strong and his purpose is so clear to him that he doesn't even have to do it. It just happens.
Where are you in terms of the stage of the album you're working on with Lee?
The album is called "Repentance." We began recording it in Anaheim, CA in August, I think. It's all kind of a blur. My sense of time has continued to deteriorate in general. But, I went in without any idea of what we were going to do. The way Lee seems to prefer to work is to keep things as spontaneous, as open, and as freeform as possible. Which isn't to say that he doesn't come in with some kind of idea. But he did not tell me--and I didn't get a sense from the record label, they didn't know. It was just "we're going to go, and we're going to see what happens." So, we just did whatever he wanted.
In Anaheim we recorded about 15 songs with very few vocals, just mostly laying down these skeletal parts. There was a drummer there, there was a bass player there, and there was a saxophone and keyboard player there, including me and I played mostly guitar. Which, again, I think was a magical experience because I told Lee, "look, I've never really player guitar to the point where I'd feel comfortable offering my services on guitar." I'd figure out these somewhat convoluted ways to play. And he said, "No, you just play." So I didn't fight back, I just thought, "Well, if he thinks I can do it, and then I guess I'll be able to do it." Before I knew it, I was playing this very particular style of reggae or dub or Jamaican stick guitar, stick bass, which is mostly one string, which was perfect for me. I couldn't believe how well I was doing. I certainly wasn't as advanced as someone who'd been doing it, but the fact that I'd never done it, and his belief that I could do it, seemed to make it possible.
So we wrapped up that session and then scheduled to have lee come to New York to do his vocals and to work further on the recordings. That we did in Brooklyn about--again it's hard to say-but maybe a month and a half ago. So, now I'm at the stage where I'm taking all this material we've worked on and I'm post-producing it. I'm organizing it, taking all the best takes, editing parts together, putting things in different arrangements and mixing. Then I'll go out to Jamaica to be with Lee to do the final mixing and do whatever else he wants to do with it. But he's given me an incredible amount of trust and responsibility and freedom, as well. I think I'm making it the way he wants, whether I'm realizing it or not.
Are you able to relate what the record is going to sound like?
Yeah. He said, originally going into it, one of the bits of structure or premeditated vision that he had for it was to be more rap-oriented. To not just be another reggae or dub style album. I was very excited about that as well, cause I wasn't too interested in making a record like he had already made. So I think we were both excited about coming up with a new sound. Certainly not abandoning dub or reggae or any other musical background of his. I think his strongest background is someone who's always been new, always been inventing, always been pushing forward yet having these amazing consistencies that come from his essence. So that no matter how different or crazy something would be made, it would still be Lee Perry. So it does have, from what I've heard--and he does have a huge number of recordings--but from what I've heard this does sound very different. It's a new sound, and I think it's very relevant. And that's what he said as well. That he wants this to be a relevant album.
I think that Lee is not only the pioneer and inventor of dub music and maybe sort of soul groove music but also is one of the first rappers. One of the first spontaneous freestyle vocalists. He has, in the last 10 years, developed that ability more than any of his other powers as an entertainer, as an artist. He's really stepped up his front man style, his ability to focus his front man attention just through his voice. He certainly sang and did amazing vocal performances since the early days of his music, but I see a lot of advancements in his voice now. He's at the top of his game. While recording, any sound that came out of his mouth had everyone in the room, including me, in complete attention. He did not let up until we stopped. He commands a great deal of power with just words.
You've mentioned that you've got a lot of projects on your plate, and there are new things popping up all the time. What else have you got in the works?
Well, the Lee Perry album is the priority music-wise, but I do have more and more albums of my own piling up because I continue to prioritize other music. So I am very excited about putting out this music's that I've been recording and working on for over four years now. There was music I was working before Close Calls. There's music I was working on from before I Get Wet. I'm excited that there's going to be a time and a place for all of it when its right and when its ready. I've been very grateful to find myself in a position now where I don't have to do anything in particular, I just get to do what I can and want to do. I'm more grateful for that than anything.
To me, that's the best position to be in, that's the ultimate life; to be able to do exactly what you want. So I'm enjoying that freedom. I'm enjoying having these opportunities and being able to take them. To be able to take on the Lee Perry project when it came up on relatively short notice, and being able to put my own music on hold, that was a great feeling. To have that kind of flexibility, to not feel pressured or rushed, to be able to take these kinds of risks now, as they come up, rather than not doing them and looking back and going, "I can't believe I didn't do that. I had the opportunity and I felt like I couldn't do it." Nothing's really more important to me right now than being able to follow through in instinct. To not get too locked into any one plan that says, "This is what has to happen now," or, "This is what you need to do". I don't have to do anything other than what I want and that's what I wish for everybody.
Interview by
Ben Kharakh
Starpulse.com contributing writer