Anderson Cooper Live Blogger - March 6th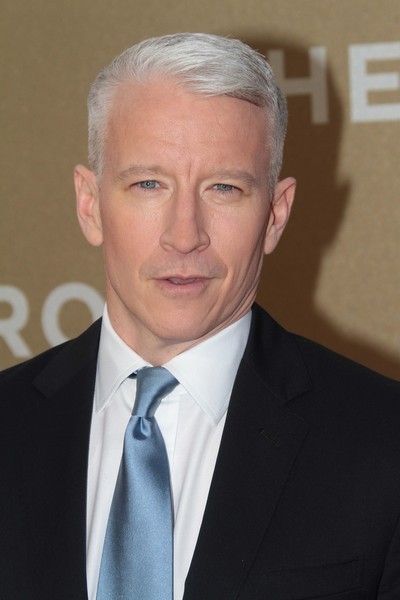 I had the pleasure of being on the set for today's filming of Anderson Cooper Live as a Blogger for the show. It was certainly an experience, and I will start off by saying I thoroughly enjoyed the show, and being on it.
Anderson's Co-Host Today was Lisa Rinna, former soap star of 'Days of our Lives.' She was a real high energy co-host, and the showing started off with her propensity to swear on live television. It was a good start to an exciting show.
The first story talked about was about frozen, flying human excrement crashed through the roof of a caravan in Pattingham. Surprisingly, the woman saved the frozen excrement in her freezer. For what purpose? We can only guess.
After that, we heard a rather heart-wrenching story about Lorainne Bayless, a retiree in the Glenwood Gardens (CA) nursing home, died the other day because a nurse refused to give her CPR. Instead, she called 911, and despite the operator pleading with the woman to administer CPR, she refused, stating it was against corporate policy. The entire audience was shocked by the audio log, and Anderson called up the 911 Operator and personally thanked her for her dedication.
The next part, however, was probably the most entertaining and downright strange segment of the entire show; Anderson had two guests from TLC's 'My Strange Addiction' on, to talk about their outlandish compulsions.
First was Natasha, who you might recognize from the show as 'the girl who eats clay face mask.' Natasha said she can hardly function without it, certainly can't drive without it, and craves the 'heaviness' in her stomach. When Anderson asked her what the sensation was like, she responded with "eating my 'dirt' … it's orgasmic."
Dr. Tiffany Davis, a behavioral psychologist Anderson had invited onto the show, believed that this was a compulsion rather than an obsession, and as such there might be a possible medical explanation for her urge to eat face mask. Most sensibly, she said, it would be an extreme iron deficiency manifesting itself in a radical way. She was concerned however, about the possible medical complications of consuming too much face mask, which Anderson showed the audience was a whopping 59 pounds accumulated over the course of every year. Note – Natasha has been consuming this much clay annually, for over seven years now.
When Davis asked her if she felt healthy or unhealthy, she replied that she felt healthy most of the time, only really feeling ill when she didn't eat her 'dirt.' Davis labeled that as a symptom of physical withdrawal.
Next up was Margaret, another 'My Strange Addiction' Star – who is addicted to the sting of bees. She says she has been 'stinging' since 2001, when she was being treated for arthritis with cortisone injections into her hip, which were not only unsuccessful, but terribly painful in and of themselves. She did her research and found that bee venom therapy predates even acupuncture, and started her own personal treatment in lieu of the cortisone, to tremendous effect; only now she doesn't want to stop.
Dr. Davis says there is some real medicinal relief to be garnered from this therapy, but now it's become not only an addiction but a social problem. Additionally, she is worried for Margaret's future health, that she might become allergic to the bees and a sting might result in her death or serious medical complications. Margaret admits to Anderson that she has been, in fact, stingless for a week, which got applause. However, this was not of her own decision. She added that finding the bees in the winter months was problematic. She added that her hip was currently on fire and that she was in a tremendous amount of arthritic pain. When Anderson offered her medical help by a trained specialist, she replied that she would continue to sting 'If and when I need to.'
The next segment involved guest star Ricky Schroeder, famous child actor on 'Silver Spoons' and a longtime adolescent crush of Anderson. He brought both Anderson and Lisa a candle made of some sort of oil based wax, which he said you could actually use as a skin moisturizer. When Anderson asked him about his experiences on Silver Spoon, he replied that he had a lot of great memories from the show. From that, he talked about his family, how his daughter had just started getting into acting and his wife, who had literally dreamed of marrying him from the time she was eight. We were shown pictures of her 'vision board' which predicted their marriage and even the number of kids they would have together. It was adorable in a somewhat scary kind of way.
The last segment of the show was budget beauty tips with Sandra Vergara. She said that most people think Latin women have a certain 'spice' to them, when in actuality, all women have spice – and that's confidence. She then says that it doesn't take plastic surgery to make your face look like it 'glows.' Anderson looked to Lisa, who was turning very red, and began to laugh. Sandra showed us a variety of beauty products that were not only inexpensive, but easy to apply to make any girl 'glow.' The tips were overall, very comprehensive.
That was where the show rapped up for the day and my stint as an Anderson Live Blogger . But I couldn't leave without one more thing: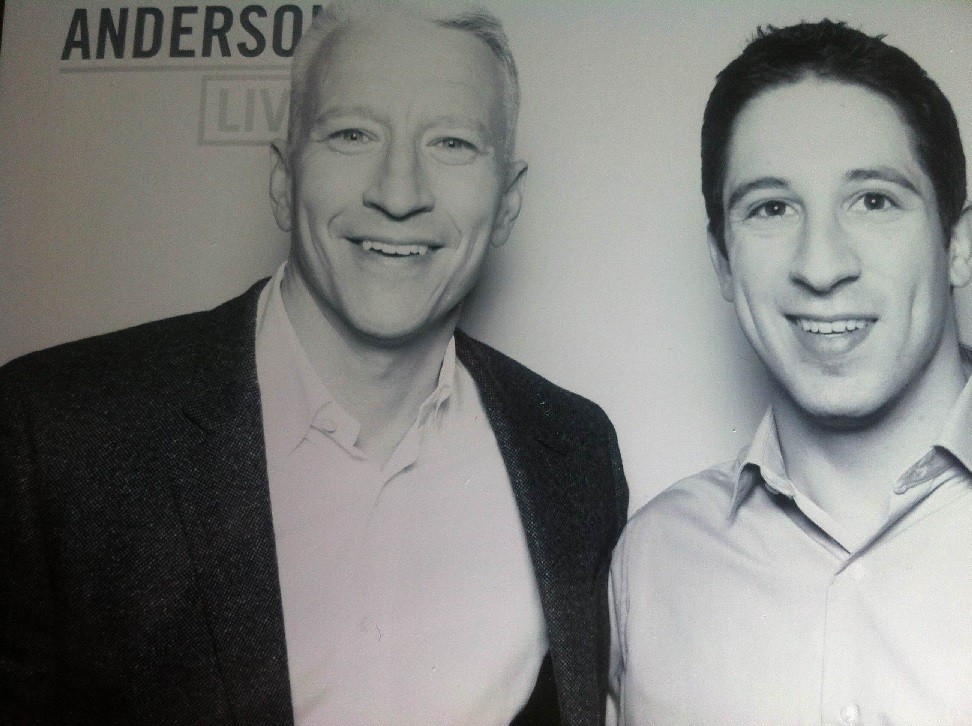 Not a very flattering picture, I know. But at least one of us looks good. I'll let you decide just who that is.