An Unexpected Death Rocks 'House'

Well, the self-proclaimed "most dramatic episode of
House
yet" is over, and the responses are rolling in from both sides of the spectrum. Some people are angry, some are confused, some are horrified, and some are heartbroken. Honestly, considering all the melodramatic ads, the fact this tragic death came out of nowhere, and the fact they clearly were just pushing it for a "message" or to shock the audience ... "House" may be guilty of sensationalism. It wouldn't be the first time, but it's a little sad that a good character had to be victimized for it.
Yes, there will be
big spoilers
in this recap, so don't read until you've seen the episode!
The patients of the week are Eddie and Charlotte, an older married couple who both have fairly serious health issues. Eddie has a heart condition and Charlotte always takes care of him, but suddenly she is rushed to the hospital because she stops breathing. And when she gets ill, Eddie seems to get better. But they really don't matter, since the real problem is that Kutner commits suicide. Yup. He doesn't show up for work so Foreteen stops by his house and finds his body. Everyone is reacting in expected ways: House is obsessing over why he didn't see it, Foreman is withdrawing just as Thirteen is trying to connect, and Taub just ignores it altogether.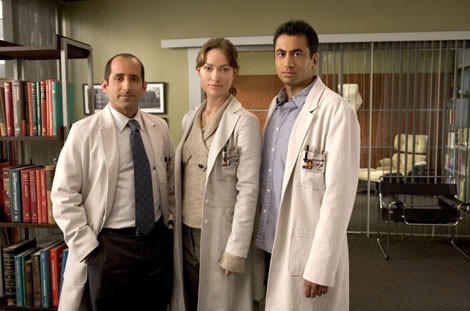 Taub is the only real doctor this week caring for the patients, as Foreteen wallows in their angst, and House keeps going to Kutner's house so he can get clues. He convinces himself that Kutner was murdered, not too long after telling Kutner's adopted parents it was their fault he died. Cuddy and Wilson try to give their own versions of sympathy to House, although something seems up with Wilson. He is a little angrier than usual and mentions having something else to worry about other than House. Interesting. Why is that more interesting than the suicide? That's the problem.
Kutner, played by
Kal Penn
, was a very sweet man. He was optimistic and friendly to a fault. Clearly he had some issues hidden underneath the smile, and as they point out on the show a good percentage of suicides seem to come out of no where with no warning. Yet why does it still feel like this episode was the writers of "House" trying to educate everyone rather than it feeling like a natural progression? Perhaps if it was another character, one that was fleshed out more and not so obviously a sacrificial lamb, it would've worked better. Who knows. Personally, I felt nothing about it. Several other fans were very affected, however, so it worked for some!
In any case, both patients start to die and when House actually pays attention, he realizes what is wrong with first Eddie, and then Charlotte. This is not before they indicate that either of the spouses would purposely die for the other, thus setting up a selfless version of suicide as a parallel to Kutner's sudden 'selfish' act. Then it turns out Charlotte was a adulterous wife anyway (it's become cliche at this point), and she dies while Eddie lives. Taub stays with them instead of going to the funeral, but breaks down while all alone, and Peter Jacobson really knocked that scene out of the park. Hugh Laurie also has a fantastic moment when House sits down on Kutner's bed with a picture of him looking dark and sad for just a fleeting instant, and it ends on that.
While the episode had its weaknesses and Kutner's death felt a little too plot device-y, like "oh, now the characters will angst and grow from this experience," it was still very well acted on all parts. Next week we are apparently returning to "House" season one when Cameron was House's stalker, er "in love with him," and the writers think people still care. Okay!
"House" is on FOX Monday nights at 8 PM EST.
House cast:
Hugh Laurie
/
Lisa Edelstein
/
Omar Epps
/
Robert Sean Leonard
/
Jennifer Morrison
/
Jesse Spencer
/
Peter Jacobson
/
Kal Penn
/
Anne Dudek
/
Olivia Wilde
/
Edi Gathegi
What did you think of the latest episode of "House?" Let us know in the comments!
Story by
Chelsea 'Dee' Doyle
Starpulse contributing writer