An Open Farewell To 'Killer Women'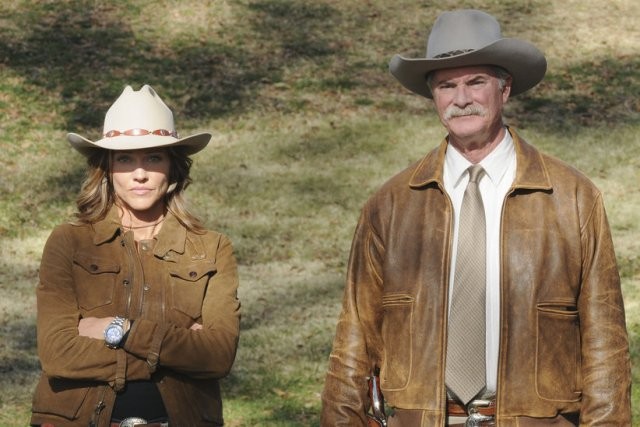 Dear Killer Women,
So tonight is your season finale. According to popular opinion, it's also your series finale. We're not giving up on you, but just in case we don't see you again, we wanted to let you know that we've enjoyed these last seven weeks.
Sure, you're not perfect. There are things that you could've done better. And the comparisons to Justified didn't help, especially when you were going up against that amazing show. But we think you kind of got a bum rap, being written off so early. So here's our attempt to add one last point in the other direction.
Thank you for all these things we learned from you. Thank you for giving Tricia Helfer her own show, after we didn't see enough of her in The Firm and Lie To Me and Dark Blue. Thank you for making it the same show as Michael Trucco, so that we could sit around on Tuesday nights and make Battlestar Galactica jokes, and be fondly reminded of how much that series meant to us.
Speaking of Michael Trucco, thank you for bringing him back to TV as Molly's brother Billy, so that we could enjoy how tremendously gifted he is again, even if it was only in a handful of scenes per episode. He really is one of the best actors we've ever seen, and we guess now we've told him that. Thank you for introducing us to his TV spouse, the lovely and multi-talented Marta Milans, who we're hoping to see in many more projects in the future. She's a star, not to mention a great person off-screen, too.
Thank you for casting Jeffrey Nordling as Molly's ex-husband Jake, because even though we want to punch Jake in the face every scene he's in, we're never going to argue with more Jeffrey Nordling. Actually, we're still ticked off that TPTB killed off his character Larry Moss on 24. Thank you for Beth Riesgraf as Jennifer Jennings, which made it hurt a little less that Leverage got cancelled. Plus, Jennifer beat up Jake, so that earned her some bonus points.
Thank you for making us able to name a TV show shot in Albuquerque other than Breaking Bad. That'll probably come in handy for a trivia game at some point.
Thank you for being a show with good intentions, even if you stumbled in the execution. It was wonderful to see a show with a Mexican-American main character who was written just like everyone else in Becca Parker; we admired that she was a strong, intelligent woman whose ethnicity did not define her. So, too, was it nice to see a normal, well-adjusted family with Becca, Billy and their two daughters, when so many shows have protagonists with overdramatic home lives. Thank you for, in a TV landscape when so many shows purport to be about strong women, actually being a show about a woman with real emotional and physical fortitude.
Lastly, thank you for reminding us not to always look at the big picture. So often in this world where shows come and go in the blink of an eye, we don't always appreciate the short-lived and the low-rated ones. Yet some of the best are the ones that aren't with us very long. And even when you don't win the game, sometimes there are still moments you remember. Thank you for giving us plenty of those moments.
Hopefully we'll see you on DVD. We still want to see that unaired episode.
Sincerely,
BFTV
P.S. - SPOILER ALERT - If you don't get Billy out of trouble and keep him in one piece, we're going to rampage.
The season finale of Killer Women airs tonight at 10 PM ET/PT on ABC.
(c)2014 Brittany Frederick. Appears at Starpulse with permission. All rights reserved. No reproduction permitted. Visit my official website and follow me on Twitter at @tvbrittanyf.