An Insider's Look At Angelina Jolie & Brad Pitt's Big, Happy Family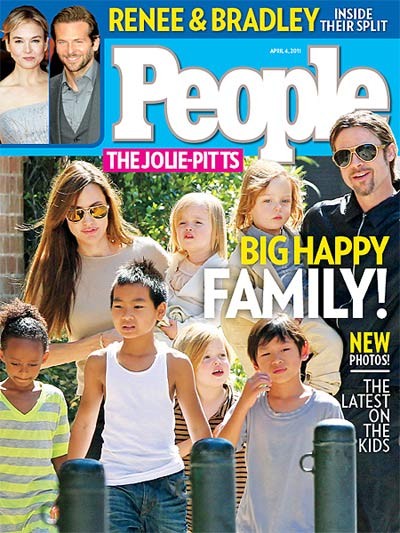 From close encounters with alligators to organized chaos at home, Angelina Jolie and Brad Pitt make the most of their time with their six children – Maddox, 9; Pax, 7; Zahara, 6; Shiloh, 4; and twins Viv and Knox, 2. "The kids are the constant in their lives," a friend tells PEOPLE in this week's issue. "They do so much that is organized around them."

The clan happily cruised along the bayou in a flat-bottomed aluminum swamp boat at the Honey Island Swamp near New Orleans on March 19th. While shocked tourists did double takes, the Jolie-Pitt kids "got a kick out of the alligators," says Mike Fridge, general manager of Cajun Encounters swamp tours. Their favorite part of the trip? When the boat captain put the pedal to the metal. "They're kids; they love going fast," he says. As for their parents, "Brad and Angelina really enjoyed themselves," Fridge tells PEOPLE. "They didn't want any special treatment. They just wanted an adventure with the family."

Lately Pitt, 47, has been in New Orleans shooting the crime drama Cogan's Trade while Jolie, 35, held down the fort at their Los Angeles home. With the couple making it a point to never be apart for more than a few days at a time, Jolie flew in on March 18th for some togetherness with all six kids. Strolling around their French Quarter neighborhood on March 20th, "Brad and Angie seemed very happy to be spending time with their whole family," says an observer. The twins, who will celebrate their third birthday in July, "are finally old enough now that Brad and Angie seem to be finally catching their breath as a family," says a friend, "and finding a balance as a working couple for the first time."

At their LA home, "the family live in a way that can best be described as organized chaos," says an insider. "Of course it's wild when all the kids are there, and evening tends to be a bit chaotic with dinner and bedtime." As with any family with young children, "some nights the kids are calmer, but some nights there are meltdowns all around," notes the source. "Brad and Angie are both good with rules, and there are definitely consequences, like time-outs, for bad behavior. But for the most part the kids all get along."

As for rumors that the twins have developmental delays, a source says the opposite is true. "Viv and Knox are very developmentally advanced," says the source, adding, "If one of their kids had a problem, Brad and Angie would be the first to openly address any challenges to help other parents out." Zahara "is very energetic but easy and fun," says a source. "She helps Angie with the twins and rarely gets into trouble." However, "Shiloh definitely had a hard time when the twins were first born," the source adds. "But now she is very sweet with them."

And as Jolie-Pitt kids get older, friends say, Brad and Angelina have hit their stride as parents. "It's so amazing to see [Brad] surrounded by all these children calling 'Daddy! Daddy!'" says a pal. "He's completely at home." Jolie, meanwhile, "seems like the coolest mom," says another source. "Angie brings Viv and Knox to work most days so they can play with other kids at the [studio] child care center," says another source.

And with such a big, busy brood, teamwork is key for Brad and Angelina. Says the family friend: "It's interesting – like she's the star quarterback and he's the NFL coach. They're dedicated to making it work."


*Also In This Week's 'People'*
-Inside Renee & Bradley's Split: "At The End Of The Day, They Weren't On The Same Page," Says Source
-Behind The Scenes With Today's Kathie Lee & Hoda: "We Were Meant For Each Other," Says Kotb
-Broadway Star Constantine Maroulis Introduces Baby Girl: "I'm Sure She'll End Up Onstage"
-Vanessa Hudgens: "The Internet Is The Worst Invention Ever"
The new issue of PEOPLE Magazine is on newsstands now!
Click for more great Angelina Jolie pictures: