An Inside Look At 'Toy Story 3' From Disney's D23 Expo

There was little question that many of D23's many participants were mainly there to see the exclusive clips
John Lasseter
previewed from
Toy Story 3
. Lasseter himself said he had been thinking about this movie since 1999, when his team was working on the second installment. In many film series, especially ones that start production years after the originals, the young actors have to be recast as they age. However, Disney has rarely seemed to subscribe to this seemingly cruel Hollywood rule (
Eric Lloyd
appears as a somewhat surly teenager in
The Santa Clause 2
and then comes back for a cameo has a practical adult in the third). And it keeping with the theme of the
Toy Story
series, loyalty matters above all else: Andy has always been loyal to his favorite toys, even when newer flashier models hit the market-- and even now that he is all grown up.
Yes, folks, Andy is heading off to college! But the young boy who portrayed him is back to voice him once again. John Morris hit put his headphones back on and stepped into a recording studio to play with Buzz, Woody, Mr. Potato Head, Weezy, and the whole gang one more time!
But Andy is not the star of Toy Story 3. As those who were privileged enough to be in Lasseter's presentation already know, the film starts with Andy's mom telling him to hurry up and pack for college. She wants to clean out his room, and he has to decide what to do with all of his "old toys." Lasseter, a father of five who had just dropped his son off at Loyola College, explained that this film is the inevitable: that all parents know this day is going to come, when their children grow up and leave the house. The emotions are just being told through the toys.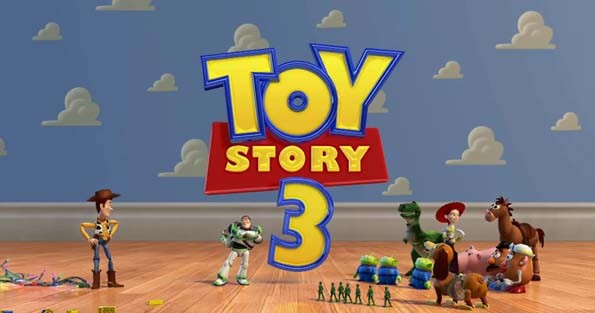 Andy's little sister, Molly, tears into his room as he is finally sorting through his stuff, putting some toys into trash bags to donate, some to keep in a form of storage, and some to throw out. She starts ribbing him that she's going to take his room while he's gone and makes fun of him for still holding on to all of our favorite toys. As she heads off to her room to create donation bags of her own, the toys watch on in horror at their treatment.
Distracted by Molly, Andy leaves a bag in the hall. His mother grabs it on her way out to the curb with the trash. Unfortunately for them (but not us, as this is the kind of rescue plot we have come to know and love), Buzz, Jessie, and some other toys in the bag get scooped away with the trash. Woody watches from the bedroom window and calls to Buster, the family dog, for help, but he's old, slow-moving, and very gray-- which in one quick clip really showed the gravity of the missing years. Woody can't save them in time, even when using Rex's tail to break a hole in the plastic bag.
In a clip in the official trailer, we saw a quick clip of the toys getting donated to a childcare center, and the kids wreaked absolute havoc on the once pristine collection. Andy was somewhat meticulous about his toys, keeping them clean and neat and always put away where they could avoid collecting dust. However, these kids sneeze on them, color on them, pull them apart, toss them around, and in the case of Buzz, give them sloppy, wet kisses.
Buzz has a stand-out moment in Toy Story 3, in which he somehow gets broken (probably by one of the kids in the childcare center), and the other toys have to figure out how to reset him. They get out the official Disney merchandise instructions and manage to get him going again...only in his Spanish alter-ego. He starts flamenco dancing, makes Jessie blush, and the two of them go off together.
And it's not just the old classic favorites who deserve all of the credit this time around.
Timothy Dalton
will be voicing a new character, Mr. Prickly Pants, who is a little stuffed German hedgehog, complete with Lederhosen. Also, back during the time of Comic Con 2009, it was confirmed that
Michael Keaton
had joined the cast of Toy Story 3 as Barbie's infamous boyfriend (or really just glorified accessory), Ken. Though he may be a small part of Barbie's world these days, it is unclear how important he will be to Toy Story 3. He wasn't featured in any of the official film clips screened at D23, but he did have his very own featurette: "Groovin' With Ken," which Lasseter joked was an old 1970s interview they just happened to dig up.
In "Groovin' With Ken," we see Ken in his own bachelor pad dream house, lounging on a raft in a pool, and talking about his daily life, in which he envisions himself as a macho and manly ladies' man. However, he gets angry and cuts the interview short when the reporter asks him how he feels that on his own box his name is eight times smaller than Barbie's, and isn't he really inconsequential without her? This could be leading up to a really great bickering toy couple dynamic!
"Toy Story 3" hits theaters on June 18 2010.
Story by
Danielle Turchiano
Starpulse contributing writer