An Inside Look At 'Family Guy' & 'American Dad'

For fans of
Seth MacFarlane
and his irreverent, hilarious cartoon shows, the San Diego Comic Con was an exciting place to be on Friday, July 25. "
American Dad
" and "
Family Guy
" gave previews of their exciting new seasons back to back, with most of the cast and writers in attendance.
MacFarlane was notably the center of most of the questions and attention, but he did remind the audience at one point that he is not the only writer on the shows. This sort of humility was surprising in the otherwise cheeky and pompous comedian, but nevertheless he was very sincere. He has recently used his voice talents on the big screen in "
Hellboy II: The Golden Army
" as smoke scientist Johann Krauss.
"American Dad" is an animated show about right wing CIA Agent Stan Smith, his family, and his fight against anti-America! "Family Guy" is about a New England family the Griffins and their every day life. Both are beloved inappropriate cartoons that make use of random flashbacks that start with "It's like that time when ...." to introduce wacky elements. They take shots at most modern day stereotypes and enjoy offending the general populace. No one is safe!
The first panel started off with "American Dad," which did not really reveal any big secrets or teasers but instead had the cast sitting by the table reading Act I from an upcoming episode. It was enormously eerie to see a person using a voice that usually comes from a cartoon character. After Act I was finished, they placed Act II in the storyboard format upon the large overhanging television sets. Act III was then shown in full animation, and it was fascinating to see each process. The reading itself was not very interesting to watch, outside of appreciating the actors voice changing talents. A great deal of the reading is broken up by the stage directions, but once the actual episode appears on the television it all comes together nicely.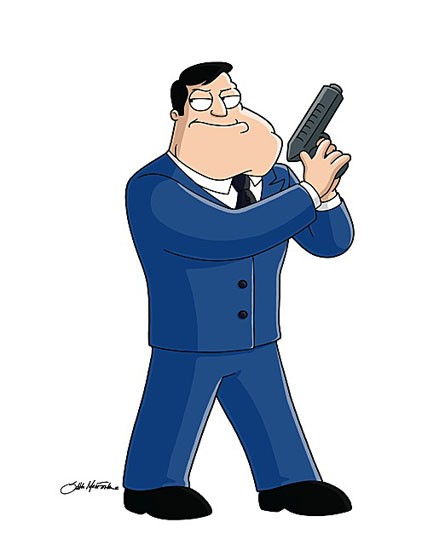 The episode was creepy and hilarious about how Hayley Smith starts dating her father Stan's body double and then becomes so scarily obsessed with him that her father pretends to be him once he leaves. An animated Elektra complex! At one point Stan tries to scare her off by saying he is more attracted to a waitress, and she suggests a three way. His look of shock is priceless. It was highly entertaining to watch in a room with hundreds of other people laughing.
Then came "Family Guy," and
Seth Green
joined along with Mike Henry and a few others. The big news coming from this panel was that Cleaveland is getting his own spin-off. Expect a great deal of offensive racial jokes and no doubt some controversies up ahead. Also, a few hints at future storylines were given: The Griffins get a new job, and Stewie and Brian go back to Poland during WWII with their Jewish pharmacist Mort. A new "Family Guy Star Wars" special will be coming out as well and is titled "Something Something Something Dark Side." This led to Seth Green and MacFarlane being asked about the rivalry between "Family Guy" and Green's show "
Robot Chicken
." Both are parodies, outrageous comedies, and have "
Star Wars
" specials. The two Seths reassured everyone that there is no rivalry and only love. Green then disappeared under the table, and MacFarlane made risque expressions. There were signs up in the Ballroom asking the panelists to remember there are children in the audience -- good luck, Comic Con!
"The Cleaveland Show" has no set date yet, but they seemed very excited and showed a clip of Cleaveland and Peter Griffin introducing the new show. The characters include Cleaveland's new wife Donna, his son Cleaveland Jr., and her children Roberta and Rilo. The crazy neighbors will be rounded out by a redneck, British, and bear family. Yes, bear. More details on this upcoming show can be found on the FOX official website.
An episode of "Family Guy" was also shown involving Peter getting obsessed with the song "Surfin' Bird" by the
Trashmen
. It revealed one of the most fantastic "
Office Space
" callbacks with Brian and Stewie. One thing is for sure, no one will ever want to hear that song again if this episode airs.
These panels were full of laughter, cheering, and good old-fashioned inappropriate humor. After each there were people dressed in giant costumes of Klaus from "American Dad" and Stewie and Brian from "Family Guy."
Story by
Chelsea 'Dee' Doyle
Starpulse contributing writer