An Idiot's Guide To The Oscar's Best Actor Award

(TJAGS is a weekly column)
"Whatever happens, whether it includes Mickey or I, or not, at this next thing ... we know that the TV people have got their dog fight. But, they're idiots."
-
Sean Penn, during his acceptance speech for Best Actor at the Screen Actors Guild Award Ceremony
I am not what
Sean Penn
would probably classify as a "TV person" (I do
like
TV, though, if that's what he meant); luckily though, I am
kind of
an idiot. So, yeah Sean, you're right! We do have a dogfight for the Best Actor Academy Award on February 22. In fact,
if recent reports are to be believed
, it may be more of a fight with
Mickey Rourke
than we even realize. So, in the spirit of idiocy -- and all due apologies to
Brad Pitt
,
Richard Jenkins
and
Frank Langella
-- let's break down both actors' chances of taking home the Oscar.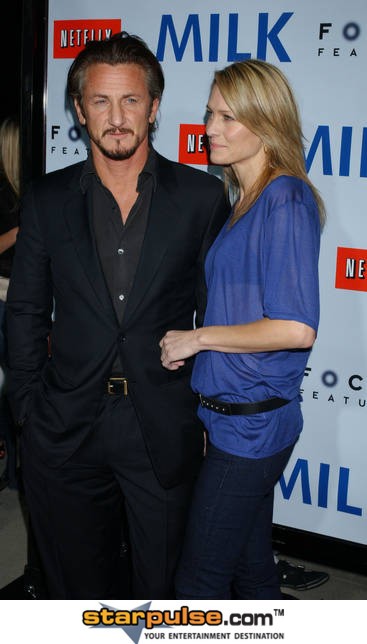 Golden Globe vs. SAG Award
Mickey Rourke won the Golden Globe award for Best Actor which is, arguably, the most well known acting award for motion pictures outside of the Oscars. Of course, most people who know anything about the Golden Globes knows
what a complete sham
this award is -- usually bestowed upon the highest bidder by a small group of foreign voters who are more likely to drive a cab than, you know, cover the film industry.
On the other hand, Penn won the slightly lesser known SAG award which is voted by members of the Screen Actors Guild who -- at least a good number of them -- are also members of the Academy that votes on the Oscars. Fortunately for Penn, this is a much better barometer.
Advantage:
Penn
Likability
This one is tough. Penn has always had a kind of haughty personality, but has seemed to have mellowed in the last few years. Hey: he even has been known to crack a smile, now, from time to time. Rourke, well, in the past pissed
a lot
of people off. A lot. The good thing is that he seems to know this and his awards tour has almost been a pseudo mea culpa tour. Is it working? I think so, but, there is still plenty of time before Oscar votes are due for him to say the wrong thing.
Advantage:
Even
Quality Of The Movie He Is Nominated For
Setting my
personal opinions
aside, Penn's film,
Milk
, is also nominated for Best Picture. Rourke's film,
The Wrestler
, is -- sadly -- not. Though, an actor does not need his film to win Best Picture to win, it certainly can help once momentum builds. Luckily for Rourke,
Milk
-- which is a fine film -- is not likely to go on a serious run of Oscar wins from the eight nominations it received.
Advantage: Penn
Acceptance Speeches For Prior Awards This Season
As quoted above, Penn decided to talk about the impending battle between he and Rourke during his acceptance speech and then go on to tell us all how stupid
we
were for talking about it. Rourke, well, talked about his dogs and how, sometimes, when you're alone, your dog is all you have (no, I'm not crying... there is something in my eye, I swear, I'm not crying).
Advantage:
Rourke
Subject Matter Of The Movie
A gay rights activist versus a washed up professional wrestler. Hmm, I wonder which subject Hollywood will feel more passionate about? Not so fast. Remember,
Brokeback Mountain
was a shoo-in for Best Picture at the 2006 award ceremony and, instead, that awful movie
Crash
won. There were some whispers of an unfortunate, last-minute, backlash against
Brokeback Mountain
because of its themes. Now, it's doubtful this perceived backlash will happen against
Milk
because their respective Oscar campaigns are so different, but it could. I wouldn't count on it though.
Advantage:
Penn
The Emotion Factor
This is the fifth Academy Award nomination for Sean Penn, having won once before for
Mystic River
. In other words: It's almost an odd occurrence when he is
not
nominated. Rourke, on the other hand, is the feel good story of awards season. After some great performances in films such as
Diner
and
The Pope of Greenwich Village
, he disappeared down a vast pit of questionable behavior, bad acting choices and (ahem) boxing. As stated, he pissed a lot of people off. But, there are also a lot of people rooting for this guy. This guy was washed up, dead, forgotten. Rourke is Kurt Warner of the Arizona Cardinals to Penn's Pittsburgh Steelers. People might just vote for Rourke just to see him stick his hand in his pants, like he did at the Golden Globes, and tell the dog story again (stop asking, I am not crying!)
Advantage:
Rourke
If Penn wins, it is well deserved. I really enjoyed
Milk
but no performance affected me like Rourke's did in 2008. My mind is telling me Penn will win; really, the vote probably won't even be close. My heart tells me Rourke should win; he
needs
to win. If enough voters feel this way, too ... perhaps I should have some tissue ready just in case Rourke does give his speech and I
start crying
get something, again, caught in my eye.
"
Truth, Justice and Gordon Shumway
" (yes, that is ALF) is a weekly column written by transplanted Midwesterner and current New Yorker
Mike Ryan
which appears Wednesdays, focusing on pop-culture current events. For any comments or complaints, you may contact Mike directly at
miker@starpulse.com
.