An Adventure As Epic As The Land, 'Australia' Comes To DVD March 3; Win A Copy!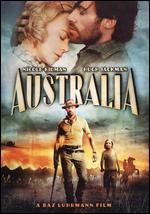 -Academy Award Winner Nicole Kidman & Golden Globe Nominee Hugh Jackman Star In Visionary Filmmaker Baz Luhrmann's Romantic Action-Adventure
Venture down under into an epic and romantic action-adventure set in a country on the brink of war when
Australia
debuts on Blu-ray Disc (BD) and DVD March 3 from Twentieth Century Fox Home Entertainment. Helmed by Australian native and Academy Award nominee
Baz Luhrmann
(
Moulin Rouge!
,
Romeo + Juliet
) and starring Oscar winner
Nicole Kidman
(
Moulin Rouge!
,
The Hours
) and Golden Globe-nominee
Hugh Jackman
(
X-Men
trilogy,
The Prestige
), this grand-scale journey, set against the
Australia
n outback, follows an English aristocrat who travels to the faraway continent where she meets a rough-hewn local and reluctantly agrees to join forces with him to save a sprawling cattle ranch she inherited from her late husband. Together, they embark upon a journey across hundreds of miles of the world's most beautiful yet unforgiving terrain, only to face the enemy Japanese forces. A spectacular saga with romance, drama, beauty, prejudice and danger set against historical fiction,
Australia
"is the rare film that in visual and emotional scope lives up to the word epic." (Richard Corliss,
Time
).

Filmed on-location in the vast outback,
Australia
marks Luhrmann's third collaboration with Kidman and is the first feature film produced as part of a planned trilogy of epic works. The film also represents the work of his wife and creative partner, double Oscar-winning costume designer Catherine Martin (
Moulin Rouge!, Romeo + Juliet
). Featuring performances from many Aussie natives, the film also stars
David Wenham
(
The Lord of the Rings: Return of the King
),
Jack Thompson
(
Midnight in the Garden of Good and Evil
),
Bryan Brown
(
Along Came Polly
) and young Aboriginal
Brandon Walters
in his feature film debut.
Set in Australia on the brink of World War II, Lady Sarah Ashley, an English Aristocrat (Kidman), travels to the faraway continent where she has inherited a cattle ranch, owned by her late husband. When Australian cattle barons plot to take her land, she reluctantly joins forces with a rough-hewn local known as The Drover (Jackman) to drive 2,000 head of cattle across hundreds of miles of the country's most unforgiving land, only to still face the bombing of Darwin by the Japanese forces that had attacked Pearl Harbor. When tragedy strikes and Lady Sarah becomes unofficial guardian to a "half-caste" boy, the unlikely couple must come to terms with a prejudiced society, dishonorable business associates and the impending arrival of the Japanese.
-
Enter here for a chance to win one of five copies of 'Australia' on DVD!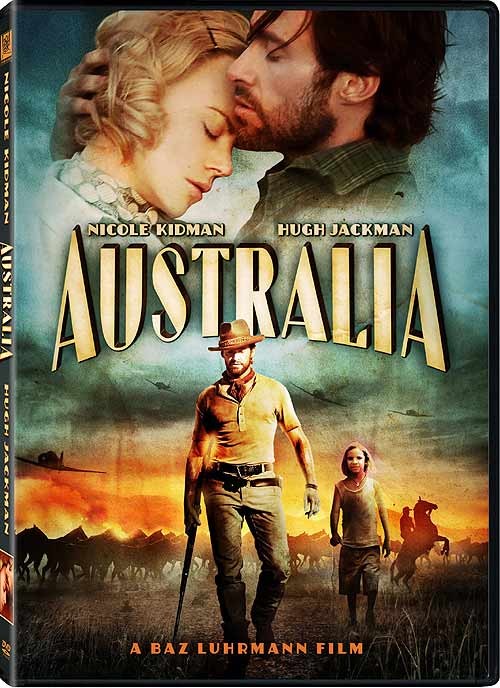 Blu-ray Disc Specs:
The
Australia
BD is authored on a dual-layer 50 GB disc with English 5.1 DTS HD Master Audio plus French 5.1 Dolby Surround and English, Spanish, French, Brazilion Portuguese, Cantonese, Korean and Mandarin subtitles. Bonus Features include:
-Australia: The people, the history, the location featurette
-Deleted Scenes
*What about the drove?
*Angry staff serve dinner
-Behind-the-Scenes
*Photography
*Production Design
*Costume Design
*Locations
*Cinematography
*Sound
*Editing
*Music
*Visual Effects
Single-Disc Specs:
The
Australia
single-disc DVD is presented in widescreen format (2.35:1 aspect ratio) with English, Spanish and French 5.1 Dolby Surround plus English, Spanish and French subtitles. Bonus features include:
-Deleted Scene: What about the drove?
-Deleted Scene: Angry staff serve dinner
Click the pics for gallery & larger images