Amy Winehouse's Family To Get Her $4.7 Million Fortune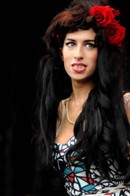 Singer Amy Winehouse's parents are now $4.7 million richer because their daughter failed to make a will prior to her sudden death last year.

The Back to Black hit-maker's estate, worth an estimated $6.8 million, is to be handed over to Mitch and Janis Winehouse. After tax, that's a $4.7 million windfall.

According to probate documents, obtained by Britain's The Sun, the singer's embattled ex-husband Blake Fielder-Civil will not see any of the funds.

A source says, "There aren't many 27-year-olds that make a will - and Amy didn't either. She had no idea how much money she had... Had she made a will, Blake may have well been left something - not cash, perhaps an investment.

"The way things are, Mitch and Janis have been handed the estate. They're sensible and shrewd so it's probably for the best Blake doesn't get anything."

The Grammy Award winner was found dead in her London home on July 23rd. Her death has since been ruled a misadventure.