Amy Winehouse Wanted To Celebrate Her 28th Birthday In St. Lucia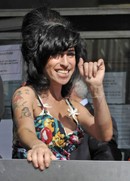 Amy Winehouse was planning to return to the tropical island of St. Lucia this month to celebrate her upcoming birthday with her boyfriend Reg Traviss.

The late star, who passed away at her London home on July 23, would have turned 28 on Wednesday.

Her parents Mitch and Janis Winehouse and filmmaker boyfriend Traviss have now spoken at length about the singer's untimely death in their first TV interview with U.S. newsman Anderson Cooper, which was taped in New York on Friday.

The late star's mum and Traviss recalled how Winehouse had been happy and healthy just days before her passing, and her boyfriend revealed the couple had been discussing plans for a special vacation to mark her 28th birthday in the country where she had spent much of 2009 trying to overcome her drink and drug addictions.

Traviss said, "We were gonna go to St. Lucia, because it would have fallen on Amy's birthday."

The interview aired on Monday.

A full inquest into her death will begin next month.


Amy died at age 27 - is that age a curse? Check out all the other huge stars who also died at 27 here.