Amy Winehouse 'Blacks Out After Drinking Sessions'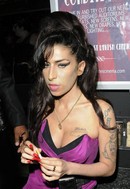 Troubled Amy Winehouse has sparked fresh fears for her health after suffering several booze-induced blackouts, according to a U.K. report.

The "Rehab" singer, who has long battled addiction issues, faced fury from her fans in Belgrade, Serbia at the start of her comeback tour last month, when she slurred her words and struggled through a shambolic set. The appalling performance prompted Winehouse to cancel her entire European tour.

However, the incident has allegedly failed to put a stop to the singer's hard-partying ways and friends fear she has lost control of her heavy drinking again after recently passing out during a series of vodka binges, according to Britain's The Sun.

A source tells the newspaper, "Her drinking is totally out of control. Amy is constantly out of control on vodka. She is rattling about at home in North London drinking herself into oblivion. Three times this week she has been so drunk she passed out."