Amy Poehler Talks About New Series 'Parks And Recreation'

NBC has been teasing their new comedy,
Parks and Recreation
, for weeks. The little tidbits show
Amy Poehler
trying to put a smile on mediocre local initiatives. The main thrust of the show, Poehler says, will be a single task for the local political department of the title.
"I think they're really going to try to focus on changing this one big giant pit filled with crap and make it into something nice," Poehler said. "That's a slow Sisyphusian process, pushing that rock up that hill is going to keep them busy. But I think every day my character probably thinks about like what if we made groceries free? I think she's got some big ideas."
Poehler compares her character, Leslie Knope, to Tracy Flick, the high school presidential candidate played by
Reese Witherspoon
in
Election
. "She has a very precise [plan] and sometimes doesn't understand that it's not just ambition that will kind of get you somewhere. It's a combination of charm and pulling back. I think sometimes she kind of bends it and breaks it."
Leslie also has to deal with coworkers who don't share her enthusiasm, like Tom Haverford (Aziz Ansari). "He can't stand her. He's a real eye roller and he's the realist. He's very cynical and Leslie is not cynical. So he's kind of the sarcastic and cynical one that is sometimes the barometer for the audience in terms of her like 'Let's put in a park and an amphitheater and a movie theater and a thing!' He kind of knows that it's all not going to work out. Also he has to share a space with her and it annoys him. She annoys him."
"Parks and Recreation" premieres April 9 on NBC.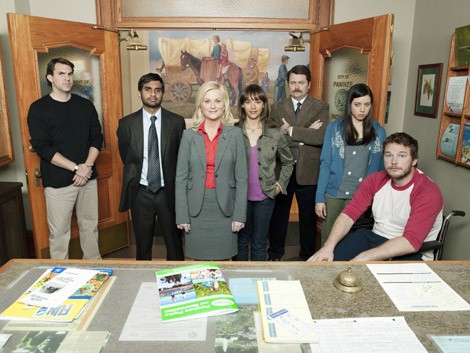 Story/Interview by
Fred Topel
Starpulse contributing writer
(Starpulse in Hollywood)
: Every week, Hollywood's biggest stars are meeting in the hot spots and Starpulse is there.