Amy Poehler & Aziz Ansari Talk About The New Season Of 'Parks And Recreation'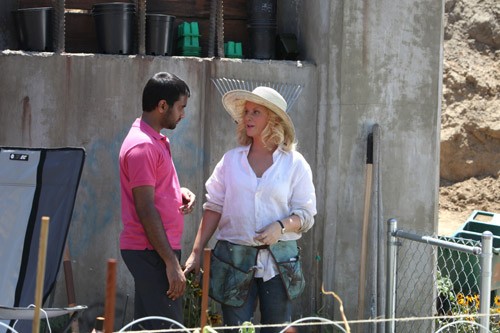 Eternally optimistic small town park director Leslie Knope (
Amy Poehler
) spent the first season of NBC's "
Parks and Recreation
" working to transform a vast garbage-filled trench known as "the pit" into a family-friendly green space. Much like Leslie's steering committee, "Parks" has its own work ahead if it hopes to avoid falling into its own pit of TV oblivion.
"We're lucky that we had a little [six episode] first season so we're still getting into the groove," says Poehler. "I think like any new show you have to get things up and running and figure out where the bathrooms are. It's a constant evolution process."
Creators Greg Daniels and Michael Schur originally planned the series as a spin-off of their hit "
The Office
," before taking "Parks" in its own direction as a vehicle for Poehler (who left "
Saturday Night Live
" halfway through her eighth season to head the cast.) Daniels and Schur did retain "The Office's" mockumentary style, paving the way for inevitable comparison between the two shows. "Parks" early critical reaction, however, didn't quite reach that of its predecessor.
"We're huge fans of 'The Office,' so any time our name is mentioned in the same sentence as them, it's a compliment," acknowledges Poehler. "I think people will see this season for what the show is and how it's different, and it certainly is in its own way."
Poehler's co-star
Aziz Ansari
, who plays Leslie's insolent co-worker Tom Haverford, equates "Parks" to a less-likely program. "I hope we get compared to '
NCIS: Los Angeles
' with
LL Cool J
," jokes Ansari.
Linking Leslie to rapper turned actor LL Cool J might not actually be that far fetched as Leslie breaks out her own rendition of
DJ Jazzy Jeff
&
The Fresh Prince
's "Parents Just Don't Understand" in the season premiere. This is just one example of Leslie's frequent and embarrassing,
Michael Scott
-like attempts to win over colleagues and other local government powers.
"Leslie has good intentions, but no game," says Poehler of personifying a character unaware of her odd behavior. "She's not dumb, she just isn't suave. I have to straddle the line between figuring out what she actually knows about a situation, but how she doesn't always have skills to play it."
Ansari takes a different approach to his character. "I watch the movie '
There Will Be Blood
' with
Daniel Day-Lewis
' commentary on and listen to what he did, and that's the same technique I apply to my acting," he kids.
The season premiere finds Leslie and co. at the Pawnee Zoo, but even with the surrounding animals, "Parks" wild factor grows in a later episode where Leslie and Tom judge a local beauty pageant.
"Every single episode will have life, death, sadness, anger, rebirth, redemption, and a very clear conclusion…all in 21 minutes," teases Poehler.
Let's not forget about the most important emotion of all - love. After failing to woo city planner Mark Brendanawicz (
Paul Schneider
), and going on a painfully awkward blind date with a man 28 years older, romance may finally be in the cards for Leslie. Comedian Louis C.K. joins the cast as a police officer with his sights set on courting Leslie, even if she initially acts distant.
"It's kind of fun to investigate how women are always talking about how they're looking for the right guy, and that guy comes in, and he really likes her, and then [the woman] is just not interested, but you don't know why," says Poehler. "I think Leslie's just having a hard time figuring out how to act around a person who's very available and into her. I think that unfortunately her feelings for Mark are not completely over. But who knows? I hope a good thing happens, but it's up to the writers…and Jesus Christ."
Viewers will also receive more insight into Tom's home life with his attractive surgeon wife. Despite frequently tormenting Leslie, Tom will also form a stronger bond with her.
"I don't think he's a mean-spirited guy," Ansari scrutinizes his character, "although he enjoys poking fun, I think he does care about Leslie."
Aside from C.K., Poelher's former "SNL" castmate
Fred Armisen
will also appear, playing a Venezuelan parks administrator whose work surpasses Leslie's expectations. "The band Coldplay is also going to be in every episode, but you're not going to be able to see them," cracks Poehler. "They're going to be hidden, but they're going to be there."
Even amongst Cupid's flying arrows, South American visitors, and invisible British balladeers, Leslie won't forget her initial mission - the pit's conversion into a park.
"The pit is a constant thing that kind of symbolizes Leslie's frustration," says Poehler. "We're checking back with it, but certainly as the show's world gets a little bigger, and gets a little more oxygen, we're allowing ourselves to go in different places…but it's always in the background, reminding Leslie of her potential."
Helping the show's own ratings potential is "Saturday Night Live: Weekend Update Thursdays'" reboot as its lead-in. Poehler will return to her old stomping ground for the first two episodes. Even with the help, Ansari and Poehler realize they're not guaranteed a full season in these challenging times.
"To be on a show that's really good and work with a great cast and crew is a huge treat," says Ansari. "It's a huge blessing and I don't think we take it for granted for a second."
Poehler embodies Leslie's confidence though. "I've signed on for 100 seasons, so we've got like, what, 98 to go."
The new season of "Parks and Recreation" premieres Thursday, Sept. 17 on NBC at 8:30/7:30c.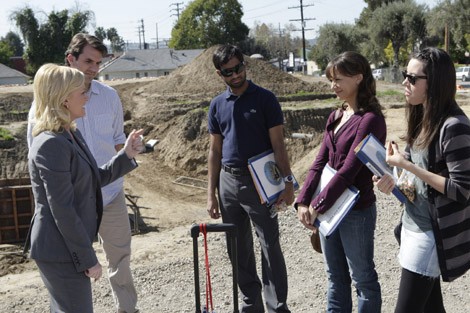 Image © NBC Universal, Inc.
Story by
Michael Mellini
Starpulse contributing writer