Amy Adams Sparkles On Oscars Red Carpet, Talks Lois Lane Role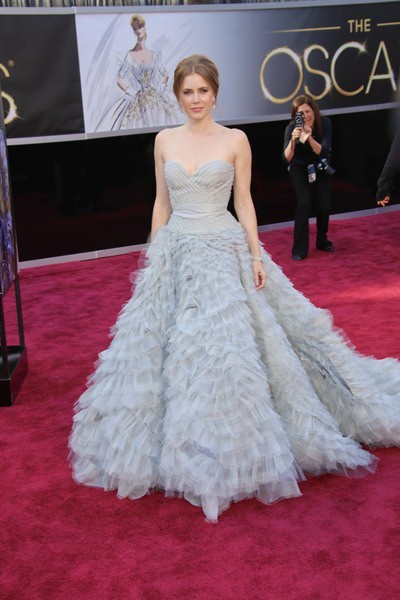 Amy Adams looked gorgeous in her Oscar De La Renta dress at the Oscars, where she was nominated for Best Supporting Actress for her work in The Master. 
Several stars opted for huge frocks and little bodices, but Adams was at the top. The top showed off her little waist and the bottom half had a beautiful assortment of layered ruffles that led to a trail.
Despite her nomination and wonderful dress, many reporters want to know what it was like to play Lois Lane in the upcoming Superman flick Man of Steel, which is in post-production.
She revealed her inspiration for the character to Ryan Seacrest, "I think it's always important to pay attention to the people who went before you to take what works for the film you are doing but to add a modern touch. Margot Kidder was my Lois Lane so I'll always think of her."
Earlier in the month she told Jay Leno, "I really wanted to be Lois because I thought Superman was just awesome. I didn't think I was going to be an actress playing Lois, I just wanted to be Lois."
She said later she found it amusing Lois never saw through Clark Kent's simplistic disguise of a pair of glasses. "It's so funny because I always loved how smart she was and then as an adult I'm like how smart was she actually that she didn't notice that."