Amy Adams' Characters Use Feminine Grace & Strong Will To Get What They Want

For years, Hollywood has celebrated a certain type of empowered women - a strong nosed, uber self-confident, in-your-face fighter who is going to take on the establishment using whatever means necessary to get what she wants. The archetype of this character is
Erin Brockovich
who famously said "They're called boobs, Ed", and screamed her way from a legal secretary to the chief factor in toppling a billion dollar company that was poisoning its customers.
But in the tradition of
Melanie Grifiith's
Working Girl
,
Amy Adams
has popularized a new type of woman: one who uses her feminine grace, and a strong will, to get what she wants. This is a welcome shift, as Adams' characters offer a level of complexity that is simply missing in characters like Brockovich.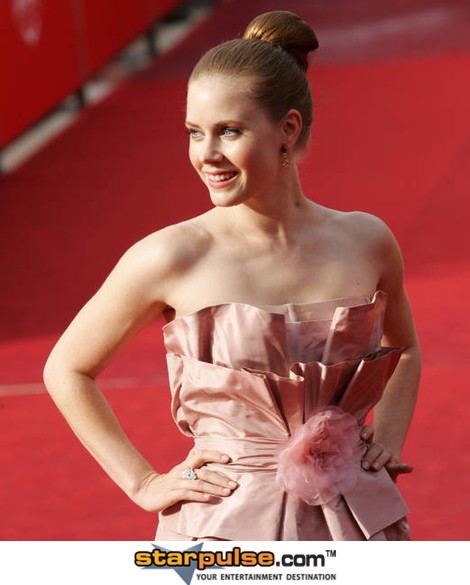 Junebug
"Junebug" is the story of one family in a small town in North Carolina. After three years of marriage, Madeline (
Embeth Daviditz
) marries George (
Alessandro Nivola
) and they go down to George's hometown to meet his family. Madeline, an outsider, has trouble integrating herself with George's skeptic mother, his almost mute father and his moody little brother - only Ashley (Amy Adams) is convivial.
Ashley has been impregnated by George's younger brother, Johnny (
Benjamin McKenzie
), who is obviously frustrated by his predicament. Moreover, Johnny's terse disposition runs in stark contrast to Ashley's abundance of energy and enthusiasm. This immediately creates sympathy for Ashley; she is pregnant, seemingly ditzy and openly innocent. She has to endure the heartbreaking disappointment of loving a man that no longer loves her, coupled with the task of bearing his child, all the while yearning for something else, represented by her immediate affection for the world-traveled George. She never complains or exhibits her mounting frustration, rather she does her best to keep her head up and shoulder the burden that has been bestowed upon her. Despite the initial impression, she is an immensely strong character.
Enchanted
"Enchanted" is a different kind of movie than "Junebug." "Enchanted" tells the story of Giselle (Adams), an animated princess who is looking for true love. Initially she thinks that role will be filled by Prince Edward (
James Marsden
), but when the evil Queen Narissa (
Susan Sarandon
) finds out about their love, and the subsequent effect it will have on her power, she sets out to expel Giselle from the animated kingdom to the harsh real world. Once there she meets Robert Philip (
Patrick Dempsey
), a divorce lawyer who is engaged to a practical fiancé. Eventually, they meet fall in love and all is well on both earth and the magical realm.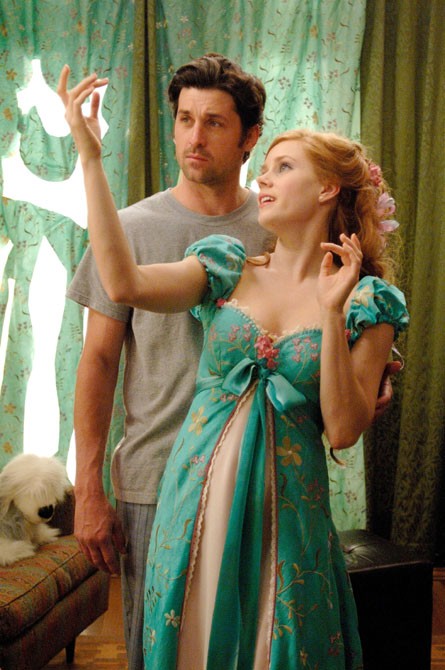 "Enchanted" is a fantastical film that follows a well known boy meets girl, boy falls for girl, boy gets girl trajectory. However, this does not mean that it lacks substance, especially with the characterization of Giselle. Giselle comes to the real world, in the form of New York, with cherubic innocence; she knows not of misdeeds and improper dealings. It is this innocence that allows the divorcing couple to see past their petty differences and find the love that they once shared for each other. It is the kind of innocence that shows all the ridiculousness of their problems. Moreover, she does it with irresistible cuteness that only the heartless are unmoved.
Miss Pettigrew Lives For a Day
Adams' character in "Miss Pettigrew" is really a combination of her roles in "Junebug" and "Enchanted." She plays Delysia Lafosse, a beautiful singer at a swanky London club in the late 1930s who balances the affection of three men so that she can achieve her dream of stardom. Miss Pettigrew, played by
Frances McDormand
, is an out-of-work nanny whose common decency is the guiding light for Delysia.
When we first meet Delysia, she is trying to get a man out of the bed that belongs to her boyfriend, the owner of the club where she sings. Through all the adventure and intrigue, the film slowly peels away the Delysia's layers: she is really a poor girl from Pittsburgh who only owns the cloths on her back and is one false move of being tossed into the streets by her fickle meal ticket. She at once has to be charming, alluring and nimble as she tries to woo one man so that he'll put her in a West End Musical, while not letting her club owner boyfriend in on the affair. All of this is going on while Michael (
Lee Pace
), her pianist and true love, only wants her and nothing else. Delysia faces the competing desires of financial security and stardom with the potential for true happiness with someone that loves her: not an easy task. Adams' handles this character with the vulnerability and silent grace that has come to characterize her career.
Adams has also excelled as Ricky Bobby's muse in the hilarious
Talladega Nights
and
Tom Hanks
' secretary in
Charlie Wilson's War
, and we eagerly await the next role that Adams will delight us with.
-
Amy Adams photo gallery
Story by
Taylor Tepper
Starpulse contributing writer