Amid Chris Brown Break-Up Rumors, Rihanna Tells Concertgoers She's 'Confused' About Love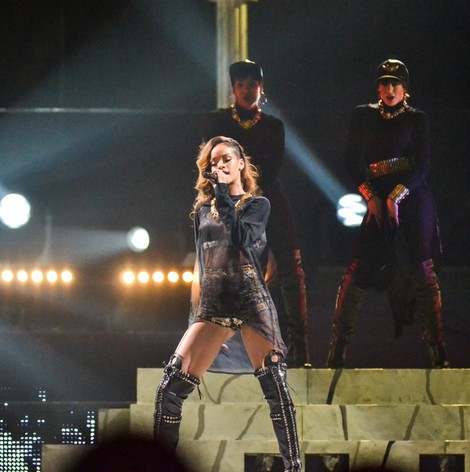 On Monday, Rihanna shared her mixed feelings about love during a concert in Los Angeles, further fueling speculation that she and Chris Brown are no longer together.
While performing at the Staples Center she opened up to fans, asking the crowd: "How many of you are in love? How many of you hate love? How many of you don't f**king understand it? I'm in that group. The confused group."
The pop star then launched into the track "What Now," which includes the lyrics: "I've been ignoring this big lump in my throat/ I shouldn't be crying, tears were for the weaker days/ I'm stronger, now what, so I say/ But something's missing."
According to EOnline.com, Brown and his entourage attended the show and watched Rihanna from the VIP section of the stadium. So are they or aren't they? The on-again, off-again couple keep sending the media mixed signals about the status of their relationship.
Earlier this week, a source told E! News that the couple split up, and Rihanna wanted to refocus her attention on her career and business ventures, including her fashion line and fragrance launch.
Brown was also spotted hanging out with a mystery blonde in New York City.