'America's Next Top Model'- The Guy Who Becomes A Bat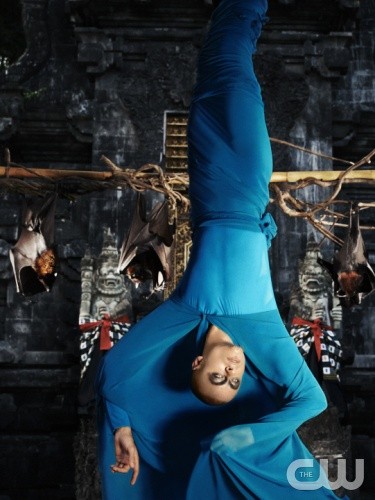 Life as we know it s spiraling out of control. Only 5 models remain on Cycle 20 of 'America's Next Top Model'. Dramatic drama is at a season high. Everyone hates everyone, except for the people who have fallen in love with each other. The end is so close, we can smell it. It smells like one of those Abercrombie stores.
We begin the action with the models returning to their suite in Bali. Nina Cat Ears and Jeremy the virgin were both eliminated last week. Everyone is sad about Nina's departure. They're also mad at Chris H. for pretending like he's sad. Chris H. is not sad. He had a troubled past and doesn't feel emotions like sadness.
Jourdan, Corey and Renee tell Chris H. that he's the one who should have gone home. Chris H. defends himself the way anyone would, with shouting. Shouting takes over. There's a lot of swearing to the CW bleeps the shouting out. Chris H. treated Nina like crap and they show us the footage of Chris H. treating Nina like crap. I'm reminded of the crap treatment and now I'm swearing.
Chris H. caps off swear-fest by telling everyone that he doesn't need them. I wonder what the people who give out social media scores from the future will think about Chris H. and his declarations. It's hard to judge what psychic people think.
Before the challenge of the week, Renee manages to again tell us that her grandmother had died; just so we call have a clear idea of her troubled past. You don't want to go too many minutes on this show without reminding everyone of the hardships you have encountered in life.
The challenge comes next. Because this is a hardcore modeling competition, Tyra Banks sends her models to the beach for a physical challenge. Rob Evans and Cycle 19 winner Laura James put the models through competitive pushups, jump rope and running up stairs. The guys go up against the guys. Renee competes against Jourdan.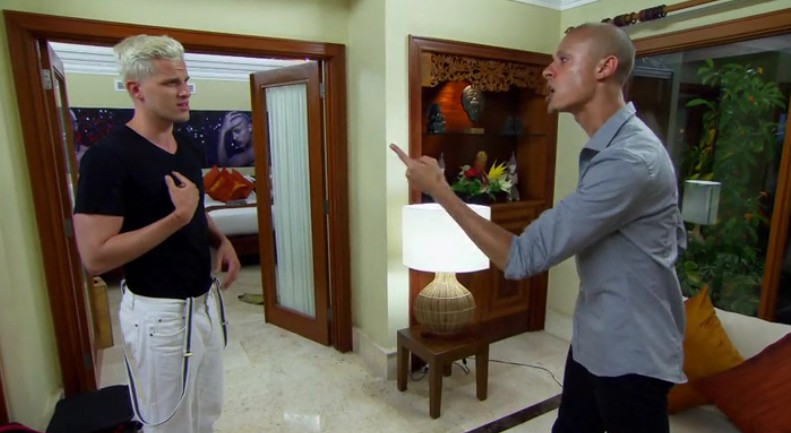 There is no photo shoot, so this show is more like Double Dare for 12 minutes. Renee kicks Jourdan's butt in jump rope and pushups. They run up 200 stairs and they're tired. It's dramatic. Jourdan loses and does what anyone would do. She pretends like she can't see because she's tired.
Some dude brings out an 'America's Next Top Model' medic to check on Jourdan. Season 19 winner Laura James just stands there with a stopwatch and stares at Jourdan while she rives on the ground in pain and suffering. I guess Laura James feels like she won this show without losing her eyesight so sympathy is for the weak.
Jourdan says, "I'm probably the scardest I've ever been." She must be fatigued because she's making up words and can't spell her name correctly.
The guys race next. Marvin wins easily and everyone keeps their eyesight. Marvin and Renee (or Marnee) get to star in a workout video for their troubles and they also get a spa day together.
Luckily, we get to see Marvin and Renee escape away to their spa. They sit in a pool to relax. Marvin and Renee make out with a camera guy 3 feet away from their face. It seems pretty relaxing.
Later that night, Marvin and Renee make out in their bed with a camera guy in the room. These camera guys are pervy. Chris H. says that he thinks Marvin and Renee might be so busy making out at night that they could lose focus on the competition. I'm I not getting something about modeling? If you're a model, do you need to think about modeling while you're eating? You're just posing, right? You can't make out with someone the night before a shoot? Does it change your face? I'm confused.
Corey is also distracted by the Marnee make out sessions. He says, "I'm living in Fornication Nation!" Fornication Nation sounds like a wonderful place. I wonder if Fornication Nation has universal health care.
The photo shoot is next. Johnny Wujek brings the models to a Bali bat temple. Marvin tells the camera that he doesn't like bats because he grew up in a home with rats and bats are like rats. Again, remind them of your troubled past at all times.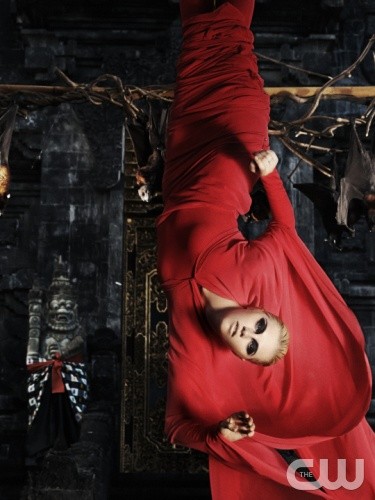 The models will hang upside and pose with bats. Wujek calls it 'Bat Sheek'. If you're interested, the domain batsheek.com is still available.
Before they pose, Jourdan reminds everyone that her family didn't have a lot of money growing up. Again, don't go more than 4 seconds without reminding America that your past is troubled.
The pictures are strange. The bats are gigantic and sort of hang there. I had no idea that bats were so hospitable to modeling. Marvin is freaked out but poses well. Jourdan poses well.
Renee, who normally freaks out over all animals, stuffed and unstuffed, doesn't freak out over the bats. She does have trouble hanging upside down. The blood rushes to her head and she passes out. The ANTM medics are forced to rush onto the scene again! These medics get no rest. The medics should get a spa escape.
Chris H. doesn't pass out but he doesn't pose well. The photographers yell at him and he says, "I'm trying to be a bat!" They're looking for models, not bats. I'm confused.
Corey gets criticism for being too feminine. For the last 20 minutes, models have been hanging upside down with bats and craning their necks in different directions. I guess, Corey didn't do that masculine enough. I'm confused. Modeling is hard, yo?
 Elimination comes next. Two models are being sent home while the remaining three will compete in next week's finale for the title of America's Next Top Model. Scores are based on running up stairs, hanging upside down with bats and votes from people with the ability to judge a show 3 months before it airs on television.
There are a lot of tears and I totally get choked up in the final moments. Chris H. and Renee are sent home. Chris H. couldn't overcome his troubled past. He was too concerned with putting on boxing gloves and punching people in the crotch. Renee was too busy making out with Marvin to be America's Next Top Model. It's a 24/7 job. Unless you're talking about Marvin, who made out with Renee but still advanced. I'm confused.
Each of the remaining models received beads of different colors. Fans of each model are being asked to wear these colors throughout the week to show their support. Jourdan is wearing sunrise smize. Marvin gets booch blue. Corey has fierce fuchsia. If you see me out and about this week, I'll totally be rocking some fierce fuchsia.