'America's Next Top Model'- The Finale Part I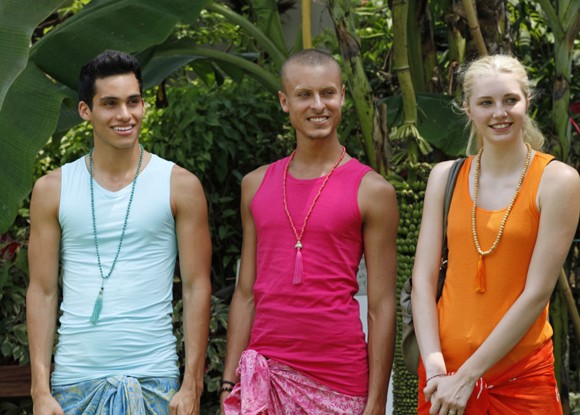 We've reached the end of the runway. You see what I did there? Normally, it's 'road', but it's a reality show about models, so I said 'runway'. I'm clearly out of ideas. The finale of 'America's Next Top Model' aired Friday night. Three strapping and sexy figures smized for a lucrative modeling contract and fame. Here is what happened.
Corey, Jourdan and Marvin remain in this pose-a-riffic test of wills. The first cycle of ANTM that they allow guys to compete and two guys make it to the finale. It is clear which gender is better at arching their back or whatever the hell it is you need to do to make it on magazine covers. Jourdan has the distinct advantage of not spelling her name correctly.
Our episode begins with a recap of everything we've already seen over the course of 14 weeks. It's a chance for producers to remind us how all of the contestants came from troubled backgrounds. Tyra mentions that this is part one of the two-part finale. I kick a table over. What the heck is that?
This is part one? I feel betrayed. I don't know why shows are doing this now. They call something a 'finale' and stretch it out over two or three weeks. 'Finale' means 'end'. It's French, I think. It's the French word for 'end'. This wasn't a finale. This was a fake finale. I invited all of my friends over for the 'America's Next Top Model' finale for nothing. Luckily, no one came over.
The three remaining contestants arrive in their suite in Bali. Jourdan won best picture last week and there's a little celebration. Then, they celebrate again because Chris H. is no longer around to put on boxing gloves and punch people in the crotch.
The challenge comes next. Johnny Wujek is joined by Guess photographer Yutsai. Marvin is super excited but I don't know who Yutsai is. I don't hang in the same circles as Marvin. Wujek brings out a bunch of former contestants to support their favorite remaining contestants. Most of them support Corey because he's super nice. No one is picking Jourdan. I guess you can't act really selfish all of the time and still have people like you. It's a wake up call.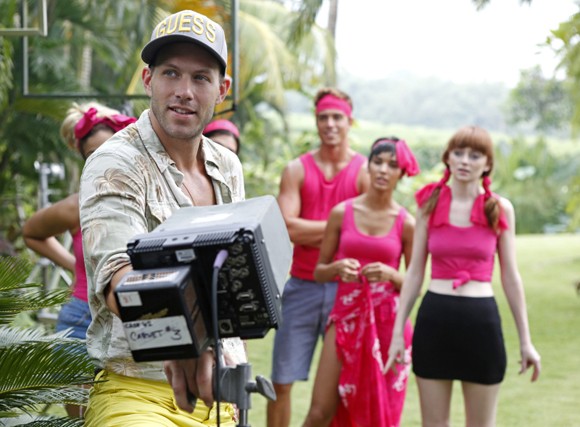 They leave Jourdan hanging to the end and she's very sad. This will only add to the hardships she's had to endure. Chris H. finally joins Jourdan's side. Jourdan hates Chris H. Everyone hates Chris H. It's not his fault. He has a troubled past.
Hair and make up are next. People talk and there's talking. Somewhere in the mess of words, Marvin mentions how he wouldn't have sex with Jourdan. I guess that needed to be said.
Corey gets his picture taken in front of ferns. They tell him to be masculine. Corey is gay and not particularly masculine. It's a challenge. If you played a drinking game and did a shot every time the word 'androgynous' was uttered, you'd be dead in eight minutes.
Marvin is next. Guess dresses him in a Canadian tuxedo (jeans with jeans shirt). He poses and the photographers yell at him. It's a challenge.
 Jourdan's photo shoot takes place in front of a door. She's attractive. Johnny Wujek is concerned because, during the shoot, Jourdan is just resting on her looks. Shes… modeling. Aren't… models supposed to … model… with… their… looks?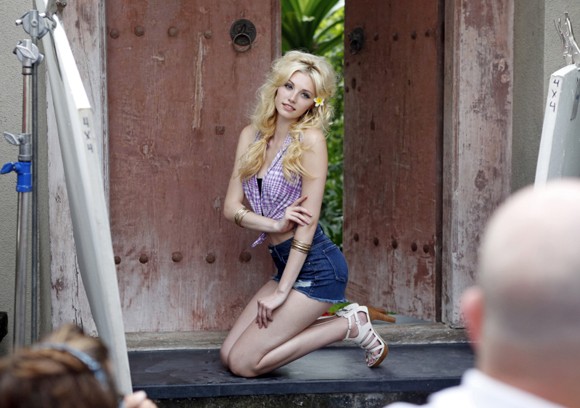 Wujek and Yutsai argue over whether or not Jourdan should get an apple box for her foot. Please read back that last sentence. Jourdan does well without the apple box. I run outside and flip a car over in celebration.
The finalists skype with their families and we get to watch it. Marvin wants to win so his Dad can't quit being a janitor. He cries a lot.
The Nylon photo shoot is next. I'm just going to assume that you know what that means. I don't. There are more pictures. Jourdan says that she's working on her leaning. Work it, girl.
After more talking, the models show up in a park. They're told to perform in a fashion feature. I guess it's like a model movie, or something. The finalists have to pretend they're in a love triangle. Corey acts like he's abusing Jourdan which is good for her because she's been abused by a former boyfriend. Remember guys? Remember Jourdan's troubled past? You guys don't remember. Most of you didn't even read down this far.
Marvin has to pretend like he's in love with Jourdan but he doesn't want to have sex with Jourdan so modeling is tough, yo?
There's a lot of model making out. Corey did not have fun making out with Jourdan. No one wants anything to do with Jourdan. When she watches this show back from home, she's probably going to cut herself a few times.
Next comes more talking about how everyone wants to win 'America's Next Top Model'. They could just show us who wins 'America's Next Top Model' but I guess that would be too easy.
The final segment is a runway photo shoot. Before that Wujek drops a biz-omb. My computer doesn't know what a biz-omb is. I'll tell it and America. Wujek offers the cast-offs one thousand dollars to change support teams to the model they think will win. All they have to do is walk over to a new team and they have a chance at one thousand dollars.
Chlea acts like she'll switch but she doesn't… I think. I can't really understand Chlea when she talks. Mike the Ice Cream Guy changes to Jourdan's team. Corey is hurt. I'm in my living room and I'm hurt. It hurts, guys.
After the drama of the Mike the Ice Cream Guy switch, there's a lot of talking. No one is concentrating on their modeling. The finalists get dressed for the big finale runway show. They call it a finale runway show but it probably won't be. This show doesn't know what the word 'finale' means.
Tyra Banks comes out and drops more biz-ombs. One of them won't be participating in the runway show. The judges come out to kick someone off the show. It's dramatic. There's drama. I'm scared, you guys.
The sudden elimination will be based on judge votes and social media scores from psychic people who saw into the future to critique a CW reality show.
Tyra and crew talk about their Guess pictures. There's talking. The person leaving the competition is not revealed. Nothing happened this week. They show previews of next week and all three finalists are on the runway. How is that possible? Someone is eliminated? It's all lies! 'America's Next Top Model' lies.
Next week, it's the ANTM finale, maybe. Who knows? I don't trust anybody anymore.