'America's Next Top Model' Recap- The Girl Whose Walk Is TOO Good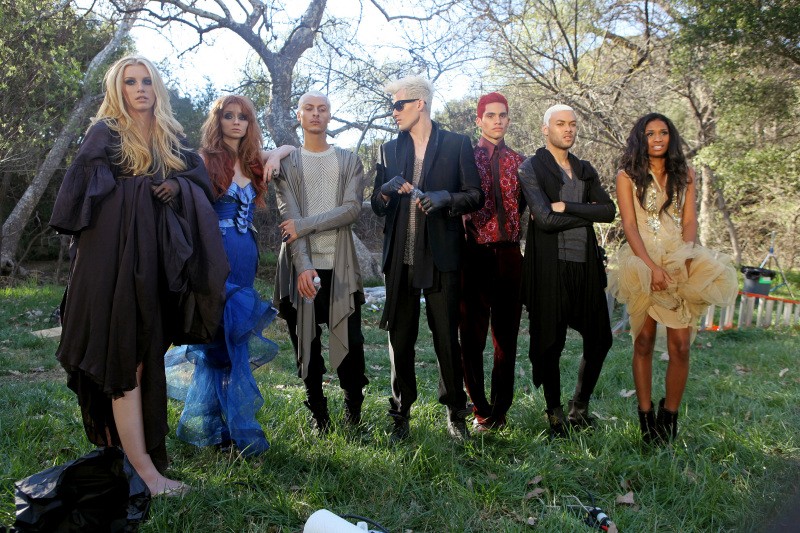 'America's Next Top Model' is streaking to the finish line. Eight models remain; five guys and three girls. In the first cycle that guys were allowed to participate in ANTM, they're kicking booch. Did you see what I did there? See it?
We begin our episode with some back story. Phil narrowly escaped elimination last week, just beating out his mansion mate Jiana. Phil's cavalier attitude about modeling has him in the judgment crosshairs of his fellow models. Show producers show us evidence of Phil's maturity by rolling out the footage of him throwing a rock that breaks a fence. Even if you're new to ANTM, you can see how much of a problem Phil is. I mean, the guy threw a rock and broke a fence.
Chris H. is no angel either. He puts on boxing gloves and punches people in the crotch. Please keep up, this show moves fast.
Rob Evans gathers the crew for their challenge. They meet Alexis Borges from Next Model Management. He directs the contestants to book their own jobs for a fashion show. There will be two casting calls for each model.
There's a lot of walking. Nina Cat Ears walks good. Don walks good, I think. Don is never really mentioned on the show. The judges say Jourdan is boring, and that her walk is too good. She's happy about the critique and I'm confused. She is not chosen for the first runway show. The judges fail to mention how Jourdan spells her name wrong.
Renee is the only female model chosen for the second clothes show. Jourdan is not picked again. Jourdan gets a panic attack. For Jourdan's panic attack, producers choose the kind of music someone would use for a murder scene in a movie. Jourdan did not get into the fashion show. She could be sent home. You'd have a panic attack too.
Renee takes advantage of Jourdan's weakened state by telling her that she's boring and awful. It's good to have friends. Marvin also struck out in his attempt to book shows. He pulls it together though and does not have a panic attack.
Phil dragged his coat on the ground while he was modeling and that's a lot like throwing a rock at a fence and breaking it. Phil is the James Dean of 'America's Next Top Model'.
Renee won the challenge by a landslide. She scored a 10. Marvin and Jourdan scored a 6, even though they didn't get into the fashion show. They did nothing. Why didn't they score zeroes? What's the use of having a predetermined scale between 0-and-10 if you're not going to go below 6? Why not score them between 0-and-4? Who would possibly read down this far?
Back at the mansion, Renee sneaks into 'No Game' Marvin's bed. Renee has a crush on Marvin. Marvin's game of having no game is working. I'm confused.
The photo shoot is next. Johnny Wujek brings the gang to Canyon Ranch. The models will be charged with posing on the ground in expensive clothes. Renee reveals that she's allergic to ants, which is just about the funniest thing I have ever heard. Who is allergic to ants? Anyway, there will now be a whole 'Renee needs to overcome her fear of ants' plot line.
Nina lays in the grass good. They tell Don to lay in the grass, but he lays wrong. The photographer says, "You can't just lay there." So, Don slightly changes the way he lays and they say, "Good." This show is so confusing.
Renee makes fun of Jourdan for not knowing what a book is, so Jourdan throws a frog at her. It's cray-cray. Renee vows revenge. Someone's going to die.
Chris H. does a really good job of lying in the grass, despite his troubled past. Marvin does not. Marvin doesn't show his neck. What an idiot? Who doesn't show their neck while lying in the grass?
The final judgment is next. Once again, social media scores count for the final judgment, even though the show is taped. After weeks of being in the final two, Phil is sent home. It's bad news for the rest of us. No one's fence is safe.
Just when you thought the show was over, Tyra Banks smacks her Thor hammer into the Earth and brings back the other eliminated contentants from Cycle 20. Phil joins them on stage. The booted contestant with the highest social media score, tabulatd by people with the ability to watch a show that has not yet aired on television yet, gets to come back to the show and go to Bali.
Alexandra gets the second chance. She's back on the show. Alexandra cries because she's happy. The rest of the models cry because they're sad.
Tyra smacks her hammer down again and reveals that a guy gets to come back to the show as well. This show just keeps on giving. Tyra Banks is like a super hot Santa Claus.
Before they announce which male model is coming back, the show ends.
Great. Now, if I fall into a gorge this week and die of internal bleeding and exposure, I'll never know which guy comes back.