'America's Next Top Model' Recap: O Canada!
This week's installment of ANTM was a surprisingly civilized episode, was it not? Drama was minimal, tongues were in check, and everyone had a kind word to say about everyone; which is only fitting because the entire episode took place in Canada. Well it wasn't entirely drama-free, there were a few requisite tears sprinkled gently throughout, but in general wasn't this pretty tame and almost blasé?
First, the girls were treated to an all expenses paid round trip to Canada!! Oh you guys, can you even imagine the life of a model? Always jet-setting off to fantastic places... personally I was spoiled as a youth, growing up 15 minutes away from the Canadian border in exotic Buffalo, and I can't tell you how many times people have asked me what it was like being so close to such an exciting country. And I hate to let all of you down, but you really do kind of get used to it. Now I live in boring Los Angeles, land of relentless sunshine and exhaustingly breathtaking scenery, I can't tell you how much I long for the seasonally depressive ever-gray landscape of the rust belt. That's sarcasm, bt dubs. And, Toronto, you are a fantastic city and I do love you, but who even knew you had a fashion week?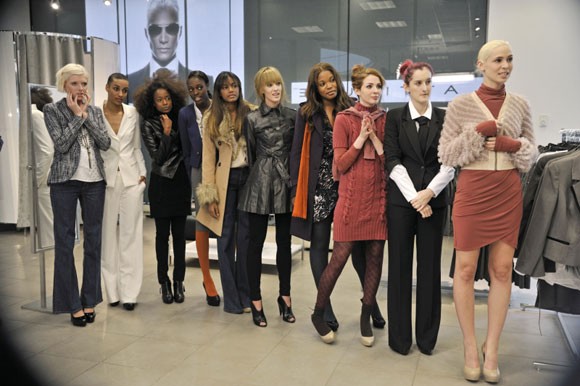 Anyway, that's what the girls were in town for. To see who could book the most shows out of 8 go-sees for Toronto Duty Free Fashion Week, rivaled only in attendance by the Toledo Independent Film Festival. No, okay, I'll stop making fun of Canada now. I know Toronto is a real city. I do. There were some surprises here: Eboni (where'd you come from, 30 never?) and Sophie took the lead on this challenge booking 4. Pretty-Much-Already-The-Winner, Azmarie wasn't far behind with 3, most everyone else fell somewhere in the middle, bookended by Katharine, Seymone and Ashley's goose eggs. Meaning, they didn't book anything. Seymone spent most of the time sulking, Katharine shed a few tears because she is apparently a champion catwalker, and no one was surprised by Ashley, who embodied the spirit of a runway Ramona Singer: scary eyes and muscle control similar to a marionette. Oh! And Kyle and Laura got cut from one of the shows that they booked. Awkward!
Now onto the photo shoot challenge. Because this is the country of maple leaves (see: the Canadian flag), the goal of the photo shoot incorporated a maple syrup waterfall. All the girls dressed up in scantily placed crafty autumn leaf cod pieces, and attempted to weather a storm of maple syrup being poured directly on their faces, as fiercely as possible. It was strange and kind of amazing. I feel like sometimes the producers on this show go out of their way to invent fantastic ways to mildly torture the models all in the name of art and fashion.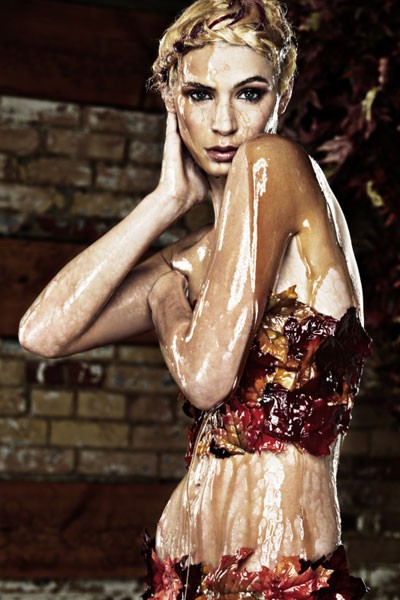 This is what I'm talking about when I say everyone just basically said nice things about everyone else. The judges were in rare form. No one had any snark or sarcasm. Kelly Cutrone was supportive and warm, at one point, thanking a contestant for divulging a personal detail when being gently critiqued. I'm telling you, it's that Canadian air. Everything up there is just a little bit lighter. Eboni got the first call out from Tyra. I still, five episodes in, don't understand if this means she won, or just lost the least. But she was called first. Azmarie was second. Ashley was sent on her bittersweet way which was absolutely no surprise. Sweet though she was, from the get go she seemed a little in over her head and just so... young. Can you guys even believe she has two kids? Okay, maybe one, but two?? Girl doesn't look a day over 17. Babies having babies… and tragically a truncated reality TV career.