'America's Next Top Model' Recap: Krista Edges Out Raina And Named 'Top Model'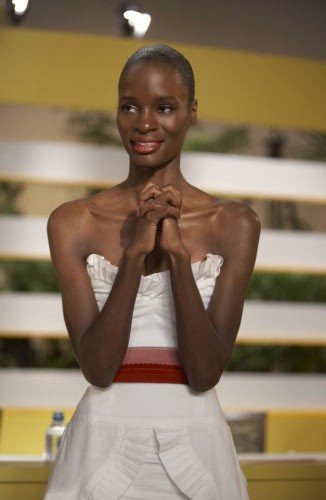 This week's season finale of America's Next Top Model narrowed the girls from four to two, then from two to one…because there can only be one Top Model. The final four girls were initially greeted by Andre Leon Talley who brought them flowers and shared some words of wisdom. The four remaining models were then put on a plane to Queenstown, New Zealand; however, on the way there, the girls were shocked to see Miss J challenging them to a runway challenge from 30,000 feet in the air.
The girls were asked to show their personality. Alexandra had a good walk, but made too many stops to interact with the rest of the people on the plane (i.e. the Top Model production crew). Raina's walk was described as a "linebacker" with a hint of something from 1982. Angelea wasn't prepared on the plane and had to strut her stuff in one heel. She did her usual, "I'm in the club/coming off the street/drunk at a party," walk which continually fails to impress the judges. This made Krista the winner of the challenge and the recipient of over $2000 worth of jewelry.
When it came time for the photo shoot, the girls found out that half of them were going to be eliminated. The models were challenged to an "ugly-pretty" shoot to show off an amazing background while the girls were dressed in corsets and black lipstick. Krista, for the fourth week in a row, had the best picture securing her a spot in the finals. Alexandra, Angelea and Raina were left in the bottom three. The judges commented that Raina wasn't comfortable stepping out of her box, but still managed to take a good enough photo to push her to the finals. Angelea and Alexandra were then eliminated for different reasons. Angelea was eliminated because she couldn't take critique and her photo was odd (and quite blurry). Alexandra was eliminated because she didn't show enough fashion edge. This wouldn't be, however, the last we'd see of these girls.
For the final hour of the two hour finale, we saw Raina and Krista shoot their Cover Girl commercial and photo shoot as well as their Seventeen photo shoot. Krista blanked out on her lines for the commercial and Mr. Jay had to use cue cards to guide her along. Raina had her lines memorized, but forgot about modeling with her face while she was regurgitating the words for the camera. I found it odd that during judging we never saw each girl's best commercial take. Perhaps neither was really worth seeing.
As far as the photos went, Raina knew how to emote the correct feelings for Cover Girl and had a fresh fun look to her. Krista had a bit of hardness to her and the photographer explained that she had a hard time finding the middle ground between smiling and being strong. Raina described the difference between herself and Krista as "fun and flirty" versus "focus and fierceness."
After these two shoots, Tyra gave herself a plug by bringing in each model's parents and doing a mini-photo shoot with them. Those photos, according to Tyra, can only be found on Tyra.com.
Then it was time for the runway show featuring Anna Sui designs. It's a highly known fact that in order to prevent too much information leakage, the other girls that travel to the overseas destination stay abroad until the show is over and normally make an appearance in the final runway show. Normally no focus is given towards them, however this time around we got to see Angelea, Alasia, Jessica and Alexandra all come back and walk for the Rock 'N Roll circus-themed show. In a way, it took away some of the specialness surrounding the final two.
Both girls looked great and got to have a fun time on the runway. Raina's walk was criticized; Andre Leon Talley said she walked like a Clydesdale. Krista's main criticism came from her photo were she lacked connection and, heaven forbid, she didn't smile with her eyes!
It was a no-brainer who would be named America's Next Top Model…after literally the last month of having the best photo and winning the challenges, Krista was named America's Next Top Model. All the judges felt, though, that both finalists will have long, successful careers.
More photos from the "Top Model" Finale