'America's Next Top Model' Cycle 16 Ep. 3 Recap: America's Worst Makeover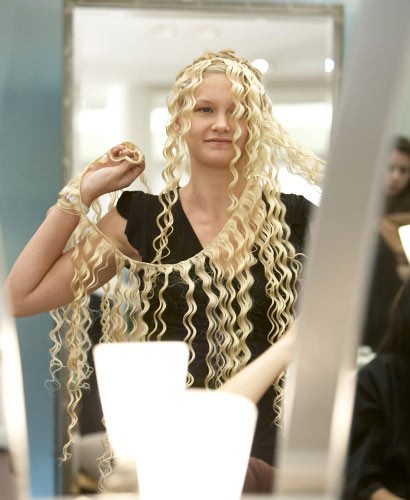 This week's episode of "America's Next Top Model" featured the infamous makeover segment, in which the remaining 11 contestants were subjected to—gasp!—haircuts, dye jobs, and the always dreaded weave. However, one model received a particularly horrible makeover during Episode 3, possibly one of the worst to-date in ANTM history.
As usual, the show opened up with a bit of interaction at the Top Model house, specifically girls complaining about how insufferable Alexandria is. However, when the girls discovered a pull rope in the living room, which released a chart of vague descriptions of makeover styles, speculation ran rampant about which girl would be receiving which style. Sara, who has the androgynous look Tyra loves, worried that she'd be losing even more hair and going super-super short. Unfortunately for the girls of "America's Next Top Model" Cycle 16, the majority of them would be receiving weaves.
At the makeovers, Alexandria once again was very upfront with her complaints, much to the chagrin of the other 10 contestants. She took it upon herself to inform her stylist as to how her blonde weave should look, pouting and whining the entire time, only to realize she loved the final effect—which really only added some extra volume and length to her natural blonde tresses. Mikaela got some lovely, raven-hued extensions, which frame her petite figure stunningly; Dalya received similar bonus volume and length. Hannah also had extra length and volume added, though her tresses remain blonde, and Sara's fears were confirmed when her stylist chopped her hair down to a very short, boyish style. Without a doubt, Molly received the worst makeover—even based on previous botched ANTM makeovers. Despite a stylist specializing in weaves being brought-in by the crew, her artificial blonde waves looked huge and hideous; not a single person on this week's episode could contest it.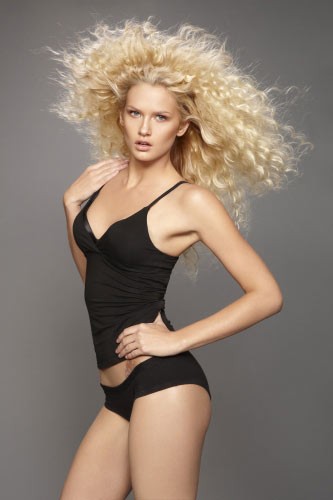 Fortunately, Molly decided to keep her mouth shut for the most part—unlike Alexandria—and lament her new look only in private or in alone with another contestant.
The heightened pace and exaggerated challenge of "America's Next Top Model" Cycle 16 continued at this week's photo shoot, which featured a dream team of the legendary Pamela Hansen behind the camera, and the phenomenal Lori Goldstein as the stylist for the shoot. The girls were informed they'd be wearing couture designs in a very "Alice in Wonderland" inspired setting, with bold, exaggerated accessories and a lovely in-the-part atmosphere. Coming straight out of the trauma of makeovers, many of the girls were frustrated that they suddenly had to balance a whole new look. Hansen didn't take it easy on the girls, being liberal with criticism and even telling several girls the photos were looking horrible.
The added challenge for the photo shoot came by way of working with a second model, or a third in the case of Dominique, Dalya and Jaclyn. Tyra has always been very upfront with ANTM contestants in that working with another model or two requires upstaging them and drawing attention to you despite the group photo.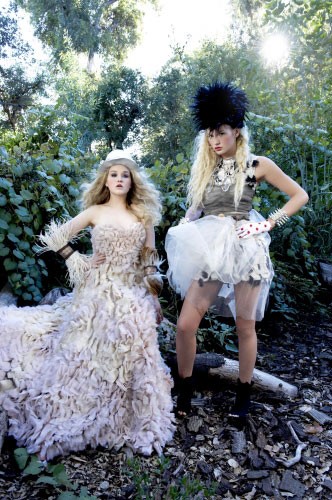 At panel, the girls had to face Lori Goldstein serving as this week's guest judge. Several of the girls struggled with this, though Alexandria unfortunately managed to shine when paired-up with Monique. Molly and plus-size model Kasha did very well, though Tyra noted that neither of them managed to out-perform the other. Hannah and Brittani received a lot of praise also, and Tyra was especially pleased with the outcome of Brittani's makeover; she received a chic black bob with thick bangs. Sara and Mikaela were paired together, and Mikaela was criticized rather harshly for having her eyes closed in most of her photos. Tyra did take a moment to warn Alexandria that her diva behavior was a problem, though it apparently wasn't enough to turn the panel off to Alexandria entirely—considering she won best photo. Molly took second photo, despite the terrible weave, and Tyra informed her that they would be correcting the disaster on her head. Dominique and Sara found themselves in the bottom two.
Is seems Dominique was in the bottom because she lacked inspiration on the set and delivered empty photos and Sara joined her because she seemed to lack confidence, which is apparently more severe than only taking pictures with your eyes closed for ANTM Cycle 16.
In the end, Dominique was sent home, despite her unusual look full of freckles and fierce, newly-red hair. Alexandria continues to perform very well, so it seems unlikely she'll be going home anytime soon—and Monique is right there behind her in the I-know-everything attitude. Who do you want to see go home next?