'America's Next Top Model' Cycle 16 Ep. 2 Recap: And 13 Becomes… 11?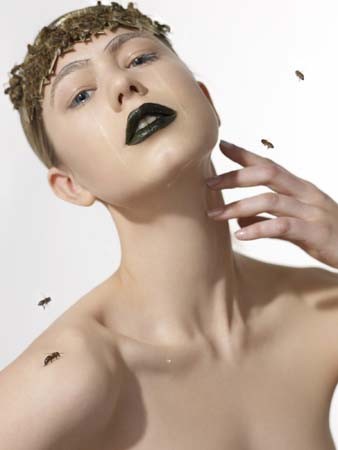 This week, "America's Next Top Model" continued to break the mold, with the remaining thirteen contestants dropping to eleven, instead of only one model-hopeful going home. With the incredible assortment of prizes on the line, including the spread in Italian Vogue and the cover of Beauty in Vogue, in addition to the Cover Girl contract and IMG representation, ANTM continued to raise the bar even higher than it did during the intensely challenging Cycle 15.
"America's Next Top Model" Cycle 16 Episode 2 opened with the girls chilling at the Top Model House, eating a surprising meal of pizza and coke. It was a segment full of the mandatory bonding time and drama many fans of ANTM seem to love, with Dominique and Ondrei sitting on the couch talking about their backgrounds. Ondrei revealed that both of her brothers had died; one in a car accident, and the second was murdered the day before her Prom just a few short months ago. Which, of course, begs the question: What the hell is Ondrei doing on a highly stressful, very competitive TV show in the wake of such tragedies? As the episode progressed, it became increasingly obvious that Ondrei was not handling the stress of her situation very well.
To further compound her difficulty, the semi-challenge for this week involved the girls meeting with one of the leading acting coaches in Los Angeles, who forced them to control the ugly voice inside their heads who seeks to bring them down. They were instructed to draw a picture of this detrimental inner critic, depicting the voice as they imagine it. Supposedly, this was intended to bolster the model-hopefuls self esteem, but it seemed to lead only to a lot of tears—especially for Ondrei, who immediately referenced the death of her brothers.
In some strange, round-about way, the traumatic inner critic ordeal was intended to help the remaining 13 "America's Next Top Model" contestants prepare for this week's photo shoot: A beauty shot, with a swarm of living bees attracted to a piece of jewelry thanks to the liberal application of bee pheromones. "Baby face" Jaclyn, who referenced her toddler-ish appearance during the acting session, is apparently allergic to bees; fortunately, she was the only contestant to be doubly challenged thanks to an allergy, as far as viewers were informed. Many of the girls struggled with this week's photo shoot, but not for the glaringly obvious reason—the bees, that is—but because they currently lack the intensity required to deliver the smoldering ANTM photos Tyra and the panel demand.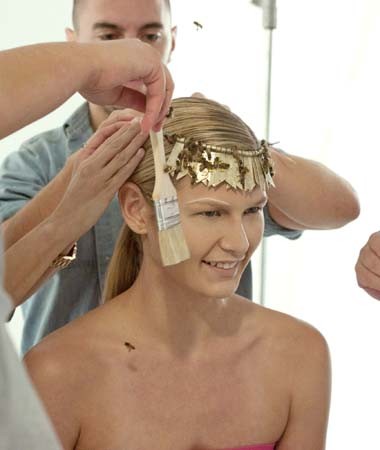 It was a very challenging situation, very early in Cycle 16, which means Tyra and crew are once again raising the bar on what is expected of these amateur but somewhat determined model-hopefuls in exchange for the wickedly career-launching prize package. Hannah, plus-size contestant Kasia, and Monique received the top praises at panel for this week's photos, for managing to balance the demands of posing with bees and still connecting to the camera. Dayla, Nicole and Molly managed the fiercest criticisms, though it seemed that the majority of the remaining 13 contestants disappointed Tyra, Nigel, André, and guest judge Alek Wek.
Oh, did I say 13 remaining contestants? Make that 12, as during the panel's review of their photos Ondrei announced that she simply couldn't handle the stress of being on "America's Next Top Model" in the wake of her personal tragedies. Perhaps the young lady thought getting away from her home in an entirely new environment would help her to move beyond her grief, but I can't help being incredibly annoyed whenever a contestant willingly gives up an opportunity thousands upon thousands of model-hopefuls in America would kill for. Tyra announced that unless Ondrei's picture was the worst of the lot, another girl would be going home.
Unfortunately for the remaining 12, Ondrei's picture was not judged to be the worst of the group.
At panel, the remaining 12 girls became 11, with Dayla and Nicole finding themselves in the bottom two after Hannah won best photo, with Brittani trailing her in the same second-place position she enjoyed last week. Nicole was warned during last week's episode of "America's Next Top Model" that she was photographing too old, and despite her best efforts she once again delivered an overly aged appearance in her photo. Dayla seemed to do much worse—with Tyra informing her she could only use one photo from her shoot, and one with her eyes closed to boot—and yet in the end, Nicole was sent home.
The remaining 11 contestants are definitely in for a wild ride, and next week is the highly anticipated sob-fest known as makeovers!