'America's Next Top Model' Cycle 15 Finale Recap: And The Winner Is...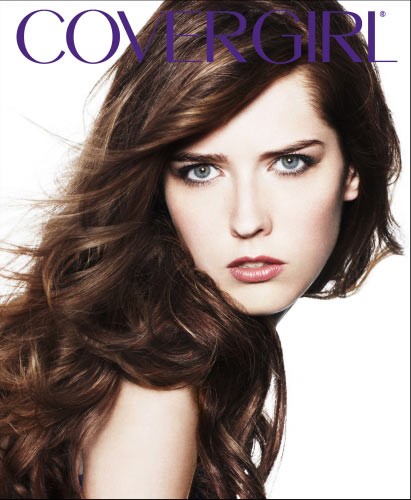 "America's Next Top Model" Cycle 15 was one of the most challenging, elite competitions the show has seen to date. Cycle 15 also had some of the best prizes: A spread in Italian Vogue, the cover of Beauty in Vogue, plus the traditional prizes of a Cover Girl contract and representation by IMG Model Management.
Ann Ward, the 6'2" beauty who towered above her fellow contestants and struggled with self-esteem issues due to years of teasing from her peers, took the "America's Next Top Model" grand prize. She beat runner-up Chelsey, and the other two "final four" ladies Kayla and Jane, to become the Cycle 15 victor. Throughout ANTM Cycle 15, the judges commented that Ann seemed to have a "super power" fueling her. For the first time in ANTM history, Ann won five consecutive "best photo" pictures—though she continued to struggle the entire time with showing her personality and combating her awkwardness.
Chelsey came into the contest with the most practical experience in modeling of any of the 14 girls; "Chelsey's hard work and determination started to pay off as she won challenge after challenge after challenge," commented Tyra during the intro. "Can Ann come together for Cover Girl?" she questioned, which previous episodes indicated would be Ann's biggest challenge—a performance selling her unique personality.
The "America's Next Top Model" Cycle 15 finale began with Chelsey and Ann reflecting on the challenges they faced during this year's competition. "I have wanted to be a super model since I was 3 years old," Chelsey expressed, indicating twenty years of working towards her goal. She shed a few tears looking back at the road she walked to get to ANTM, while Ann confessed that she never thought she'd make it into the final 14 contestants to begin with; she expressed how pleased she was to come onto ANTM and have something unique—namely, her height—which makes her beautiful.
The next day, the girls traveled out into the middle of nowhere to shoot for Italian Vogue. Vincent Peters was the photographer for the day, one of the most influential photographers working for Italian Vogue and Beauty in Vogue. The theme was a very natural, rustic setting; Ann posed well in the settings, from sitting in the tall grass to standing in a stream. "Ann is definitely more like a fashion model … very high end," commented Peters. Chelsey strove to stand-out with Peters; "she's got something that the camera likes," he praised. "Chelsey is very good."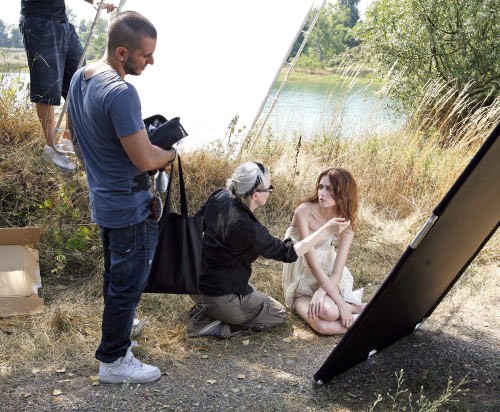 The next challenge for the "America's Next Top Model" Cycle 15 finale was the infamous Cover Girl commercial. The pair arrived back at the ANTM home to find no lines or prep material, quite the contrast to previous Cycles where the girls struggled to memorize their scripts before arriving on set. Mr. Jay met them on the picturesque shores of a lakeside town, and informed them that it would be the backdrop to their commercial and the print ads. He shocked both Ann and Chelsey when he told them there would be no lines to memorize, and that they would be doing voice-over readings after acting-out the scenes in the commercial. "I'm expecting a lot out of both of you," he warned, then sent the girls off to make-up.
Ann and Chelsey pretended to be friends vacationing in Italy; "I feel like we've got some natural-born actresses for a change," Jay commented, moving them along to the next scene of the commercial. He praised Ann for her authentic reactions. "They really wowed me," Jay elaborated, "I was so surprised by how Ann found a way to vibe off of Chelsey." Before the final segment, Jay surprised the girls by having their parents walk onto the set to greet the ANTM top two. Chelsey's parents, plus Ann's folks and her little brother, got to watch the final stages of the Cover Girl segment of the Cycle 15 finale. In addition, the family members were allowed to attend the final runway challenge—the first time for both girls that their parents saw them live, in action.
Ann struggled with the voice-over at first, and Jay informed her to walk with her hands and really let her personality shine; Chelsey was cautioned that she was "rushing it," and Jay didn't believe her performance. At the Cover Girl shoot, the photographer praised Chelsey for how easy she seemed to take to everything, and how commercial she was. He found Ann to be perfect for an editorial, but slightly more difficult with a "beauty shot."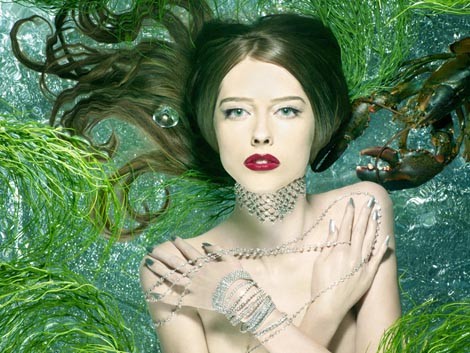 Before the final runway competition, the girls met with Ivan Bart, the senior VIP of IMG Models. He asked both girls what made them want this career, and Chelsey explained that she wanted it her entire life and had been working in New York at 18. They went over her portfolio, and Bart said he could see them working with her. Ann, as usual, struggled to show her personality but she managed to impress Bart with her look and her answers to his questions. "I think I'd like to work with her personality," he decided after talking with Ann, but at the end of the meet-and-greet he said his decision wasn't yet made.
"I feel like I am 'America's Next Top Model,'" explained Chelsey on their way to the set of the runway show, were they would be walking for Roberto Cavalli—one of the most influential designers in the world, let alone in Italy. They brought back Liz, Chris, Jane and Kayla to join Ann and Chelsey in the fashion show, plus Cycle 14 winner Krista. He told them they would be walking with established Italian models, and backstage quickly turned into the routine madhouse. Tyra wished the girls good luck, and Krista warned them to take a deep breath and just go.
During the performance, Ann went first between the pair of final contestants. She struggled with staring straight ahead like a deer in headlights, whereas Chelsey seemed a bit lost and hesitant at the end of the catwalk during the pivotal turn-around moment. The second time out went better for both girls, and Chelsey said she couldn't "imagine not winning." Heading to the final panel, both girls felt confident and pleased with their performances. Both Mr. Jay and Robert Cavalli joined the panel as guest judges for the "America's Next Top Model" Cycle 15 finale.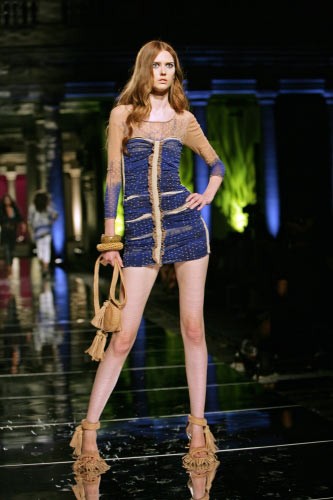 When reviewing their film from the show, Nigel critiqued Chelsey for walking a bit fast and stiff, and Andre̕ said she had no snap, crackle or pop. Ann was told she had improved, but that her face was too focused, a little "too zombie." Andre̕ said he would give her a B+ for her first professional runway show. The panel then viewed the completed commercial, and Andre̕ said he was engaged by both of them. Jay relayed that he was impressed with how they fed off each other's energy, and Nigel appreciated Chelsey's constant smile. Tyra cautioned them to remember they were selling make-up and now the other props in the commercial.
Nigel liked the focus in Chelsey's print ad photo, and Tyra also approved—but Cavalli disagreed. "We don't appreciate so much the product." Andre̕ agreed, saying he would have to ask what the product was. However, Cavalli said that he liked Ann's print ad photo, saying he would use it. Andre̕ agreed, but both Jay and Tyra cautioned her that her film was weak and "clinched-up" for this photo shoot. The deliberations were brutal, but in the end Tyra said the winning girl had won a prize that every model in the world wants—bad. Chelsey took the news of Ann's win poorly, as to be expected, but Ann cried and gushed when she was finally named the winner of "America's Next Top Model" Cycle 15. View more pictures from Ann's winning portfolio here, plus a video clip of her winning moment.