'America's Next Top Model' Cycle 15 Ep. 8 Recap: A Runway Show, Plus Commercial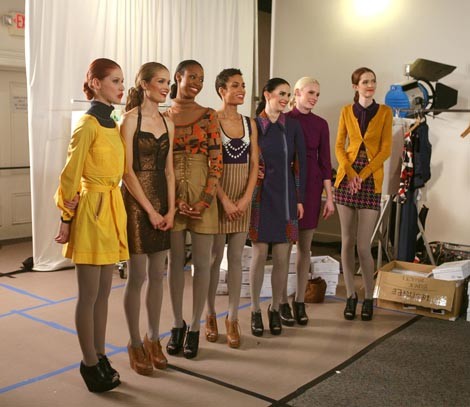 Last week, Liz dethroned Ann as the best photo winner, displacing the tall and awkward Ann after a record-shattering five week streak. The judges decreed that Kendel was the next to go home, leaving seven girls to battle for the "America's Next Top Model" grand prize and a stagger assortment of prizes. Who will falter next, and will Liz finally stop complaining?
"America's Next Top Model" Cycle 15 episode 8 opened with the girls returning from panel. Ann expressed her concern over losing her best photo streak, and Liz gushing about her newfound success as best photo winner. "I feel so privileged, I just took Ann's spot," she cooed. "I'm the only other girl to get best photo—do you know how good that feels? I don't want to get conceited and big-headed, but I got best photo!"
 Miss J surprised the girls at the ANTM house, giving the seven remaining contestants a head's up that they would be walking in a fashion show wearing designer Zac Posen's 2010 collection. Miss J brought Zac in to meet the girls, and he explained that in addition to wearing his collection, the girls would be modeling with professionals—and it would be a challenge, with Miss J and him as judges. "This is very rare that you actually get to sit-down with a designer this close and have this much conversation with him," Miss J explained, bidding the seven girls to ask him questions. Esther asked what type of models were his favorite, and he replied that a sense of attitude, confidence and personality influenced which models he remembers. "He is one designer that is actually into the walk," Miss J warned.
 At the runway show, Zac Posen called for alterations and gave the girls brief instructions and critiques. He said that he intentionally designed his collection around a variety of body types; "It's something that I set-out from the beginning of my career to do, is always to show how different forms and bodies can look on the runway." Meanwhile, Miss J instructed the professional models to be the "mean girls" that all models encounter from time-to-time, and to shake-up the confidence of the "America's Next Top Model" contestants. During the final runway practice walks and fitting, the models definitely unleashed the snarky comments; one in particular told Ann she was lucky to be on ANTM, since she wasn't Zac's usual type of model.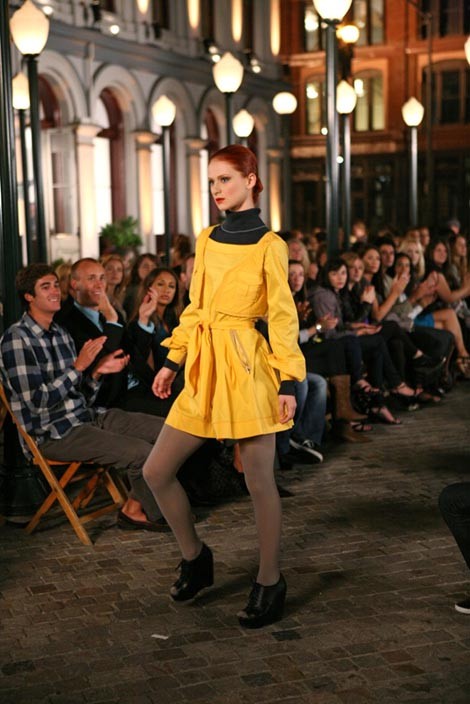 At the event, Jane went first and opened the fashion show much to her delight. Liz balked at the warnings of the professional models, and did well during her walk. Ann, who was warned about the amount of people out there and bid to not screw it up by one of the planted models, faltered: a brief stumble, plus an awkward walk. Esther thought she did well, but both Miss J and Zac Posen criticized her performance. Kayla, Chris and Chelsey all did well, with Miss J saying that Chelsey looked cute out there. After the fashion show, Miss J revealed that the professional models had been acting the part of the cruel girls backstage, much to Chris' frustration. The pair evaluated the seven ANTM girls one-by-one, and Ann received a wonderful ego boost from Zac: "You're rare—rarity is the definition for me of luxury. That's a very powerful thing to have; you have to work on it, and have confidence." In the end, the challenge winner was Chelsey, who won not only the bragging rights but also five pieces from the "Z-spoke" 2010 collection.
 Mr. Jay and Nigel surprised the girls back at the ANTM house the next morning, and informed the girls that they would be doing their first commercial—and Nigel would be the director. They broke the news that the girls would be roller-skating and kissing boys during the scene, which frustrated Kayla, who has been open about being a Lesbian for all of "America's Next Top Model" Cycle 15. "I just can't get this whole kiss thing out of my head," she confessed.  "It was deeper to me than just being gay; I feel personally uncomfortable with intimacy with men." Mr. Jay took a moment to talk to her, and she confessed that she was sexually assaulted when she was 11 years old. She told him no one in her family or group of friends knew about the incident, and he told her she had to deal with it to heal; leaving that conversation, Kayla seemed prepared to bite the bullet and kiss the boy.
 Although she struggled for a few takes, Kayla managed to deliver a believable performance. Liz went next, bragging about memorizing her lines before the shoot, only to struggle on-set. "Liz was extremely disappointing for me; it's as if she didn't take any of it seriously. She would laugh; she would say the line, and laugh," Nigel explained, and he even chastised her during the shoot. Esther seemed incapable of giving a believable performance, much to Nigel and Mr. Jay's disappointment. Jane and Chelsey struggled more with the roller-skating than their performance. Chris did extremely well, and Nigel stated she was one of the best of the day. Ann struggled more than anyone else, and took a hard drive to the pavement shortly into her shoot. Unfortunately, most of her film was of her falling and struggling instead of pitching the product.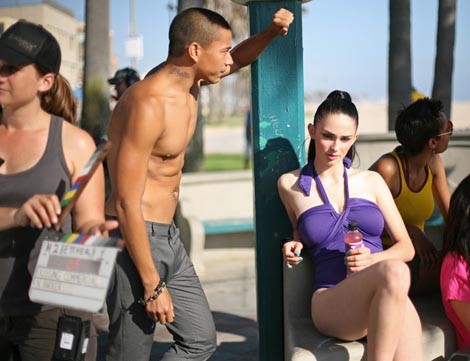 Zac Posen joined the panel as the guest judge for ANTM episode 8. Jane was called first, and was praised for her magic moment with the male model, though Nigel said he wanted to see more of her personality. Liz went next, and after her poor performance she was slammed by Nigel in front of the panel: "She was an absolute and utter mess. And what's more, and irritating me, she laughed through most of it." In response, she cried, and played the daughter card. Chris, who went next, was the complete opposite of Liz—she was great, in other words. Tyra warned her to not be quite so cheesy, but ultimately she garnered high praise from the whole panel.
 Ann had struggled, and the panel was gentler with her than Liz while instructing her to bring the confidence. Tyra praised Kayla for looking urban, but they warned her to always bring a believable performance no matter the discomfort. Chelsey did well, but the panel wished for more energy and pop during her performance. Esther was called last, and the panel told her she was a mess, but Andre̕ praised her for looking like a model standing in front of them.
 For "America's Next Top Model" Cycle 15 episode 8, Chris had the honor of taking home best-photo—a still from her commercial—and the praise from Tyra. Runner-up was Jane, with Chelsey following her as third. Kayla rounded-out the top 4, which she typically finds herself a member of. Liz's name was called next, despite her horrible performance and attitude, leaving Esther and Ann in the bottom 2—a swift, hard fall for Ann after her 5-week streak. But it was Ann who whom Tyra called to rejoin the remaining ANTM contestants, saying: "The reason why I called your name has something to do with you taking fantastic photos, but—the reason why the judges decided that you should really stay is because you have an awkwardness that is actually beautiful." Six girls remain, with several of them in a precarious position—who goes next?