'America's Next Top Model' Cycle 15 Ep. 7 Recap: A Lesson In Designers For The Girls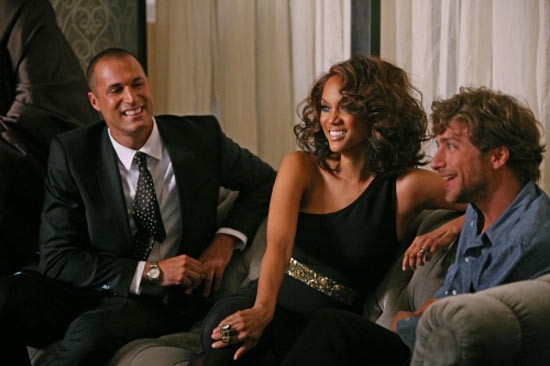 Last week, Ann managed yet another America's Next Top Model first: five consecutive best photo wins. Needless to say, the other ANTM contestants were highly threatened by her seemingly effortless (and confusing) success. Will someone step-up in Episode 7 of Cycle 15 and dethrone the statuesque Ann?
This week's episode began with the girls celebrating the departure of Kacey, who was eliminated in Episode 6's panel. Naturally, several confessions had to do with the girls' fears about Ann and her success. "Ann's won best photo five weeks in a row, but when it comes to speaking or showing character or personality, she's kind of not there. I know I can do more; I definitely have to stand out," Liz insisted, illustrating what seems to be the general attitude of the other seven remaining ANTM model-hopefuls.
Tyra Mail arrived, sending the girls into the routine tizzy of debate and speculation. They found themselves at The Grammy Museum in Los Angeles, with Mr. Jay introducing them to Neil Portman—the present/CEO of The Recording Academy. Portman explained that one of the girls would win the competition, with the prize being the chance to go on-stage and award a Grammy in 2011. The eight girls divided into teams of two, and selected an outfit—for each other--to impress Portman Jay; with Jay choosing the winning team, but Portman picking the winner, the pressure was really on. Chelsey and Ann were paired-up again, much to her frustration. "It's uncomfortable, because our personalities are very different," Chelsey explained prior to the competition.
The girls explained the look they wanted to their partner, with Liz and Kayla at odds as usual. Although she agreed to find a tight dress with a long train, Kayla decided in advance to infuse Liz's look with a punk rock feel. "I went completely against what she said, and I got her pants. She better rock it like she has on a ball gown," she explained after picking a pair of shiny black pants. Jane was paired with Esther, who instructed her to avoid anything strapless due to her larger bust size. Ann looked for a long, flowing dress for Chelsey only to return with a black gown several sizes too large and ambiguous in design.
Liz and Kayla were up first, and Portman questioned whether or not they had seen the Grammy Awards in the past. Liz was quick to clarify that she had requested a long, dressy gown—not pants. Chris and Kendel faced the judging next, and were criticized for looking too fresh-from-the-club by Jay. Esther stumbled when she and Jane stepped onto the stage, but both of them looked more reserved and understated than the other ANTM hopefuls. Ann and Chelsey went last, and Jay criticized Chelsey for not selling the garment. Kayla and Liz won the contest, with both praised highly by Jay; Portman ultimately chose Kayla to attend The Grammy Awards in 2011, due to her composure and less star-struck demeanor compared to Liz. After, Liz complained—like always—and went back to the America's Next Top Model house and proceeded to get plastered.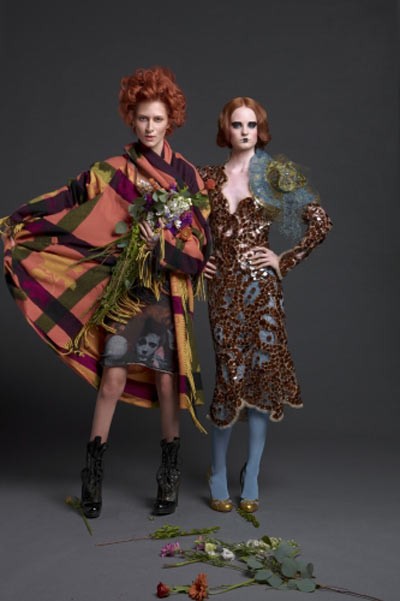 The girls loaded onto the ANTM and met Mr. Jay on the set of this week's photo shoot. He informed them that they would be portraying ironic fashion designers, and that the photographer for the day would be Francesco Carrozzini. Rushka Bergman was on-set as the stylist, and the girls were told they would be working with another female model in the shoot. Each girl was assigned a designer and look, including Marc Jacobs, Vera Wang and Betsey Johnson. Jay asked Liz what she knew about John Galliano, her designer for the day: "I'm very busy, with two jobs and a kid—I don't stop to study fashion," a remarkable confession for an America's Next Top Model contestant.
However, Liz did very well on the set, and Jay praised her for truly embodying her designer. Chris did very well in her portrayal of Betsey Johnson, jumping around on-set and delivering a believable performance. Jay criticized Kendel for being boring, and worried that she wasn't truly passionate about the ANTM competition. Jane and Esther struggled in portraying male designers, bringing too many feminine poses to the set; Ann, who also had a male assignment, did very well with the awkward, boyish demeanor.
The eight remaining America's Next Top Model Cycle 15 contestants arrived at panel, to once again face the judges; Francesco Carrozzini joined Tyra, Nigel and Andre̕. Kayla went first, and received high praise from the judges for her portrayal of Vivienne Westwood. Liz "caught the essence" of her designer, and Tyra encouraged her to pursue the androgyny of her look. Nigel told Chelsey, as he did Kayla, that it was her best photo to date. Jane triggered a speech from Tyra about the importance of ANTM contestants knowing the designers, photographers, and make-up artists in the industry: "There's a big chance that the girl that goes home today--is going home because she didn't know who the designer was." Kendel was criticized for not being modeling instead of just being a model.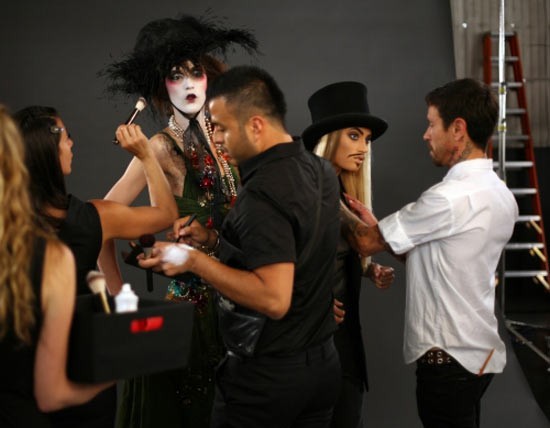 Once again, Ann received nothing but praise from the panel of judges. Chris was told her shot was "brilliant" by Nigel, and he questioned whether or not Kendel really wanted the ANTM victory. In the end, Liz disrupted Ann's winning streak and took best photo for Episode 7. Kayla was called next, with Ann coming in third this week. Chelsey rounded-out the top four, with Chris being called next. The dreaded bottom two for this week's America's Next Top Model was Esther and Kendel, with Esther making the cut and sending Kendel home. With seven girls remaining, the competition has never been fiercer, and the balance of power has shifted with Ann's fall to third place. Who will be eliminated next?