'America's Next Top Model' Cycle 15 Ep. 6 Recap: Another New Record, Another Girl Gone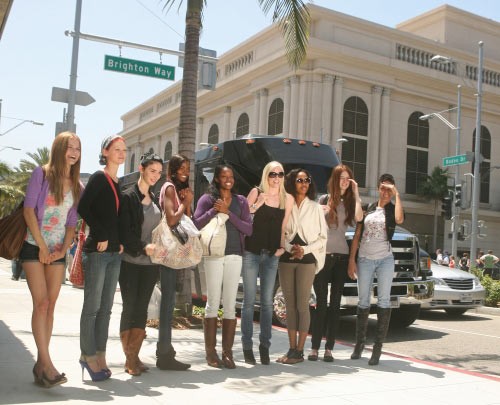 The competition on America's Next Top Model Cycle 15 has never been fiercer, but can any of the girls dethrone Ann, with her 4-consecutive-week sweep of best photo during panel? Will Kacey rise above the increasing hatred of her among the remaining nine model-hopefuls and out-shine at the photo shoots and competitions? Here's what you missed on ANTM Cycle 15 Episode 6!
Tall and awkward Ann, who wowed fans of America's Next Top Model with her four consecutive top photo wins—an ANTM record--last week, started this week's episode with an emotional confession: "I actually do feel like I'm a model--I'm not just the gangly girl that sits in the back of class. So, I really do feel pretty now," she stated through tears. During the episode, Ann made several confessions about her concerns regarding her awkwardness, and called overcoming it her "homework" during the competition.
A pink bag full of Cover Girl supplies arrived, with instructions for the girls to divide into three teams and work together developing a make-up presentation of the "smoky-eye" look. Panelist Nigel Barker met the girls at the local Walmart for the competition. "(We're) going to be showing the public what it means to be a Cover Girl; I always stress how important it is for models to be charming, personable and authentic." The America's Next Top Model contestants were charged with making a presentation to Walmart shoppers, who would then judge them on the performance. The prize was a shopping spree in the Cover Girl aisle at the store.
 "I want to represent Cover Girl well; I want to be able to be a Cover Girl spokesperson," Chelsey explained while putting together her team's presentation.  Ann was concerned about interacting with the public due to her height, so she opted to remain seated—and silent—during her team's presentation. Kacey and Kalya, who were on team 2, were very outgoing and persuasive. Chris, who led the presentation for team 3 with Chelsey and Liz, continuously overpowered her teammates during the demonstration much to Chelsey's frustration.
Nigel revealed after their performances that they would be subjected to hearing all the critiques from the shoppers. Chris was "the most overpowering" girl at the tables, and Kacey delivered the most authentic performance. Ann received the lowest score of all, and the winning team was group 2 with Esther, Kacey and Kalya—and Kacey was rated the best of that three-model team. The trio was each given a Walmart bag, and was allowed to ransack the Cover Girl aisle of the store and design a smoky-eye look; Nigel choose Esther's look as his favorite.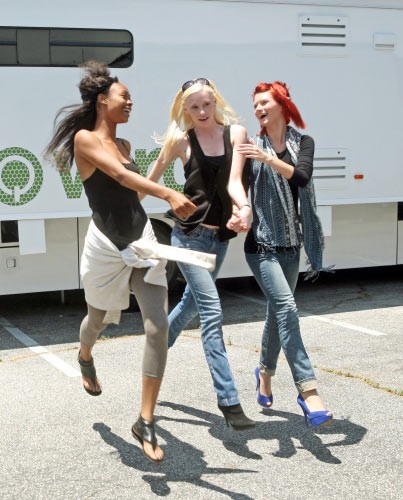 Lori Goldstein, a famous fashion stylist who has designed the looks featured on several Vogue covers, selected the ensembles for the girls at this week's photo shoot competition. The America's Next Top Model cast and crew arrived on Rodeo Drive in Beverly Hills to work with legendary photographer Patrick Demarchelier. "For 30 years, Patrick's images have helped define many fashion magazines," Mr. Jay explained, "he's even shot Tyra for Vogue." Episode 6 of Cycle 15 featured group shots capturing motion, two of the most difficult themes every featured during ANTM shoots. The girls were paired into groups of two, plus a male model.
Mr. Jay pulled the nine girls into his incredibly swanky trailer, and informed Chris that she would be the odd-one-out paired only with a male model. Chelsey was grouped with Ann, much to her annoyance; none of the girls seemed happy with their partner, in truth. Tyra surprised the girls at the shoot, where they posed with the token male model on the sidewalk of Rodeo Drive, then individually in a motion-shot. Kacey felt that Jane, her partner for the shoot, was her biggest competition—but it was herself. "Today, Kacey fell flat," critiqued Jay after their set. Ann and Chelsey both received firm criticism from both Tyra and jay, and struggled with walking naturally and relaxing on the set. Kayla had the misfortune of being given shoes two sizes too small, and her performance was significantly weaker than previous weeks.
Esther was praised by both stylish Lori Goldstein and Patrick for her ease, and Kendal "looked like Sarah Jessica Parker in Sex and the City—just feeling it," according to Jay. Her partner, Liz, faded into the background. Chris, who had the advantage of working alone with the reoccurring male models, did exceptionally well. "Chris was so good at creating this energy that was grounded in reality," Jay said after her shoot, commenting about her natural chemistry with the male model. By the end of the day, Kayla suffered the most thanks to her ill-fitting shoes, but she stated she hadn't let the thought of going home enter her head—yet.
The final nine girls of Cycle 15 of America's Next Top Model faced the panel of judges, and several of the girls seemed truly concerned about going home during Tyra's routine explanation of the prizes. Kendel and Liz were called first, and Nigel commented that he didn't look at the male model at all, and especially liked Kendel. She also had the stronger individual photo, and Nigel said Liz's photo didn't seem authentic—ouch. Esther and Kayla went next, and Esther was praised for being engaging with the model in the photo. Kayla complained about the small shoes, and Tyra let loose: "I think you guys are so confused about modeling being about you, and it's about what's there—and it's about feeling the pain (and) complaining between shots to yourself." Esther, much like Kendel, was praised for her garments and accessories being clearly visible.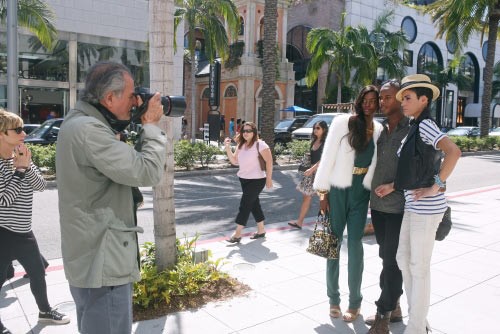 Kacey and Jane were complete opposites in their photo, with Jane appearing far-off and mysterious as opposed to Kacey's snotty expression. In the individual evaluations, Jane excelled; "Superb—it is superb, it's really great," Nigel gushed. Despite winning the group challenge for her charismatic presentation, Kacey failed to deliver during her individual photos. Much to her surprise, Chelsey was told her group shot with Ann was one of her best to date; Ann, to no one's surprise, did wonderful. "Ann walking down the street in person—perhaps one of the most awkward photo shoots in person I've ever seen in my life," Tyra commented, "and then I look at the film, and it's shot after shot like this—I don't get it." Nigel did warn her that she needed to be more than photogenic. At the individual evaluations, Ann's praise continued: "Beyond—beyond everything ever that you've done!" André shouted. Fortunately, Chelsey did well, also, and Chris got the best praise for her individual motion shot.
For the fifth week in a row, Ann won best photo for her individual shot; "Ann, you're making this so not interesting!" teased Tyra. Jane placed second, and Kendel and Chris finished up in the top four for America's Next Top Model Cycle 15 Episode 6. Kacey, the challenge winner, found herself in the bottom two with Kayla, and both girls were chastised for disconnecting in their photos. Ultimately, Kayla survived the elimination, much to the relief of every ANTM contestant who was privately thrilled to see controversial Kacey going home. Only eight girls remain, and Cycle 15 might be appropriately less full of drama with lovely but loud Kacey going home.