'America's Next Top Model' Cycle 15 Ep. 4 Recap: Sea Goddesses, Fears and Drama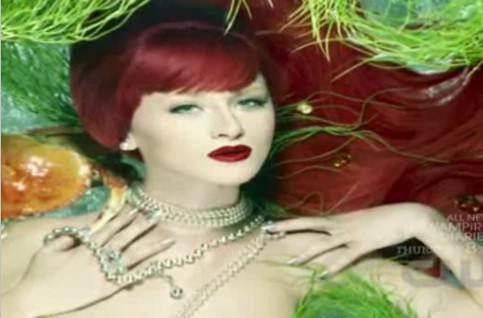 With the makeovers behind them and two eliminations—not to mention their first challenging photo shoot—completed, America's Next Top Model Cycle 15 episode 4 brought the girls a new challenge: Themselves. Whether it was a fear of rollercoasters, conflict and drama with fellow contestants or a tendency to complain, the greatest challenge for the girls this week was themselves.
 For the second week in a row, Ann was greeted with a digital art copy of her latest photo. As the best "fallen angel" from the photo shoot with Anne Menke, Ann quickly started to become the #1 girl the fellow model-hopefuls wanted to see go home. "I can't handle a third week of Ann," Kayla commented to the group. Rhianna immediately felt threatened as the contestant who was grouped with Ann for having similar looks within the industry's guidelines; she had been paired with Ann during the premiere episode.
 Kacey took it upon herself to create the perfect setting for drama, suggesting a barbeque to her fellow America's Next Top Model competitors—including invitations to the male models they had worked with during last week's photo shoot. "I have Shaw's number, I can give him a call!" she exclaimed, soliciting disapproval from the other girls, who were quick to remind her that she has a boyfriend waiting back home. The awkward tension once the boys arrived had most of the girls uncomfortable, except for Kacey and Shaw who indulged in some heavy flirting.
 Tyra Mail arrived, and the next morning the 11 remaining girls headed to Knott's Berry Farm theme park. Miss J and Nigel met the model-hopefuls, explaining that the fashion industry wants unique and often extreme themes for photo shoots. Nigel informed the girls that each of them would be riding the "Silver Bullet" ride for her photo. "Hell No!" protested Chris, and although several girls shared her sentiments she was the loudest to complain and fret about the prospect of riding a rollercoaster.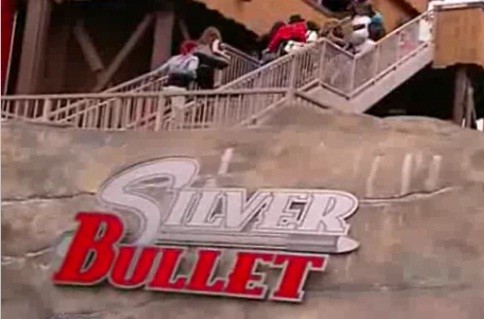 "You've all seen those theme park photos. A mounted camera will snap a photo of you on the ride. We're going to cue you with an emotion that we want you to embody," Nigel explained, and the winner would be shot by Tyra herself in an additional photo shoot; the photos would be featured on Tyra's new beauty and fashion website.
Liz was the first girl to take the ride, and Nigel gave her specific instructions: "I want you to feel relatable, comfortable, charming—like a catalog shoot." Kacey went next, and was selected to portray "edgy;" Jane had one of the most difficult ones with "melancholy." Kayla delivered an amazing version of the sulking model pout, but Chelsea looked more possessed than secretive. Despite her fears, Chris agreed to ride the rollercoaster and attempt the photo shoot, but unfortunately delivered tears instead of "distraction." Liz won the competition, best photo and the Tyra one-on-one time; she was able to select two friends, and decided to take Chris and Kayla with her. After the shoot, the girls enjoyed extra time with Tyra during an on-set tea party.
 The America's Next Top Model photo shoot competition for Cycle 15, episode 4 was a high fashion beauty shot with an amazing layout of designer jewelry with legendary photographer Matthew Rolston. He informed the girls they would be portraying undersea goddesses, which required them to be suspended beneath him under in a clear panel filled with water. Lexie seemed to struggle the most, complaining about the view through the ripples of water making her feel sick. Kalya, Kacey and Chris all received very high praises, though each of the girls seemed to impressed Matthew and Mr. Jay. Liz, who complained about her glittery mascara sticking to her contacts, provoked a negative response from both Matthew and Jay. "Liz is a pain in the butt—everything is a complaint from her," Jay lamented.
 Kacey's review from the panel was first, and she received praise from each of the judges. Esther surprised everyone with the strength of her photo, and Matthew commented that she brought an element of old Hollywood to the shoot. Matthew told Chris her photo was his favorite of the shoot, but overall the panel had a remarkably high amount of praise for the remaining 11 America's Next Top Model contestants. Except for Liz—she was very gently told that her photo was terrible, considering how brutal Tyra and crew are capable of being.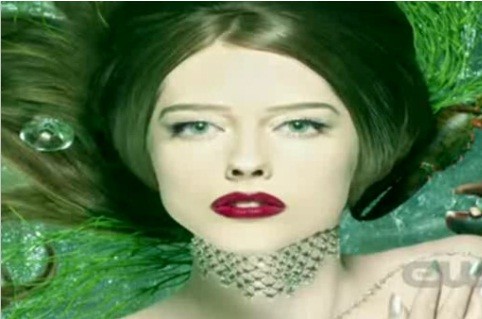 For the third week in a row, Ann took best photo from the judges, completely branding the target onto her back. Runner-up went to Kacey, and Esther was called third. Rhianna and Liz ended up in the final two, which seemed a shame considering most of Rhianna's struggle stemmed from her facial features. Amazingly, the panel selected Liz—the complainer—to stay in the competition, sending a devastated Rhianna home and leaving 10 America's Next Top Model hopefuls to battle it out. "My experience on America's Next Top Mode may be over, but I met such amazing people. I hope that I made them happy in some way. I definitely have taken a lot of knowledge from the photo shoots," she expressed on her way out.