'America's Next Top Model' Cycle 15 Ep. 10 Recap: The Infamous Go-Sees Challenge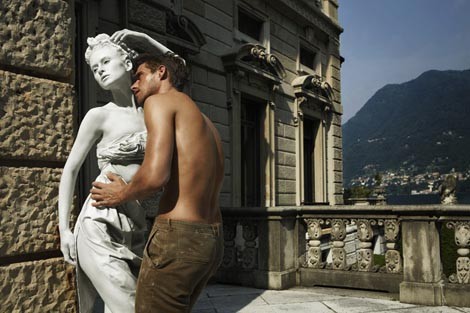 During last week's episode, the remaining "America's Next Top Model" contestants found themselves in Italy. After a sexy photo shoot with a male model, only five girls remained: Ann, Chelsey, Jane, Chris and Kayla. But episode 10 would bring them up against arguably one of the most important and brutal ANTM traditions—the Go-See challenge, which can entirely change the pecking order of the remaining contestants.
The episode opened with Kayla enjoying her top photo as digital art, and Chris reflecting on her position on the bottom two last week, when Liz was sent home. "I can't afford any mistakes right now. So I have to be amazing, I have to be stunning," Chris stated, saying she was preparing to go home just in case. Kayla expressed her concern that Chris' heart wasn't truly in the competition, saying that she wasn't high fashion and merely wanted to get her face out there.
Tyra Mail arrived, and the girls immediately guessed that the next leg of the challenge would be Go-Sees. Chelsey assumed she would have an advantage, despite having never won best photo, as the only contestant on "America's Next Top Model" Cycle 15 who has done Go-Sees in the past. The girls arrived at IMG's Italian headquarters, and Tyra gave them a quick lesson in model portfolios. They met the IMG director, who informed them that they would be going to Versace and several photography studios. For Cycle 15, the girls had the choice of public transportation or walking, with the same strict deadline for return that previous "America's Next Top Model" contestants have contended with. Chelsey and Kayla partnered up, with Ann tagging alone behind; Chris and Jane took off together.
Chelsey, Kayla and Ann struggled in the heat and with directions, but finally made it to Versace. Jane was criticized for her walk by Versace, and Chris' figure wasn't quite what he was looking for. He said he would book Kayla for an editorial, but not for runway. Ann had the distinct honor of being chosen as someone he would book for print and show, though not for runway due to her walk; Chelsey was regarded as too "two seasons ago" for booking.  After Versace, Chelsey went off on her own, arriving at Global Casting. Her figure and pretty face were received well, giving her an advantage over Chris and Jane who only managed to attend one Go-See. Ann found herself lost, and running out of time. At 6:30—the deadline—both Kayla and Ann were late, and immediately disqualified. Chelsey won the competition, and arrived back at the "America's Next Top Model" to a prize of a gorgeous black Versace jacket.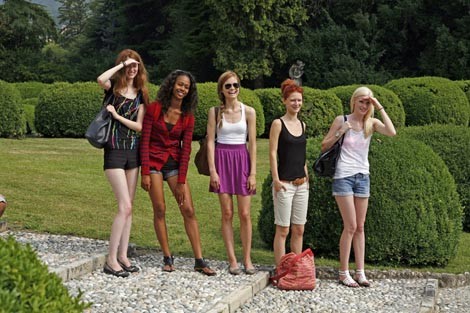 The remaining five "America's Next Top Model" girls arrived at a beautiful mansion on the water, and met Mr. Jay and Nigel for the episode 10 photo shoot—with Nigel as the photographer for the set. "You are going to be statues here in the garden," he explained, pointing out that the mansion grounds were full of decorative statues. The girls would be "coming alive" thanks to the love of the sculptor, once again signifying a shoot with a male model. Kayla, who struggled with the first male model photo shoot, shrugged off this latest run-in with heterosexual sensuality. The girls were to portray the statue taking her first breath of life, and Jane was the first to go in front of the camera. "I'm not feeling the love, I'm not feeling the lust," Nigel informed her, and Jay tried to get her to focus on anything she was passionate about. She cried, and said she's going through an identity crisis during a pow-wow with Jay.
Chelsey went next, reminiscing that last week she didn't stand-out in the group shot. Nigel commented that she looked great, and both he and Mr. Jay were impressed with the quality of her sensual, believable performance. Ann followed Chelsey, and Jay was immediately pleased with her presence at the shoot. "Today is the type of creative that Ann loves. She's artistic—you could tell she has [knowledge] of a lot of famous sculptors of the period." Ann commented that she enjoyed bringing her passion—art—to a photo shoot. Kayla walked on set next, saying she felt confident about posing intimately with a male model. "I was so impressed with how Kayla performed on set today," Jay stated. "She was nailing the poses and modeling all the way to her pinky toe." Nigel said he was worried initially, but was pleased that Kayla "found herself."
Chris was the last to greet Nigel on the set, still limping from a minor injury to her foot during the Go-Sees challenge. "Chris connected with the male model," Jay commented, praising Chris' delivery of curves and sensuality. Eventually, the pain in her foot started to hold her back, and Nigel felt that she had already checked-out of the competition. After the shoot, the "America's Next Top Model" contestants went back to the house, and Tyra Mail arrived to remind the girls that after judging only four would remain.
Kyle Hagler, a manager at IMG Models, served as the guest judge for "America's Next Top Model" episode 10. The five remaining girls lined-up for judging, and Kayla faced the panel first; she received high praise for her photo from the shoot with Nigel—Tyra called it "stunning"—though the panel wasn't impressed that she only got to one Go-See. Chelsey was next, and Tyra informed her that she booked one of her two Go-Sees. "This is one of my favorites out of the girls, but I don't feel model—I feel beautiful woman," Tyra informed her about her shot. Chris also went to only one Go-See—which she didn't book—and the panel wasn't impressed with her photo. "I think it's sleepy," Tyra commented, and it was also called "forced."
Ann was told Versace would have booked her for a shoot, though the judges weren't impressed that she only managed one Go-See and was late and thus disqualified.  Regarding her photo with Nigel, Ann's delivery at the shoot didn't seem to translate into the final photo. "I think you look beautiful in the photograph, but there's no emotion" cautioned Kyle Hagler, and both Tyra and Andre̕ warned her that personality is so important. Jane was the final girl called, and she also was critiqued for being both stiff and sleepy. At panel she broke into tears again, saying that she does have a personality—much to the obvious discomfort of several judges.
Before the deliberations, Tyra made an announcement to the remaining five contestants: "'Top Model' is a competition. To mold you all, to go to the real world, to go to Go-Sees, to book jobs. So, if you're not seen, you're not booked." Kyle Hagler added that not making it to Go-Sees is the same as not going to work, which is unacceptable from a business standpoint. Ultimately, Kayla won best photo, and Tyra praised her for her "stunning" shot—impressive for the contestant arguably the most uncomfortable with male models. Chelsey was runner-up for episode 10, with Ann being called third. Jane and Chris found themselves facing elimination, but Jane ultimately won to round-out the final four—and Tyra told Chris to get into acting classes ASAP. Tyra warned Jane to start showing more personality—the same critique Ann keeps receiving—so which one will change first to stay in the competition?