'America's Got Talent' Tightens Up As Acts Advance To Semi Finals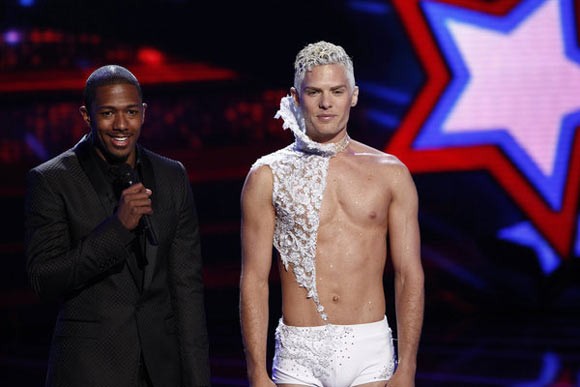 Live from Hollywood, It's the results of America's Got Talent, time to find out who will move on to the semi-finals and get the chance at a million dollars and have their own Vegas act. Host Nick Cannon explains to the audience that the audience votes choose the three acts who make it through to the semi-finals with the fourth act being chosen by the judges.  First up for elimination, The Rhinestone Ropers, Thomas Johns and Silhouettes. Cannon asks Sharon whom she thinks the audience has put through. Sharon says it's pretty obvious from the acts standing up there that silhouettes is moving on because the other two acts had disappointing acts and made some unfortunate mistakes.
When talent returns, we see what the contestants had to say after the show and then Hot Chelle Ray performs their hit " Tonight, Tonight". After the break, four more acts leave the competition.
As two more acts get ready to move on, Nick calls up Steven Retchless, Attack Dance Crew, and Geechy Guy. We find Howie tweeting and he says he can go any way really because it's up to the audience but from the tweets he's been getting it looks like it's split between Steven Retchless and Geechy Guy. Howie says the audience seems to agree with him and is not a fan of Attack Dance Crew. However, they are not so keen on a male pole dancer either. The results are in Steven Retchless advances to the semi-finals.  Up next, it's the group of singers, which include Justin Beiber look alike Dani Shay, and Daniel Joseph Baker and Dylan Andre.  With Shay and Andre, having weak performances and negative comments from the judges the night before Daniel Joseph Baker moves on!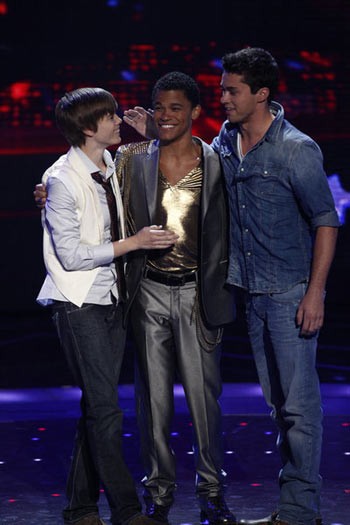 Before we find out the last group moving through to the semi-finals before the judges pick, acrobatic ensemble traces performs and after performing for the likes of Wills and Kate they should be a hit with this crowd as well and get rousing applause.
After the break it's more results as Smoge Brothers Riding Show, Mona Lisa and Landon Swank. Mona Lisa is the first act eliminated and the Smoge Brothers are left to battle Landon Swank for a spot in the semi-finals, then it's up to the judges.  After some deliberation and some heart pounding music to build the tension the final act moving on to the semi-finals are…. The Smoge Brothers Riding Show. An exciting end to a somewhat bland results show.