'America's Got Talent' Quarter Finals Part 2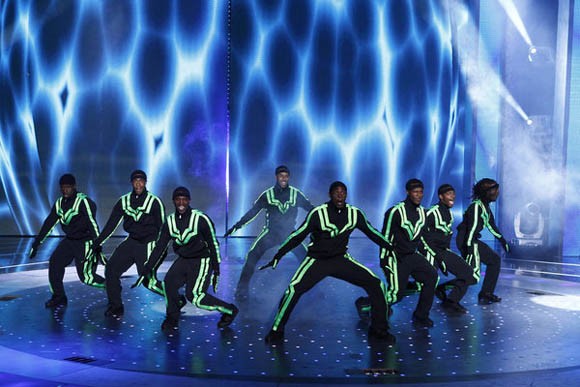 America's Got Talent was hyped up for another exciting round of performances when 12 new acts performed for the quarter final round. However with jeers, tears and lackluster performances, the talent was bordering on boring until the latter end of the night.  Kicking off the night was Attack Dance crew; ironically enough there ability to attack the dance with fire and conviction left the judges wanting more.
Trying to step up their game, no pun intended Attack Dance Crew came out blinged out in glow in the dark outfits. They tried to up the energy and momentum with an energized and synchronized routine. Well they had the synchronization was there but the energy and "wow" factor were lacking. Piers thought it should have been tighter and working as a team more, they needed better choreography, they needed to be tighter and it was a Mess. Sharon agreed with Piers that the choreography needed some work and wasn't spectacular and they just didn't stand out from some of the better dance groups in the competition.  Howie is still confused and doesn't get it. He doesn't see drilling, he sees a bunch of cheerleaders and doesn't think the group is up to par with what dance is on America's Got Talent.  Up next, singer Dani Shay was hoping she could redeem herself after bombing in Vegas but getting a second chance to come to Hollywood and she didn't want to mess it up.
Dani says, " Music is a way for her to put aside everything and anything." She performed a bland and boring rendition of David Gray's " Babylon" complete with antique couches and baby pictures of herself.  The performance was off-key and pitchy. Sharon thought Dani did amazing, and beautiful performance and is so natural and pure.  Howie disagreed he didn't like her song choices and didn't think younger viewers would vote for her because they couldn't connect with her song choice as much as her talent.  Piers thought she was off-key and agreed with Howie and Sharon that she needs to pick more popular well-known songs. It doesn't look good for Dani Shay.  Next up " comedian" Geechy Guy.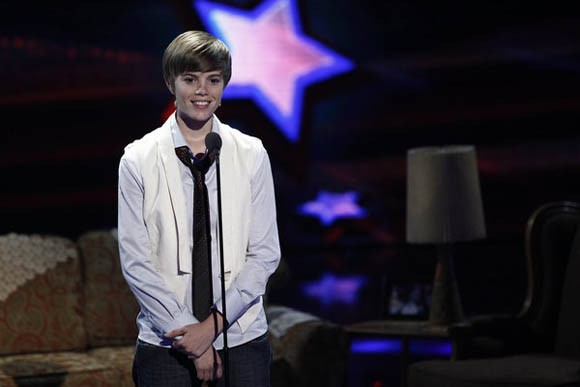 Geechy Guy more like creepy guy, I still can't figure out what the appeal of this guy is except for the fact that maybe he has the world record for the fastest number of jokes he can tell. His act is basically a bunch of facial expressions and one-liners and not much else and borders on cheesy. He comes out arm in arm with dancing "whoopee" cushions enough said. The audience seems to like him but the judges are split down the middle.  Sharon likes him and his suit and says he cleans up nice and thinks he's a silly act.  Piers said listening to his routine was " like being smashed over the head by a giant hammer and hope it's going to end but it keeps coming and coming, each one more painful than the last, and it's one of the least funny things he's ever had to watch.  Geechy Guy may be no longer.  On the other end of the spectrum, bringing the " fierceness" and the energy was singer Daniel Joseph Baker.
Daniel Joseph Baker sanSmage Brosg Lady Gaga's "Edge of Glory" with "fierceness" and an infectious smile. It was solid performance but lacked any real luster. The judges praised Baker for his talent and heart.  Howie thinks he's a star and turned up the " fierceness" x a million dollars and is the next lady guy-guy get it!  Sharon adores Daniel and thought he was a fantastic performer and Piers, didn't care for his singing but liked the fire and passion he possesses and thought he had a fine performance.  Hoping to real the audience into their act the Rhinestone Ropers were up next.
The Rhinestone Ropers dressed in a flashy get up, consisted of getting on and off a horse while tossing a rope and having his horse pick up a hat. It seems the horse had stage fright or at least what the Roper blamed the lack of excitement of his act on. Sharon liked the horse but thought the act was like a scene out of " Parenthood" when Steve Martin throws performs cowboy tricks on a horse at his son's birthday party. Howie was waiting for it to get really exciting but it never got there and thought the Rhinestone Roper had to step it up.  Piers not one to mince words last night, thought it was a "complete train wreck and no a million dollar act" and host Nick Cannon said, " Piers you are in rare form tonight".   Newcomer to the music scene and singing itself, Dylan Andre hoped to fare a better response from the judges.
Andre chose to sing the sleepy John Mayer hit " Daughters" but like Dani Shay made a poor song choice because there wasn't many places he could take the song and he was off-pitch. Piers said based on that performance he wouldn't buy an album of his or go see him in concert. Howie said Andre was not the one million dollar guy he's looking for and Sharon liked the song choice but thought Andre needed more confidence in himself before he could perform before a Vegas crowd and get an audience behind him. Andre was gracious and thanked the judges for their criticism because he is so new to the music scene this is the first criticism he received.  Trying to make it to the next round and not disappear after the results show, Magician Landon Swank tried to impress the judges with an illusionary handmade trick.
The trick found a Box that opened up with a two sided-mirror that was solid on both sides to prove it, he had host Nick Cannon sign his name on both sides and banged on it. After climbing inside the box and with one swift turn Swank climbed out of the box with the mirror in tact.  All the judges liked the act and were trying to figure out how he did it.  Hoping to take the judges on an exciting ride, the Smoge Brothers Riding Show.
The Smoge Bros. did tricks and flips along with their trusty assistant as their target who took a hit at the end of the act when the bike grazed his head. Sharon asked if the guy was ok and then said that the act was exciting, dangerous, fantastic and amazing and Howie agreed. Piers also asked if there assistant was ok and said it was a dangerous act and he commends them for being able to accomplish in such close quarters.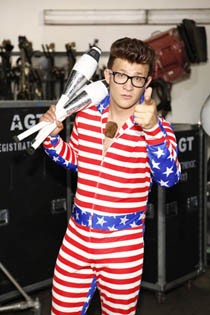 Juggler Thomas John was 0-0 as he couldn't manage to keep his balls in the air and dropped them twice, leading to a disappointing and boring performance and not worthy of being in the competition at this stage. The judges seemed to agree and it could mean his time on the show is over.  Up next was pole dancer Steven Retchless, who strength and theatrics in Vegas gained him a ticket to Hollywood. Dancing to Edgy music and looking like Lady Gaga surrounded by backup dancers Retchless seemed to dance more on the ground than the pole but had clean lines and extensions but it was all a bit boring. Piers buzzed him and said he never cared for him as a performer, Sharon said it was spectacular and Howie said Retchless reminded of a cross between Lady Gaga and a firefighter.
Mona Lisa was up next, the sister act sang Rascal Flatt's " Bless The Broken Road" Sharon thought they did really well but wasn't sure they chose the right song and they need that one hit song but they had good harmonies. Howie had nothing bad to say they had good harmonies and can carry a tune. Piers thought they had good harmonies but were lacking the wow factor. The last act of the night certainly didn't lack that the Silhouettes amazed all.
The Silhouettes from Denver, Colorado are unique group that are skillfully and consistently precise in their ability to create shapes into pictures using shadows. In a tribute to America the group created picturesque views of some of America's most famous landmarks getting a round of applause and a standing ovation from the audience and the judges making them the best act of the night. All the judges agreed that they loved the act and would be great in Vegas and they look like they're a shoe in to make it to the next round. Tune in tonight to find out which four acts will advance to the top 24.