'America's Got Talent': Live From The Inside (#621/#622)
It's YouTube Special week on America's Got Talent! After America voted on and judges viewed countless submissions to the Internet video site, the top twelve acts performed live - many for the first time - on the AGT stage in Hollywood.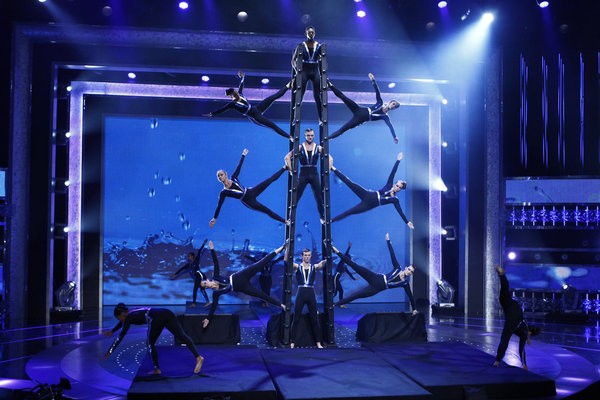 How did they fare?
Let's preface things by saying that these are amateurs, not professionals. On top of that, the majority of them were bringing their acts to a live audience for the first time - and doing so under TV lights is a lot different than most performances. There's a certain amount of understanding that has to be given out here.
That being said, I was surprised that I found most of the show underwhelming.
It opened with North Carolina cloggers TNC Elite, who got buzzed by Piers Morgan (like several acts to follow) and whom Howie Mandel admitted "were great on YouTube" but not necessarily live. I had to agree with him; while their dance routine wasn't necessarily a poor showing, it wasn't particularly interesting either - and certainly not capable of sustaining an entire Las Vegas show.
That middling feeling made me consider the dichotomy of judging this show. While an act may give a fantastic performance for the ninety seconds they're on the AGT stage, we also have to consider that we're looking for a winner that can make it in Vegas. TNC Elite, for me, was an example of that issue; they're a decent act on their own merits, but I just couldn't see a clogging show on the Strip.
I had to feel for illusionist Brett Daniels. The guy was pulling out a trick he hadn't performed in more than fifteen years. Unfortunately, his performance just wasn't very good. The middle part of his act went far too long without any magic being done, and the tricks he did perform, I've seen done before and done better. I also saw him slip up at the beginning; he didn't cover the entire painting, so it was easy to catch how he swapped the pic of Marilyn Monroe for the silhouette. Granted, I'm looking at his act with the critical eye of a fellow magician, but considering that it was mentioned that Daniels has previous Vegas experience, I was expecting a lot more.
This was followed by Gabe Rocks, which consisted of bulldog Gabe doing a few tricks, such as riding a skateboard and lifting his leg on a cardboard cutout of Piers (which, unsurprisingly, got him buzzed by Mr. Morgan). I'm going to take Sharon Osbourne's word that it's difficult to train bulldogs, but even so, the act seemed pretty pedestrian to me - neat, but worthy of a Vegas showcase? Not at all. Even though Gabe was adorable.
I'm a fan of parkour, so seeing Aeon was a trip. These guys were impressive, especially given how limited they were by having to perform indoors on a fairly small stage, as Sharon pointed out. I didn't see the errors that Piers did, but I did feel like it was a bit repetitive, as Sharon noted. Obviously, if they made it all the way to Vegas, they'd have a bigger stage and I think their act would benefit from the additional space - but that's a big "if." I liked what they could do, but I was concerned about whether or not they could continue to adapt their act to its new environment well enough to come out on top.
There were two younger acts and both drew me to the same conclusion. Eight-year-old contortionist Breena Bell and fourteen-year-old dancer Beth Ann Robinson are both talented for their ages, but need the extra seasoning that only experience can bring. As the judges pointed out, Breena's just a few years too young. Beth Ann is fantastic, and I could see her as a very talented dancer in any one of Vegas' numerous stage shows...just not as an entire show on her own. They both had potential, but this just wasn't the right time for either.
Singer Kevin Colis was pleasant to listen to. In fact, he was the first act that Piers didn't buzz. Given his nerves, he performed very well and I was curious to see what he might do when he got used to the new level of pressure. Would he make it to the end? I didn't think he was that impressive, but if he didn't, he might consider trying out for American Idol. After all, as somebody noted at the Television Critics Association press tour earlier this year, Idol seems to like "white guys with guitars."
The Maryland group Gymkana (pictured above) were the first people to really grab my attention the entire night. For something they'd never done before, they were fantastic. I agreed with Piers that they were going to have to continue to push the envelope to succeed - especially going up against other ambitious acts like Team iLuminate - but I thought if they did that, they'd have a real shot to win the competition. I'm not going to look at a ladder the same way anymore.
I'm not sure who came up with the theme for Kailani Basketball Freestyle, but the sci-fi idea just didn't work for me. Howie said in the intro that Kailani would get buzzed if he dropped the ball, and he dropped it twice, so he was also buzzed. This was another act that was fun, but I didn't believe to be viable enough for an entire Vegas show.
I was not as impressed as the judges by the West Springfield Dance Team. They had one intriguing move - the one in which the team imitates water - but strip off the makeup, and they were pretty routine. I didn't see them moving forward either.
However, my jaw dropped watching Matt Wilhelm. It didn't surprise me that he got more of America's votes than anyone else. I couldn't do what he does on a bike in broad daylight, let alone in the dark. Depending on how ambitious he wants to get, I could see him setting up one heck of a routine on a Vegas stage.
The show choir Powerhouse talked quite a bit about being Ryan Murphy's inspiration for Glee. I thought that could work both for and against them. Fans of Glee might dig them more; people who dislike the show might hold that against them. That said, I wasn't really sold on them. Their choice of song (Katy Perry's "Firework") wasn't very original, and they sounded a bit off-key to my ear. Was it an off night, or an off act?
After the performances, I caught up with host Nick Cannon and the judges to get their thoughts on not just what they had seen Tuesday night, but the future of YouTube auditions for reality shows. America's Got Talent is the first of the US talent shows to use YouTube, but it's spreading - fellow NBC show The Voice is allowing online auditions for its second season. Could we be looking at a new trend for auditions?
"I think so," Sharon said. "It's great, and it's great to be the first to have done it."
"We're looking for a certain level of talent, whether it's YouTube or [live]. We found Jackie Evancho on YouTube," Nick commented. "They definitely are getting popular, but there's nothing like going to these cities and really connecting with the people and seeing these thousands of people come out."
Were there any particular surprises?
"Ninety-five percent of the talent up there were amateurs, and what surprised me was how they absolutely made it through and they were really professional," said Sharon.
"The biggest surprise for me was Piers being mean all night," Nick told me. "I don't know what's got him...[he] woke up on the wrong side of the bed. He can dish it, he has to know how to take it."
"The whole thing was a very annoying evening," Piers retorted.
Who did they think would go through?
There was some agreement and some dissention. Everyone was in agreement that Matt Wilhelm would go through. Sharon, Piers and Nick all chose Powerhouse as well, with Sharon and Piers also liking West Springfield Dance Team.
Piers was the only champion for Kevin Colis (although he forgot his name!), while Howie was the only person to mention Gymkana (his only other pick). Nick suggested that America might have a soft spot for Gabe Rocks, and thought the fourth spot was anyone's game.
Wednesday night, we got to see who was right and who was wrong.
It was Gymkana, Matt Wilhelm, and Kevin Colis who got America's votes. Gabe Rocks got the early exit card (with Nick calling Piers "a mean person" for waving as the bulldog was eliminated), so the judges had to choose between West Springfield and Beth Ann. Piers and Sharon split their votes - with Piers taking Beth Ann despite his previous prediction - so it was down to Howie, who saved Beth Ann.
That proved to be anticlimactic as West Springfield got a pass into the "wild card" show. Other announced "wild card" acts included The Kinetic King, Yellow Designs Stunt Team, Charles Peachock, Seth Grabel, and Avery and the Calico Hearts. Which acts will learn from the criticisms they received the first time and rebound? Will The Kinetic King get redemption after his now-memorable mishap? We'll find out next week.
One last note: it was announced Wednesday that the season six winner would be arriving at the Colosseum at Caesars Palace on October 28, with their new show to be hosted by former AGT master of ceremonies Jerry Springer.
Thus concludes another week on America's Got Talent. See you next Tuesday!