'America's Got Talent': Live From The Inside (#620)
Wondering what goes on inside NBC's America's Got Talent? Look no further. Starting with Wednesday night's results show, I'll be bringing you quotes and observations from the sixth season of TV's only variety-competition series.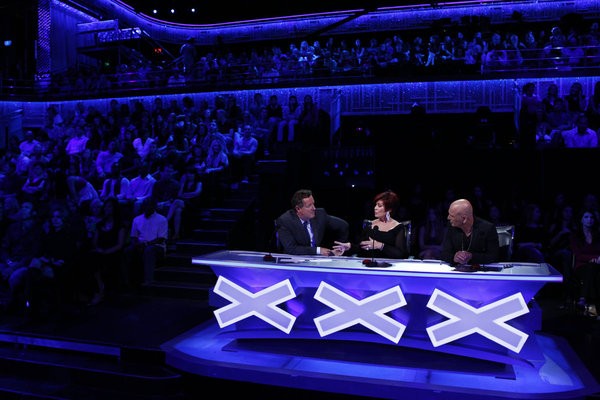 First, the facts: only four acts moved forward - dance troupe Fatally Unique, favorites Zuma Zuma and Team iLuminate, and impressionist Melissa Villasenor, who was the judges' choice. The studio audience seemed to approve of the results, even breaking out into a "Zuma" chant as the African acrobats stood on stage alongside Yellow Designs Stunt Team.
But what didn't you see on television?
You didn't really get to see what it all looks like. From my chair in the front row, I can tell you that the AGT studio is much, much smaller than it appears. There's a great deal of camera magic involved to make it look bigger. This is normal in TV; of all the live shows I've been to over the last decade, I've only been in one studio that is even close to the size that it appears. It's divided into three sections - the mezzanine (or rear), the front (divided into sections "A" and "B"), and the balconies. The dozen balconies (which the audience warm-up guy quipped were purchased from Ikea) are actually transparent.
There are some things about the studio that are technically novel. There's one small camera directly in front of the stage, which runs on its own automated track from one end to the other throughout the show. And the stage's back wall - you know, the one that opens - also doubles as a video board and a green screen. Before the results show, the latter was used to shoot new animations of the judges which will appear in the opening credits.
You also didn't get to see what happened when the cameras weren't rolling.
On Wednesday night, the audience had its fair share of shenanigans. Near show's end, host Nick Cannon switched things up and threw them a curveball, saying that "the act leaving the competition and going home is..." At least one person missed the change - one of Melissa's fans, who was yelling her name until he realized that he really shouldn't have. Luckily for him, she was safe.
Viewers were also treated to a live performance by Jason Derulo and a pre-taped one from Maroon 5, who are currently on tour with Train. "As far as I'm concerned, you guys were all here when Maroon 5 was here," the audience warm-up guy told the crowd, who didn't quite seem to be buying it, possibly because it didn't become apparent to them until the tape was rolling. One person actually booed. Talk about a tough crowd!
That's not the only awkward thing that happened either. One poor girl thought that she spotted reality star Kristin Cavallari in the audience and actually said hello to her only to find out that she was mistaken. Ouch.
After the show wrapped, I went out onto the red carpet to chat with Nick, judges Howie Mandel, Piers Morgan and Sharon Osbourne, and the eliminated contestants. What did they have to share?
Nick would like to dispel the misconception that reality-show hosts are little more than on-camera announcers. "It's a big task steering the ship, but we have a good time," he enthused. "This is the best job ever. You get to come out and see people strive for their dreams."
The live shows haven't surprised him any: "It's kinda hard to throw me off. I expect the unexpected. On this show, it's people setting themselves on fire. Going into this, you know it's going to be ridiculous every time."
"It's always interesting," agreed Howie. "This show moreso than any other thing that I have done, because I love entertainment. I would drop into clubs. I am up 24/7 watching TV, even infomercials. I love entertainers. I loved this show from its inception. I was sitting on my couch in my underpants watching it. The fact that now I'm invited to the party, and they've given me pants and a paycheck, is a bonus."
"It's the ultimate talent show, isn't it?" added Piers. "Any age, any color, any creed, any talent - it's an open show. I love that. It's like a snapshot of America."
What's the greatest challenge for him with a show of such huge scale? "Getting better talent each year. Without the talent, you have no show."
Sharon knows a thing or two or several about talent shows, being that she was also a judge on the UK version of The X Factor (which shares producers with AGT). She easily pinpointed what makes this one stand out above all the other competition contenders: "This show, you get such a great variation of acts. I get to see things that I haven't seen before. I think we do put a big emphasis on the variety acts and that's what keeps us different."
What act does she feel is missing from that variety? "I would really love to see a top-class magician," she added.
The judges chose to send him packing - and juggler Charles Peachock let me know what was going through his head in those tense last moments. "It was a little nerve-wracking, making sure I spoke my mind and gave the judges my idea of what I wanted to do. We don't really know who got fourth or fifth place. You kind of wonder, 'Did I actually make it through America's votes?' But either way, I'm just flattered that America loved what I was doing."
Magician Scott Alexander and his wife/assistant Jenny also have their chins up following their elimination. "What I'm going to take away from this is [that] we thought Jenny was retired. She was going to stay home and raise the kids," he confided, "but when this opportunity came up, she said 'I'm going to be right back there on stage with you.' That's what we're going to take away - that we got to do that again."
"As a magician, it's very nice when you're actually fooled by something," he told me when I asked if his profession tempers his enjoyment of fellow magicians' work. "When you're watching a magician, as a magician, it's very rare that you're fooled. It's that moment of wonder that we're trying to do for our audience. But a lot of the time it's not the secret of the trick, but the presentation. It's the entertainment."
I asked the show's more variety-type performers if they were ever concerned about how America might receive them in a landscape of shows populated by singers and dancers. "America really got it," said The Kinetic King. "I think because it was totally different. I think they really enjoyed it."
"This is really the show for variety acts to shine," added Alexander. "I still think that America has an appreciation for variety, with jugglers and magicians and ventriloquists. Terry Fator took it all the way that second year [of the show]."
It was Frank Miles who perhaps described America's Got Talent the best. "This is its own animal. There's nothing else in the world like this. To come on stage and have to kill it in ninety seconds, and then have to top it every time, there's no other game like this."
And that game continues next Tuesday and Wednesday on NBC. Stay tuned, as I bring you more live from the inside of America's Got Talent!