'America's Got Talent' Finds Its Way To The Big Apple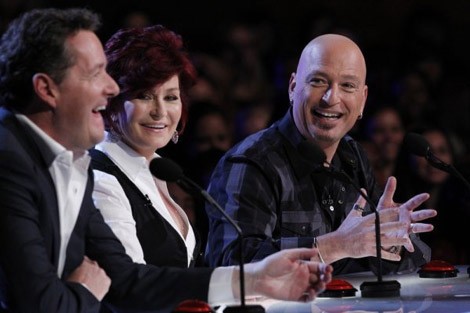 The auditions continued in New York tonight as eager hopefuls swept the city that never sleeps. America's Got Talent judges were hopeful as well in a city where the talent is bigger and better if you can make it here you can make it anywhere.  The talent was big and colorful in many ways featuring everything from singers and dancers to daredevil edge of your seat acts.  First a husband and wife whose success as doctors hoped they could heal others through another way, singing.
Rat and Tak gave an astonishingly tone-deaf and off-key performance of Heart's "Alone" if it wasn't for the melody the song would be unrecognizable. The booing audience was no match for the judges who loved their awfulness. Sharon said, " when you went into that falsetto, it was very Cat-like".  Howie Mandel said " he never heard anything like them before" and Piers said he couldn't buzz them because he was enjoying it too much, there was something compelling in their awfulness".  Even as awesome as their awfulness was they were X out of the competition.  Even with a rocky start, New York showed they had talent when the remaining contestants garnered a string of yes's including: Smoge Bros. Riding Show, the Sally Gould Dancers, Dylan Andre and Rachel Zamstein.
The Smoge Bros. Riding show gave the judges a thrill-ride when their dangerous act left the judges speechless and Howie behind the barricade, three yes's and they were headed to Vegas. The Sally Gould Dancers wowed the judges with a gimmicky dance act that made them look like miniature Lady Gagas and got their ticket to Sin City.  Trying to sing his way to the big time Dylan Andre garnered a spot in Vegas with his version of Leonard Cohen's " Hallelujah", and Shamika Charles was hot stuff as she limboed under hot coals and received three yes's.
She was followed by some acts that were not quite ready for the spotlight or so the judges thought. Leonid the Magnificent proved that if you want something bad enough it will happen.  After 3 tries since season 1 Leonid gave up any ideas of being a performer before giving it one last shot.  Leonid was full of enthusiasm and heart as demonstrated his talent as a quick change-artist, dancer and singer the latter not so much but it was enough to get through to Vegas. Unlike Leonid, Rachel Zamstein wasn't so magnificent and lacked some spunk.
The judges were torn by the performance they appreciated Zamstein's heart and unusual performance with an electric guitar but thought she lacked that certain something perhaps holding something back. However, we some goading from the audience Sharon makes her dreams of Vegas come true. Other standout acts of the night included Narcissister who proved with her act that three heads are better than one.
She got through her act without ever showing her face in fact she showed three. Wearing a series of three masks she impressed the panel with her unusual but artistic dance routine.  The judges didn't know what to make of the final contest of the night Sam-B.
Sam B got rave reviews from the audience, as he became the William hung of dancing. Howie said he was creating the next dance craze and Piers couldn't take his eyes off him because he was so awful. You know what that means with some prodding from the crowd and to probably a shock to the judges themselves Sam B ended the night with a ticket to Vegas.