'America's Got Talent': And The Winner Is...
NBC's America's Got Talent crowned its latest champion Wednesday night, and the winner is...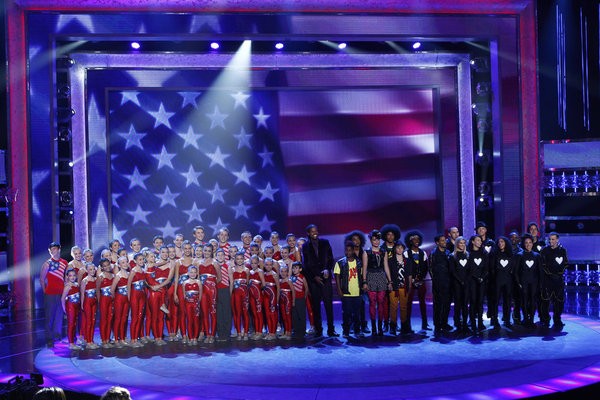 Landau Eugene Murphy, Jr.!
The West Virginia crooner beat out dance groups Silhouettes and Team iLuminate, as well as teen band Poplyfe, to claim the AGT title. Now, instead of detailing cars, he'll be headlining his own show in Las Vegas at Caesars Palace beginning October 28. (You can already purchase tickets for the show, which will include all of the top four acts.)
It was one heck of a night for Landau, who opened Wednesday's two-hour finale by singing with one of his heroes, the legendary Patti Labelle.
"Before I even took this journey and got here, my mother-in-law asked me who would you like to sing with, and I said Patti Labelle," Landau told host Nick Cannon.
Little did he know that he was already on the legendary singer's radar. "A friend of mine taped Mr. Landau, and I saw him, and I said, 'Gosh, I would love to meet this guy,'" she said. "I get the call two weeks later that he'd asked me to be his singer."
After the two performed a rousing rendition of "You're All I Need To Get By" (originally recorded by Marvin Gaye and Tammi Terrell in 1968), Landau was taken by surprise when the lovely Ms. Labelle encouraged him to take his much-deserved bow and then left the stage entirely to give him his moment of adulation.
"When I tried to leave him, he said, 'Ms. Labelle, don't leave me,'" she added with a smile. "I tricked him and I left him, and he stood on his own. I said, 'You don't need me as a crutch. You're fabulous. You can do this.' And so he did it."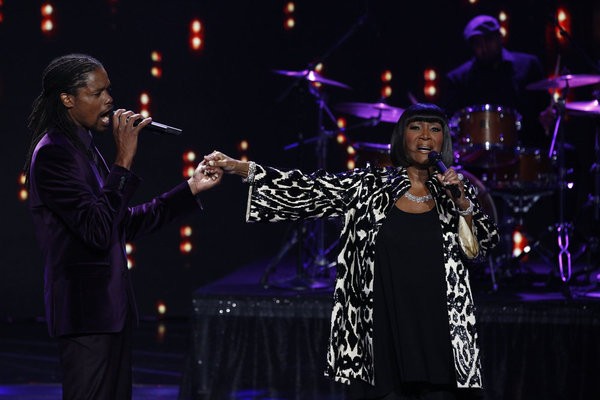 Ask the man himself, however, and he's the last person that he'll credit with the success that's come after years of hoping and hard work. The first person he thinks of is his wife, Jennifer, who walked the red carpet with him after he was named the winner. "The only way you can be a good man is to have a good woman," he said. "She's never missed a show. She's been to every show I've ever had. I kept her on this whole journey, every step of the way."
"It's been great being out here with Poplyfe, Snap Boogie, Silhouettes, Team iLuminate - everyone's so wonderful. I feel we all fought each other over America's votes and I came out victorious, but we're all winners in our own way," he added on Wednesday night with an already-nostalgic smile. "It's surreal. It's very humbling. Being on this journey, on the number one show in America and I won."
With victory declared, what's first on Landau's to-do list?
"I'm just going to do as much press as I can," he told me. "...and get as much sleep as possible."
He'll need it, because things will be at a whole other next level when he arrives at Caesars next month. Just last week, he spoke to me about a stage show that will evoke memories of the classic Rat Pack - something he's certainly capable of doing, after Tuesday's final performance show saw him deliver a fantastic rendition of the Sinatra classic "My Way" that judge Howie Mandel said "sealed the deal."
If Landau's performances didn't completely win you over, all one had to do Wednesday night was listen to the words of those around him. Judge Piers Morgan, not known for being sappy, suggested that we read Landau's book, whenever he writes it, because his story is so inspiring.
And Lynne Waggoner-Patton, coach of the second-place Silhouettes, added that she'd been pulling for Mr. Murphy herself, having told him early on that he had the potential to go all the way.
Fittingly, it was the legend Ms. Labelle who had the best words for the Vegas-bound Landau.
"I've been doing this for fifty years," she said. "I believe in everything I do. I believe in the people around me, who make me. I make sure my people are treated as well as I am. I never look down on people, because we're all the same size. It's just that some people have names on marquees and some do not. So never forget anybody."
The name Landau Eugene Murphy, Jr. is one America shouldn't forget. Congratulations, Landau!