America's '25 Fittest Guys' Include Bradley Cooper, Chris Evans & Joel McHale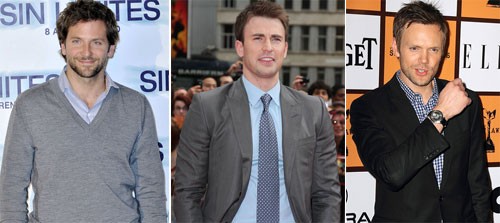 Men's Fitness magazine is honoring its "25 Fittest Guys."  From the boardroom to the classroom, the big screen to the small, these guys are at the top of their game.  They're record breakers, superheroes, and regular Joes.
Check out the celebrities on the list:

Chris Evans, The Action Hero, 30

Evans starred as Marvel Comic Superhero, Captain America.  Evans took the role seriously, working with a personal trainer to build bigger biceps and tone his abs, transforming his body into the jacked frame of Marvel Comic's super soldier.



Alex O'Loughlin, The Five-O, 34

The Australian-born actor is the star of TV's hit "Hawaii Five-O" remake.  Thanks to interval training, boxing and surfing, O'Loughlin is able maintain a six-pack, to keep up with his Navy SEAL role.  He also admits to drinking a gallon and a half of water daily, sticking to a low-sodium diet.

Henry Cavill, The Superstar, 28

Not everyone can rock superhero spandex, but once "Tudors," star Henry Cavill slipped on the iconic Superman suit, he scored the coveted role.  Cavill hits the gym pretty hard with Gym Jones founder Mark Twight.

Liam Neeson, The Tough Guy, 59

The Irish actor reinvented his career, starring in a slew of action flicks. Neelson credits his background as an amateur boxer for his ability to take on these physically demanding parts: "There's a discipline to getting up at 6, working 17 hours, and then coming home to work out," he says. While Neeson uses a stunt double on set, he handles all of his own fighting.

LeBron James, The MVP, 26

Unlike most other NBA pros, the older this all-star gets, the more strength he gains. The 6'8", 250-pound baller is nearly unguardable, capable of playing point guard or down low on the block. Heat strength coach says 'LeBron's a beast in the gym."

Joel McHale, The Wiseguy, 39

He's either the funniest fit guy in Hollywood or the fittest funny guy.   McHale bangs out hundreds of pushups a day, mostly in his trailer between takes.  He avoids sugar and carbs whenever possible, snacks on almonds and hard-boiled eggs throughout the day, and has fish and veggies for dinner.



Michael Fassbender, The Next Big Thing, 34

Fassbender appeared in "300" and Tarantino's "Inglorious Basterds." The Irish-German actor will surely be a household name after this summer's "X-Men: First Class" prequel where he plays a young Magneto.

Joe Manganiello, The Werewolf, 34

True Blood's vamps pale in comparison to the 240 pound Manganiello who plays werewolf, Alcide.  To stay in howlingly good shape, he eats several small meals a day and works out six days a week with an emphasis on staying cut and lean.

Bradley Cooper, The Leading Man, 36

For his role in the The A-Team, celeb trainer Ramona Braganza crafted Cooper a regimen combining strength training, cardio and core-building exercises in an hour long workout. Cooper also adhered to a strict diet of no salt, sugar and a ton of boiled chicken.

Kellan Lutz, The Greek God, 26

For his role in the Twilight flicks, Lutz endured six weeks of jiu-jitsu, kung fu and boxing.  This fall, he'll be showing off his godlike physique as Poseidon in Immortals. He relies on body-weight circuits, hiking, swimming and eating small meals throughout the day to maintain his hard core.

David Beckham, The Fit Footballer, 36

Last year Beckham tore his Achilles tendon but now he's back to training as usual.  Beckham's workouts focus on his core and hips, doing a lot of resisted movement band work and single stability exercises

Jason Momoa, The Barbarian, 31

Momoa starred as the new Conan the Barbarian, packing on 10 pounds of muscle for the role. He spent six hours daily in martial arts and swordplay training.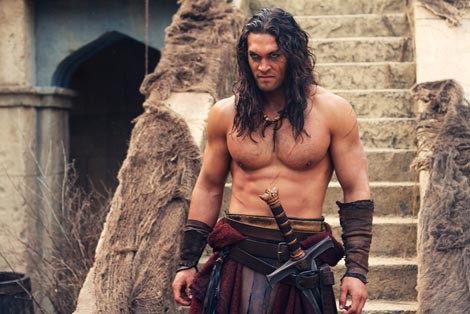 Chris Pine, The Captain, 30

Pine needed to keep up with his career as Captain Kirk in the "Star Trek" franchise revival; he says he enjoys working out, boxing and playing basketball. Pine has also been tapped to be the new Jack Ryan in the latest Tom Clancy caper.

Dr. Dre, The Hip-Hop Pioneer, 46

Dr. Dre has spent the past few years hitting the weights as hard as he beats. His physical transformation is to be lauded - the will to pull it off at an age when most men are looking at their best years in the rearview mirror is nothing short of inspirational.

Jeremy Renner, The Contender, 40

The California native flexed his acting muscle in "The Hurt Locker" and "The Town;" next he'll star in the upcoming "Mission: Impossible" sequel, "Ghost Protocol." To prep for the role, Renner trains hard in the gym while developing a lethal arsenal of fighting techniques.