American 'X Factor' Reviewers Prefer Cheryl Cole To Nicole Scherzinger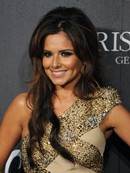 Cheryl Cole's short-lived role as a judge on the American version of The X Factor has been hailed a success by U.S. TV reviewers, with critics insisting the British singer is more "interesting" than her replacement Nicole Scherzinger.

Simon Cowell fought for the Girls Aloud star to be placed on the panel of the Stateside adaptation of his hit talent show after three hugely successful years as a judge on the British program. 
However, he was forced to remove Cole and replace her with the former Pussycat Dolls beauty - who had been hired as the show's co-host - after she failed to impress Fox network bosses.

But in an ironic twist, the British beauty has won over American critics who previewed the first episode ahead of its U.S. premiere on Wednesday night.

Referring to Cole's short appearance for half of the hour-long show, The New York Times' reviewer writes, "The opening episode gives a surprising amount of screen time to Cheryl Cole... In the premiere she just kind of disappears midshow, without much explanation, and suddenly Nicole Scherzinger of Pussycat Dolls is in her chair."

"It's a downgrade. Ms. Cole showed glimmers of being interesting; in two seasons as a judge on The Sing-Off on NBC, Ms. Scherzinger was a pretty face but, judicially speaking, not much more than a seat warmer."

A critic for the Los Angeles Times adds, "Cowell has said he replaced Cole because she seemed 'bewildered', but on a first impression, she is much more interesting than Scherzinger, if only for her fabulous Geordie (northern English) accent."

Meanwhile, a reporter for The Chicago Tribune writes, "Scherzinger doesn't come off as an obvious improvement (to Cole)."