'American Reunion' Review: Eugene Levy After Credit Bit Is Best Part Of Film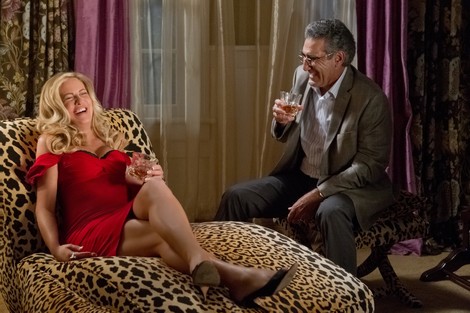 The film 'American Pie' was and is a classic. For those of you unfamiliar with the story, 'American Pie' is about four guys, from East Great Falls Michigan, that are on a quest to lose their virginity before they graduate high school. 
I can still remember sitting in the theatre LMAO watching the escapades of these 17 year olds desperately trying to score. The film went on to make millions of dollars and of course spawned several sequels, which brings us to... 'American Reunion' the latest in the franchise.  The film was written and directed by Jon Hurwitz and Hayden Schlossberg (Harold and Kumar) and unfortunately, except for 3 times, I did not LMAO.
The film takes place ten years after the gang graduated from high school.  They've come back to their home town for their 10 year high school reunion and we soon discover that none of their lives have turned out the way they expected. Never saw that in a film before. 
Two Jews on Film - By Joan Alperin Schwartz
Okay, so in case you've forgotten who our guys are, briefly, in no particular order we have: Jim Levenstein, (Jason Bigg), the penis in the apple pie guy, who's now married to band girl Michelle (Alyson Hannigan). They have a two year old son and don't have any time for sex. Guess the kid never sleeps.
Ostreicher/Oz (Chris Klein), the good looking jock, really has it rough.  He's a big time television sportscaster and is forced to live in a gorgeous house with a super hot girl that looks great in a thong.
Kevin, (Thomas Ian Nicholas) now an architect/stay at home dad, also has it bad.  His beautiful wife makes dates with him to watch Real Housewives of Beverly Hills and parts beyond. 
Finch, (Eddie Kaye Thomas) the clean freak, who had sex with Stiffler's mom, supposedly has been travelling all around the world and of course, last but not least...
Stifler/Stifmeister (Seann William Scott) the over the top obnoxious crazy dude, who is still an over the top obnoxious crazy dude.  He still lives with his big breasted mom (Jennifer Coolidge) except now he has a job working for a very short man with an extremely huge ego.
So all these guys along with all the ladies from 'American Pie' including Tara Reed, Shannon Elizabeth, Natasha Lyonne, Mena Survari, meet up to party like it's 1999.
Along the way, we have lots of crude jokes, nudity, a penis or two, a little sex, a few jokes that really work, many jokes and bits that really, really don't work. And an ending (don't worry I'm not spoiling it) where our guys and girls come to realize that their lives don't really suck and what matters most is... Ready?... Friendship...
The best part of 'American Reunion' is Eugene Levy as Jim's dad.  He is one funny dude. Watching him reminds me what this film could have been, but isn't.  Stay past the end credits to see a very funny bit involving him.
As I said in our video, I laughed hard three times so for that reason I am giving 'American Reunion' 2 1/2 bagels out of 5.  Check out our video to see John's thoughts on the film and well...life.
'American Reunion' opens in theatres Friday, April 6, 2012.  Personally I'd wait for the DVD.