The traveling circus known as the first weeks of "
American Idol
" packed up its tents from eight audition sites and finally set up shop in Hollywood. The Kodak Theatre, home of the Academy Awards, played host to 147 hopefuls for another round of individual try-outs.
Once everyone was settled in,
Simon Cowell
gave a nice welcome speech that didn't help anyone's nerves: "All we're looking for is a star. Good luck."
The potential pop stars were then taken away to a conference room, where
Barry Manilow
- was
Neil Diamond
busy that day? - gave them an inspired pep talk that included this gem: "What is the secret to becoming a star? Preparation meets opportunity." Very original. The funniest part was when the cameras caught a lot of the contestants feverishly writing notes.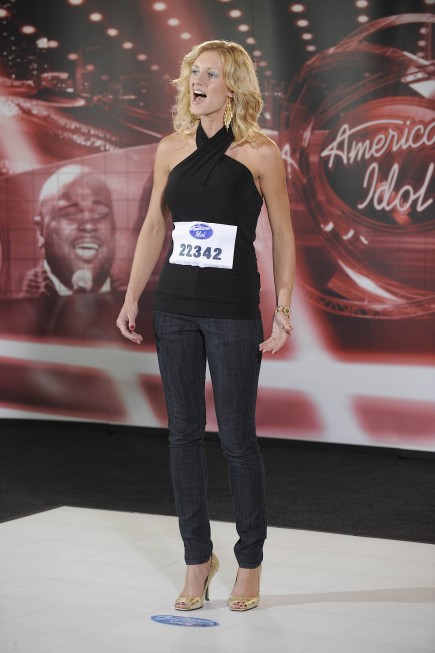 When it was time for the actual auditions, people were sent out in groups of eight and when everyone finished singing the judges would separate them into two groups: one would be sent through to the next round and the other would be sent packing.
Some of the standouts from the first round of eliminations were Lil Rounds, Anoop Desai, Rose Flack, Stephen Fowler, Jorge Nuñez, Jeremy Michael Sarver, and Jamar Rogers.
Once again, Danny Gokey wowed the judges. This time he sang Seal's "Kiss From a Rose," and Paula Abdul loved it, saying, "You are ready to record records. I can't say enough, so I'll shut up."
When all was said and done, 104 contestants moved on to the group stage of auditions that aired Wednesday night. And plenty of drama would ensue.
The contestants were told to get into groups of three or four people so they could perform on stage before the judges. The focus shifted almost immediately to three groups, namely three troublemakers in each one: Katrina Darrell (Bikini Girl), Tatiana Del Toro, and Nancy Wilson.
Darrell left her group after barely practicing, then wouldn't wake up in the morning because she was too tired. This affected her teammates Lauren Barnes, Jasmine Murray, and the aforementioned Rose Flack. When it was time for the four girls to perform, they were disjointed and unimpressive. The performance was so bad that everyone in the group except Murray was sent home.
Darrell's act was annoying, but the crown of "Most Annoying" clearly went to Del Toro, who played the role of overly dramatic Musical Theater major to perfection. Del Toro even left her original team at one point because she couldn't play nice with everyone. Eventually, she went back to her original team and to everyone's surprise the four girls all moved on to the next round.
Nancy Wilson
continuously stirred the pot in her group that included Nate Marshall and Kristin McNamara. In the end, it was Wilson who would be sent home from the threesome.
Two other surprise casualties from Night 2 in Hollywood were David Osmond and Emily Wynne-Hughes. Just as surprising as it was that those two were left behind, Nick Marshall (aka Norman Gentle) advanced.
The best group performance of the night was put on by the group that included Gokey, Rogers, and Taylor Vaifanua, who sang an a cappella version of Queen's "Somebody to Love."
Others who stood out in the group stage were Matt Giraud, Adam Lambert, Anne Marie Boskovich, and Matt Breitzke.
The remaining 75 contestants will be whittled down to 36 next week as "American Idol" presses on.
Story by
Phil McRae
Starpulse contributing writer