'American Idol': The Idols Pay Tribute To Their Idols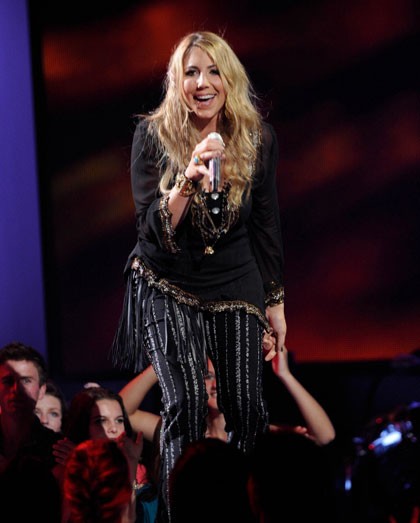 Stevie Nicks. Singer. Artist. Legend. Creepiest 'Idol' mentor of all time. Stevie brought it all to the director's chairs for her first stint in the 'Idol' mentor role. A lot of singing. Some crying. And an inate ability to make every contestants' performance and song choice about herself. Exactly what you want from a narcissistic mentor.
But she brought an extra weird creep factor to the recording studio as well. She had the presence of a burnt-out college professor talking about how she was "there man" and the instability of that same professor's mother.
I really didn't know what she'd do each time. Make out with a contestant? Start dancing like somebody mid-trip at Burning Man? Actually perform witchcraft? It was all in play for Stevie last night.
In other words, I hope she comes back soon.
Random Thoughts Waiting for the Actual Show to Start…
I could not make out a single discernible name when Seacrest asked the audience to name their favorite. Does that mean nobody's passionate about any of these contestants, or is everybody just rooting for "Uuuuuggghhhhh!" I'm thinking both are equally possible.
Hmm...Two straight 'Hunger Games' references to start us off. Do I foresee the Idols attending 'The Hunger Games' premiere on the results show tomorrow? Yes. Yes, I do.
Oh boy! The Idols are singing in trios tonight! I…don't want to see that. This is just one more reason to despise "I Hate My Teenage Daughter": Its cancellation has led to filler like this on the actual performance show. Fair warning, my recaps of the trios will be as half-assed as the producers attempt at filling time.
And here we go…
Colton Dixon sang "Everything" by Lifehouse
Steven Said: You are a dream come true for a judge on 'Idol'.
J-Lo Said: It was so emotional. I was really moved.
Randy Said: I believe you in every song you choose and every lyric. That performance was unbelievable.
The Verdict:
I can tell Colton is earnest with his singing this awful song by the awful band and he's pretty well connected to what he's singing, but his voice just isn't there. There's no piano for him to hide behind with this performance and it's showing that he just doesn't have the voice to sing without it. He's flat. Very flat the entire time. A ton of pitch issues. When he reaches for the big notes it just comes off as shrill. Screaming. Even worse were the delicate portions where he struggled with control the entire time.
What I did like was his overwhelming command of the stage. This guy belongs up there and knows how to make his presence felt. He's just not a singer. He might be a musician. He might be a front man. But he's just not a singer.
Grade: C-
Prediction: I think that will be enough to carry him through from the leadoff spot. Especially with those raves.

Skylar Laine sang "Gunpowder and Lead" by Miranda Lambert
Steven Said: That was over-the-top.
J-Lo Said: Perfect song for you. You won over the crowd.
Randy Said: You have all this energy. You're a great performer. You are a powerhouse singer.
The Verdict:
Watch Skylar sing a country song. Watch her do a good-but-not-great job with it. Watch her continue to lock down the spot as the only real country artist on the show this year. Watch her not stand out but not sabotage herself either.
In other words, this is just another Skylar Laine performance. She does nothing new with the song. She rocks her country twang. She gets off the stage without embarrassing herself or making a real impact.
What else is there to say from week-to-week?
Grade: C+
Prediction: Country girl makes good again. She'll be around next week.
Colton, Elise and Phillip sang "Landslide/Edge of Seventeen/Don't Stop" by Fleetwood Mac and Stevie Nicks
The way they structured this, it was almost like three performances for each. I'm just going to offer my grades of each contestant.
Colton ('Lanslide'): B+
Elise ('Edge of Seventeen'): C+
Phillip ('Don't Stop'): D


Heejun Han sang "A Song For You" by Donny Hathaway
Steven Said: You did it. You turned it around. You let that song sing you.
J-Lo Said: You don't make it this far by mistake. That was the most beautiful tone and most beautiful vibrato.
Randy Said: Finally, the Heejun we selected came back to us tonight.
The Verdict:
There's a lot of people out there who don't start watching the show until the top 12. Thus far, those people have probably been wondering why Heejun made it into the finals. Well, here's why.
We always knew that Heejun had the ability to just kill a soul song. He has that unreal bluesy tone in his voice that works so well on these ballads. He also showed some real emotion here. Connecting to the song so wonderfully and effortlessly. He really seemed like a 70s balladeer killing it in a ridiculous tuxedo. It just fit that well.
Yes. Heejun is back. Good news for my favorite.
Grade: A-
Prediction: Looks like he'll be sticking around for one more week.