'American Idol' Showdown: Adam Should Win In A Landslide

It's interesting the way
Ryan Seacrest
framed last night's battle of the
American Idol
finalists, painting a major contrast between the two contestants. His list of the differences between the two singers was not simply a clashing description of two people, but a sort of rallying cry for the sections of the country each guy supposedly represented.
In one corner, Ryan gave us the clean-cut country boy from the "real" America who would just love to get your votes. In the other corner, we met the freakish glam rocker from that hedonistic land of California who does his best to command your votes. A strange way to frame a singing competition, and one that likely hurt Adam. I don't think the Lambert-based voting contingent described by Seacrest cares too much about self-representation to call in and vote, but middle America may want its Red, White, and Blue heart to show loud and proud from their touch tone phones for Kris.
With that, it seemed Kris was the clear favorite heading into the actual singing for the night. Adam had pretty much every ancillary factor going against him so he needed to be masterful to give himself a chance to win. We didn't have to wait long to see that he was going to do everything he needed and more.
Adam Lambert Sang "Mad World" by Tears For Fears
Randy
said: A+ on that one, dude.
Kara
said: You changed the game up for every other contestant. (
Anthony Hopkins
is in the audience!)
Paula
said: I thought you did a really good job. (This single declaration followed a minute-long ramble of nonsense.)
Simon
said: It was too theatrical.
The Verdict
:
So Adam definitely looks like he's an alien invader stalking out of a landing craft with the blue backlight silhouetting his duster. Eerie and cool, beautifully underscoring his haunting vocal. I've always thought Adam is much better when he's restrained and lets his voice carry his performance rather than letting bombastic bravura overwhelm his otherworldly pipes.
I hate that they have to perform a song they've already done, but this is actually better than his original performance so he made it worthwhile.
Grade
: A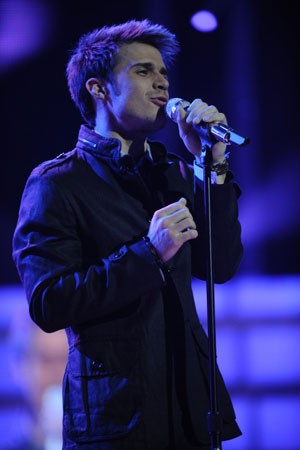 Kris Allen Sang "Ain't No Sunshine" by Bill Withers
Randy said: That was one of your best performances ever on the show.
Kara said: If you can't feel a Kris Allen performance and he doesn't move you, there's something wrong with you.
Paula said: You awaken the spirit in all of us.
Simon said: I wasn't sure you were the right choice for the final, but I absolutely take all that back after that performance.
The Verdict
:
I must say, I'm astonished he didn't pick "Falling Slowly". I actually went ahead and typed it in during his little video introduction.
This turned out to be a solid choice; however, it gives Kris a chance to show his now trademark way of turning any type of song into extremely radio-friendly and accessible pop music that could hit contemporary radio tomorrow. He turns this spare soul tune into a full-on pop extravaganza and never lets the garish instrumentation overwhelm his smooth vocals.
Looks like the first round is a draw.
Grade
: A
Adam Lambert Sang "Change is Gonna Come" by Sam Cooke
Randy said: You can sing your face off. That was unbelievable.
Kara said: That may have been your best performance and interpretation of a song from the beginning of the show.
Paula said: That was the best I've ever heard you sing ever.
Simon said: You are 100% back in the game.
The Verdict
:
Did Adam just turn into an alt-country blues rocker? I think he did! It's amazing. There doesn't seem to be a single thing this guy can't sing. For him to flip such an emotional ballad into something you play on a front porch swing when you want to have a laid-back good time in the dead of summer is something of a miracle. Plus the fact, he totally made us forget about Syesha Mercado's brilliant rendition of it last year. Outstanding.
Also, now we know what the tin man wore to his wedding.
Grade
: A+
Kris Allen Sang "What's Goin' On?" by Marvin Gaye
Randy said: A little bit light for me.
Kara said: I have absolutely no idea what she was prattling about.
Paula said: You tore that song up, made Marvin Gaye proud.
Simon said: It was like three friends in their bedroom strumming along to Marvin Gaye.
The Verdict
:
Normally I say that Kris Allen Jason Mrazes the heck out of songs, but this was more a case of
Jack Johnson
ing with an upbeat and laidback guitar track backed by a lot of percussion.
The arrangement doesn't really work. This is a heartfelt anti-war song that doesn't really beg for the sunny rendition of Allen. Somehow, Adam did this for a song about racism and it worked, but for Kris it all just seemed like somebody who didn't understand the lyrics to the song. Maybe it's because Adam has a more commanding stage presence, maybe it's because Kris' vocals sounded like any you'd hear in the corner of a dimly lit coffee shop. Maybe it's just because Adam is more talented than Kris.
Whatever, the case, these were two extremely similar ways of interpreting very serious and deep songs with Kris coming out decidedly on the bottom.
Grade
: C+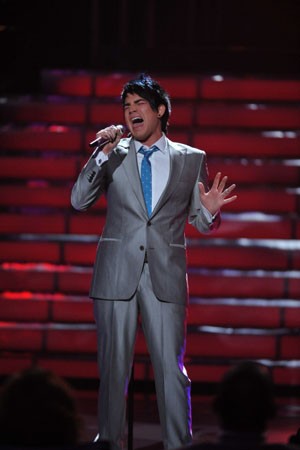 Adam Lambert Sang "No Boundaries"
Randy said: That was not one of my favorite Adam performances.
Kara said: It is amazing when somebody with your level of talent sings a song that we've written.
Paula said: Adjectives can't express how great you are.
Simon said: Over the entire season, you have been one of the best and most original contestants we've ever had on the show. I believe we've found a genuine star with you.
The Verdict
:
Wow, this is just a miserably terrible song. It sounds like every
Miley Cyrus
song ever written. I know they have to use the show to launch the new singles, but can't we take that out of the competition? Like have the winner sing the new song after they're anointed on the results show?
As for Adam, he does a very good job of singing the song. The odd thing is that when he's saddled with such an awful song he actually sounds more like a recording artist than he ever has. Despite the lame material, this performance gave me more confidence than ever that Adam can make it as a popular musician and not just as a musical theater performer pretending to be on the radio.
Let's quickly try to write down Adam's thoughts as he flashed a coy smile following his performance: "Jeez judges. I tried. I mean I really tried. I tried to sing it the best I could, but did you hear that piece of crap? I'm used to singing Led Zeppelin and Aerosmith and now I get saddled with the song that Jessica Simpson thought was too cheesy for her comeback album. I know it wasn't that great, but can you please go easy on me? I'm trying to win this thing, and I had to go out with that song. Prithee, pity."
Grade
: A-
Kris Allen Sang "No Boundaries"
Randy said: I think the song fit your voice even better.
Kara said: I think that song was too high for you. (Then why are they forced to sing it?)
Paula said: You deserve where you are in that spotlight.
Simon said: You have thoroughly deserved to be standing on this stage tonight.
The Verdict
:
Adam turned this into a soaring ballad, Kris made into a One Republic-style pop-infused smooth soul tune. That does succeed in killing a little bit of the cheesiness in the opening verse, but when he hits his signature pop sweet spot on the chorus, he turns it back into something you'd hear on Pure Inspiration, volume six.
It's so hard to judge these contestants when they're singing such an awful song, so the best I can do is say that the vocals were relatively steady and he worked the stage pretty well. It's just unfair that his parting shot, his last chance to win this competition, is with some awful ballad that Taylor Swift would look down her nose at.
Grade
: B-
FINAL THOUGHTS
There is no reason that Adam should lose after that show. It was like watching a prizefighter in his prime beat down a tomato can in a warmup match. Just masterpiece, after masterpiece from Adam while Kris struggled to keep up.
Coming into the night, I thought Kris' larger voting contingent would carry him through, especially after Ryan's "Red State vs. Blue State" framing of the evening. After the actual performances, however, this election should be a landslide for Adam.
Image © Frank Micelotta / FOX
Story by
Andrew Payne
Starpulse contributing writer
Click here to follow @Starpulse on Twitter!