'American Idol' Shocker! Judges Use Save Rule To Keep Jessica Sanchez On The Show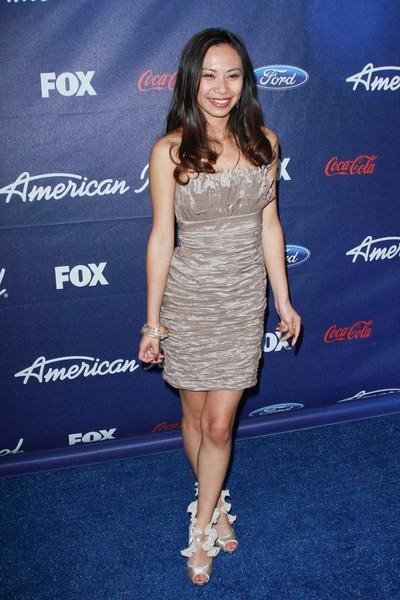 Jessica Sanchez was spared a much-too-early exit from American Idol last night thanks to the judges' save rule.

In a shocking turn of events, not only did Jessica land in the bottom three, along with Joshua Ledet and Elise Testone, but after host Ryan Seacrest told Joshua he was safe judges Jennifer Lopez, Steven Tyler and Randy Jackson looked on in shock and bewilderment.

Seacrest then informed Jessica that she was the singer who had received the fewest number of votes from the American public - forcing her to sing her "save song" with hopes the judges would use their loophole to keep her around for (at least) another week.

After announcing her fate, Seacrest handed her the mic and she began singing one last time; but Jessica barely got into her song before Lopez left her judge's seat, followed by Tyler and Jackson, and stormed on stage, pulling the microphone away from the teen singer.

"Give me that mic, this is crazy!" She screamed. "Yes, we're using the save, you ain't going home. Go sit down, go sit down, go sit down!" She added.

Seacrest then informed viewers that the judges only have until there are five contestants left to use the save (the night began with seven) before turning to Jackson.

"We are saving Jessica, without any doubt!" He said. "Let me just say this. For myself, Steven and Jennifer, this girl is one of the best singers in America! Ever!"

"Are you kidding me? Please everybody… Please vote for the best, it's about finding the best. I mean, come on!"

Jessica humbly said that she wasn't surprised with the night's results.

"I just do what I do and, you know, whatever happens, happens. And I just want people to know that I've been working hard my whole life," she said.

The judges save doesn't come without consequence, though - next week two finalists will be eliminated. The rule has been in play since the show's eighth season (2009).

On Thursday afternoon, TMZ.com reported that "one of the absolute favorites" to win would be voted off the show and that producers had been pushing the judging panel to enact the save.

"I think [America] thought she was safe," Jackson told MTV news after the show.

"I think they thought she was safe, I'm sure, and I think they thought Joshua was safe because those two alone, with Colton and some of the others, have been the most consistent. So, you know, yeah, I think they just forgot."