'American Idol' Says Farewell To Janelle Arthur – Top 4 Finalist Emerge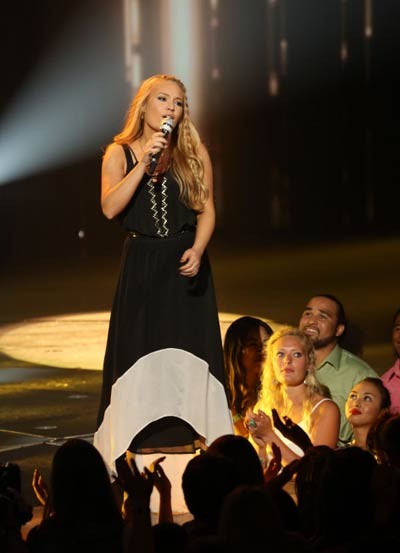 Janelle Arthur was eliminated from American Idol, becoming the first top 10 girl to be eliminated from the singing competition – narrowing the field down to the final four.
The 23-year-old southern belle came to the end of her Idol journey after receiving the lowest amount of votes among a talented group of hopefuls.
The Tennessee native won over fans for her classic country voice and bubbly personality, and she proved that her unbeatable attitude would get her closer to her dreams as a professional singer.
Arthur had previously auditioned for Idol in season 10, where she was cut in the group round, and in season 11, where she made it to the Las Vegas round.
After singing her final song in the competition, the judges opted not to use the season's one save to keep her in the contest despite a two-two split among the panel, and ultimately sent Arthur home.
The show also welcomed back familiar faces to the Idol stage as season two runner-up Clay Aiken performed a special version of one of his finale songs, Bridge Over Troubled Water.
Season three champion Fantasia Barrino gave an emotional performance of her new track Lose To Win, which brought all four judges to their feet.
Also sitting in the audience were Barrino's season three co-star LaToya London and season six champion Jordin Sparks, who was the last female to win the Idol title.
There was also a touching moment between current hopeful Candice Glover and one of her personal music heroes. On Wednesday Glover gave a jazzy yet soulful version of former Idol judge Paula Abdul's massive hit Straight Up.
Abdul surprised Glover by returning to the Idol stage and praised her for doing her song justice.
Abdul gushed, "I've been watching this remarkable young lady captivate the audience week after week. Candice, I was really moved  that you shared your beautiful vocals on a song that's been a best friend to me. I'm the biggest fan (of yours) ever."
The top four females, Glover, Angie Miller, Amber Holcomb, and Kree Harrison, will return next Wednesday, as they take on the fan-voted theme of One Hit Wonders, and a song of their choice.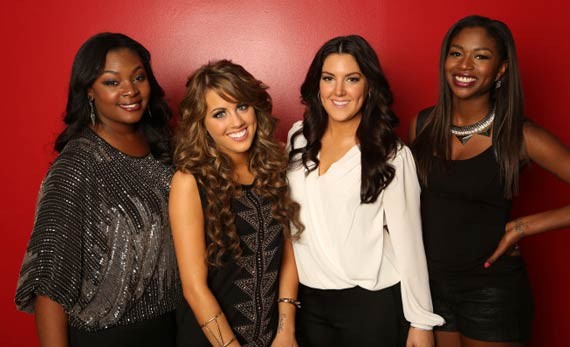 AMERICAN IDOL: TOP 4: L-R: Candice Glover, Angie Miller, Kree Harrison and Amber Holcomb.