'American Idol': Rockin' The '80s

Or maybe humiliation sprouted off the stage and from recent news feeds in magazines and newspapers. Earlier this week, David Hernandez's former job as a male stripper in Glendale, Arizona sprang up on Internet sites all over the nation. Despite the news leak, David continued to perform on Tuesday night and received rave reviews for his rendition of
Celine Dion
's "It's All Coming Back to Me Now." Ironically, his past has caught up to him but given the benefit of the doubt, hopefully America will judge him on his singing ability and not on his extracurricular activities.
Following the themed timeline, the contestants performed songs from the 1980s, a decade that produced some of the most outlandish outfits, crazy hairstyles and outrageous make-up. And why is it that
Paula Abdul
cannot seem to form a complete cohesive sentence? When she is able to sputter out sort of semblance of a comment, why point out the contestant's appearance rather than their performance? I thought this was a singing competition.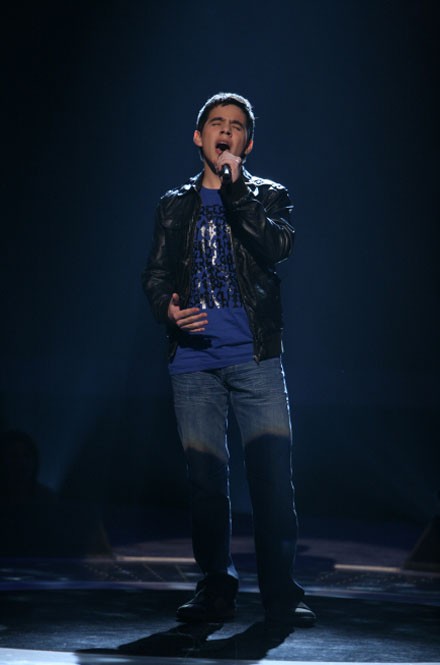 Amanda Overmyer's performance last week-- complete with a wild outfit and teased hair-- not only scared away the judges, but the audience as well, who placed her in the bottom two during elimination night. This time around Amanda donned a more eye-appealing outfit as she convinced all three judges she deserved to be in the competition. Maybe the "charisma" that Simon is looking for doesn't lie in the outfit, but rather in the performance. No matter what you're wearing, if you can sing the phone book like Carly Smithson, that's all that matters.
On the flip side, David Archuleta will with out a doubt be in the final two. Of course, this all depends on America's voting ability. David Cook and Jason Castro stole the show Tuesday, while Brooke presented a unique and contemporary version of
Pat Benatar
's "Love is a Battlefield" last night. Even Michael Johns kept my attention by taking me back to the good ol'
Breakfast Club
days with his rendition of
Simple Minds
' "Don't You (Forget About Me)."

As time passes, each year brings change and growth. The 1980s represented a memorable era full of music, laughter and fun. While some seemed to grasp the style of that time period, others struggled to connect. Tonight, "American Idol's" Top 12 will be decided. Four more contestants will find themselves packing their bags. Based on the judges' comments and each contestant's overall performance, the four singers heading home tonight are most likely Kady Malloy, Asia'h Epperson, Chikezie Eze and Luke Menard.
Story by
Kathryn Sparks
Starpulse contributing writer