'American Idol Results: MK Goes Home + Power Rankings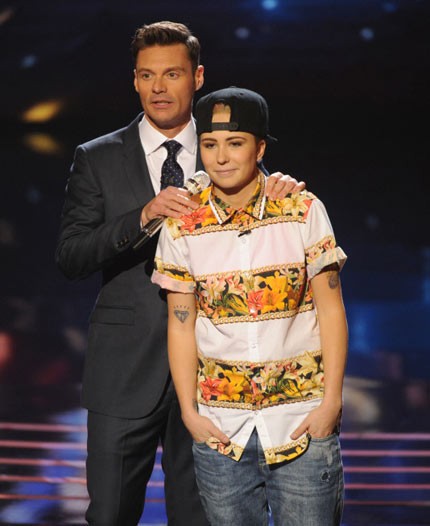 In showbiz, it's all about confidence.
MK Nobilette had one of the most unique and wonderful voices ever on this show. A deep near-lady-baritone was something out of New Wave heaven with remarkable purity. Vocally, she had the chops of a winner.
But singing only gets you so far.
Clearly out of her element in front of a massive audience, MK never seemed comfortable onstage. She was hesitant and nearly bashful as she ambled around the proscenium like a baby kitten first greeting light.
That mess of borderline stage fright rendered her vocal talents moot as she was unable to truly harness her instrument as her nerves held her so painfully back. It's a total shame that somebody of MK's talents had to leave so soon, but inevitable based on her ability to perform.
MK's ouster wasn't the only tragedy of last night's show. Harry brought a band on whose name I can't recall and certainly won't need to given the ability they showcased. Even worse was whatever non-song J-Lo sang.
Let's just move on...
Power Rankings
1 (3) - Alex Preston
I'm now starting to believe in Alex. He's the best of all the guitar dudes on the show this year, so it only makes sense that he should win. Of course, that assumes people vote based on quality anymore.
2 (1) - Deter Roberts
A bottom-two this week for Dexter is more a product of his performing so early in the show. It's just so hard for anybody to overcome those early spots. His country strategy is going to carry him very far and likely to the finals no matter what.
3 (2) - Sam Woolf
In the pimp spot this week, he was never in any danger, so his making it through doesn't mean much. Just like his bottom three didn't mean much last week when he led off the show. As the cutest guy with a guitar he's destined to go far, but as the least talented he's likely to get beat.
4 (6) - Malaya Watson
The tiny girl with the huge voice has the best potential to beat one of the guitar dudes, but also has the best potential to flame out on any given week. She's the true X-Factor on this show.
5 (4) - Caleb Johnson
Caleb's starting to look like he only has one move and it's starting to wear thin with the judges. America will likely follow in a week or two.
6 (5) - Pink Hair
Will she ever sing country again? Or will she just flame out like every rocker chick in the last half-dozen seasons? It's starting to look like the latter.
7 (8) - CJ Harris
CJ just isn't going to last long on this show. He's looking like the least popular of the guitar guys despite never having hit the bottom three. His problem is that he's so unassuming that once he hits the leadoff spot on a show, he'll likely end up forgotten and it will show in the voting.
8 (9) - Jena Irene
She's starting to become more than just the contestant I forget exists every week, but it's really just a start at this point.
9 (7) - Majesty Rose
Two straight trips to the bottom three and she's starting to look like the next singer out. She's just not catching on at this point. Though, as we usually see, she'll probably bounce back and stick around one more week before she ultimately goes home, but it doesn't matter: she's not making a deep run.