'American Idol' Recap: Zoanette Is Queen Of The Girls' Jungle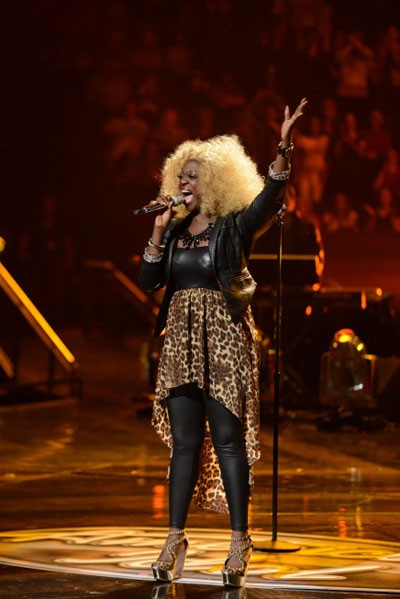 Really, everything I write, and everything that happened last night, is just a prelude to Zoanette. So let's not waste any more time and get right to it.
Melinda Ademi Sang "Nobody's Perfect" by Jessie J
Keith Said: I really loved that performance.
Nicki Said: All I could think of was Angela's performance. I liked it. I didn't love it.
Randy Said: I don't know if you had enough big moments in there.
Mariah Said: I didn't think you found your voice, but I know what you can do.
The Verdict:
So Melinda comes out in anoutfit out of an 80s aerobics class with the boots of a dominatrix and struts around the stage like she's trying take corrective measures against scoliosis.
Her voice is basically non-present as you can't understand what she's saying or really hear it. Like she's doing the Rob Brydon tiniest man in the world trapped inside a box routine and desperately trying to break out of it. She never did. It took me until the end of the song to even figure out what it was – and we just heard it last week.
Grade: D
Result: GONE
Candice Glover Sang "You Make Me Feel Like a Natural Woman" by Carole King
Keith Said: There's something about your voice. You're a natural singer.
Nicki Said: It boggles my brain that you didn't make it past Vegas last year.
Randy Said: That wasn't your best performance, but it was really good.
Mariah Said: Very nice. Very nice.
The Verdict:
This is a pretty solid performance, but pretty ordinary. She sings with a solid soul voice, but isn't quite a blowaway and this song really needs that blowaway voice.
It will be interesting to see where she goes from here, because it felt like she was maxing out and still unable to really get over the top. She was right there. Right there so many times with the big moment pending, but never quite cashing in.
We'll see if she's capable of it going forward, but she definitely needs a little something else to add to what we just saw.
Grade: B
Result: SAFE
Juliana Chahayed Sang "Skyscraper" by Demi Lovato
Keith Said: You struggled with pitch, but there's a purity about your voice and tone.
Nicki Said: You are one of the only people that has a signature sound to your voice.
Randy Said: I like the honesty of your delivery.
Mariah Said: There was an angelic quality to your voice.
The Verdict:
Julia comes out flashing a really rocking tone – perfectly suited for that indie folk rock thing she seems to be bent on cultivating for herself, complete with the Phillip Phillips guitar.
She does a cool slowed-down version of a Demi Lovato pop tart, stripping it bear and finding a cool connection with the tune, but she overdoes it too much at times. Too breathy, too dramatic, not as authentic as she wants to sound as she fails to get out of her own way.
She definitely has the foundation to be great, and if she can eliminate the nerves and the overly dramatic flourishes going forward, she can be great. Too bad she won't get the chance this season.
Grade: B-
Result: GONE
Jett Hermano Sang "Only Girl in the World" by Rihanna
Keith Said: You brought out another level sexiness in the song.
Nicki Said: I thought it was going to climax to something but I never felt that.
Randy Said: I thought you were gonna wear it out vocally and I was like where was it?
Mariah Said: I think you're very intriguing.
The Verdict:
Jett may be overdoing it a bit with her cabaret smoke-lounge version of a cool pop dance song and it does not have the impact she's looking for just because it sounds like she should be singing it lying across the piano rather than playing it.
She also can't get out of her own way by singing a run on every note and over exaggerating the dramatics again. Why can't she just sing the melody? Why can't she just feel a connection with the song?
Normally when you rework a song it's to put your spin on it. Here it was so calculated and sucked the fun and soul out of it with a cabaret reworking that belongs in a lounge rather than on a stage.
Grade: C-
Result: GONE
Cristabel Clack Sang "No One" by Alicia Keys
Keith Said: I thought that was really really good song for you. You have unlimited potential.
Nicki Said: I liked that song for you, but the rasp got a little bit out of control.
Randy Said: You were on point. I love the rasp.
Mariah Said: You can fit into any situation vocally. I would love to hear a little more of you doing what you do.
The Verdict:
At the beginning of the song, before the groove kicked in, I could have sworn she was fighting a cold. Or just smoked fifteen packs of cigarettes the way old-timey baseball announcers would do before a game to roughen up their voices.
She settled in a bit with the groove, but never broke out of being a soundalike with the typical "let's sing way too many runs" thrown in for good measure. She overdid it with that and especially at the end with the vocal gymnastics of somebody who doesn't know what they're doing and trying to make an impact.
It never quite came together.
Grade: C-
Result: GONE
Aubrey Cleland Sang "Sweet Dreams" by Beyonce
Keith Said: I love the balance you have of poise and fire.
Nicki Said: I am obsessed with you. For the first time, someone came out here sounding like a current artist.
Randy Said: You look amazing. You command the stage. I feel like you have the whole complete package.
Mariah Said: I think you're limitless.
The Verdict:
There's a lot of problems with this performance. The arrangement just sucks everything out of the song. I don't know why you'd choose to slow it down like that, but it really just turns it into a dud.
Aubrey doesn't help it out with a dreary vocal that sounds like it should only be used for a funeral in the rain. I kind of expected to look up to see people in umbrellas under the stage and an open casket.
It just all kind of stayed in second gear the whole way and never got to where she should have take it. It's clear she can sing she just needs to stretch it out more next time.
Grade: C-
Result: SAFE