'American Idol' Recap: What Did You Think of the 'New' Show?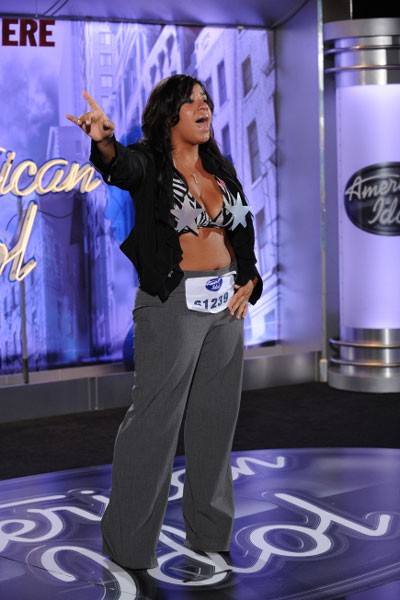 In what is, without a doubt, the most anticipated season premiere of a show since we got to find out what was in that Hatch on "Lost", "American Idol" returned last night with two brand new judges and no more of the man who made the show a television landmark – Simon Cowell.
And the question everyone's been asking: How's it going to be without that snarky Brit? Last night, we finally got the first part of a season-long answer. And y'know what? So far, so good.
There's certainly a different tone to this season's first audition episode. Gone is the goal of eviscerating those who cannot sing, and front-and-center is the joy of watching a contestant blow away the judges – clearly Susan Boyle has had an impact on the revamp of this show. So much so, that an hour on, I can't even recall one of the bad performers.
With this new judges panel, that's certainly the best choice. Nobody wants to play the villain role here. Instead, each judge simply seems happy to be there. Randy because he managed to keep his job, J-Lo because she's taking her job of shepherding talent as something of a divine right, and Steven because he has the potential to be a slightly more lucid Paula. With this crew, negative just wasn't going to seem right.
The tone shift isn't the only difference with this new panel of judges. The other major difference we see is how little the judges call attention to themselves individually. This new approach sees them working together as a unit to evaluate the singer rather than taking turns bloviating as if what they're saying is more important than the singers.
This means the focus is more on the singers. This may prove to be a risky maneuver as the talent pool on the first audition show was decidedly shallow. When the blowaway singer was a 16-year-old who will never be able to handle a big song, then that's something of a problem. So is the fact that the judges let a staggering 51 singers through to Hollywood from this first Audition show. At this rate they'll have over 300 mediocre singers to sift through once Hollywood week rolls around. That could prove something of a task.
But that's a problem for another day. As for the show so far, everything appears to be okay in the land of 'Idol'. We got our Seacrest, we got our weepy backstories, we got families jumping up and down with golden tickets held aloft – basically we got everything about 'Idol' to which we've grown accustomed. Just without the snarky glower of Simon.
At this point, this felt sort of refreshing. While Simon has always been a compelling figure, it never seemed like he was missing at any point during the proceedings. It could be because he mailed it in last season as he doodled "American X-Factor" on his notes sheet or it could be that his schtick had run its course. Whatever the case, the sense of encouraging teamwork from the judges seemed like the right fit for right now. And not having to listen to Kara drone on about nothing in particular was the welcomest of subtractions.
So 'Idol' fans needn't fear. Their beloved show has been left relatively intact. The changes are notable but they're more in tone and vibe than anything purely tangible. For the most part, this simply felt like an episode of 'American Idol'.
And with that, it's time to stop reviewing the show as a whole and start reviewing this season's main focus – the contestants. So check back tomorrow for the typical 'Idol' audition round recap and we can go forward from there.
In the meantime – what did everyone else think of the new judges and the new feel of the show?