'American Idol' Recap: Was This The Most Boring Finale Ever?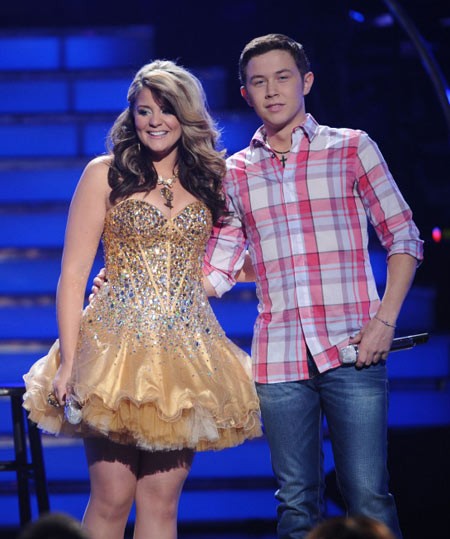 The most boring finalists ever. That seemed to be the conventional wisdom going into the evening. That, despite a strong start, this season of 'Idol' was destined to fall into oblivion with two dull finalists that wouldn't be able to deliver the finale this Renaissance season deserved.
Yes, that might be true. It may have been more interesting to see James square off against Pia or Jacob take on Haley, but that doesn't necessarily mean this is the most boring collection of contestants ever, does it?
Here's a ranking of finale pairings from least boring to most boring:
9 (Least Boring): Season 1 – Kelly vs. Justin
To me, these are still two of the five best contestants ever on this show and made for the most dynamic finale pairing of all time. I'm still surprised that Justin Guarini never made it into a bigger star.
This was when 'Idol' first made its big change. The first three seasons you had to be a pop singer to make it deep. Here we had a rocker and a country star batting for the big prize. A very unique combo that made for a lot of fun.
Anything with Adam Lambert is going to make a run for the top of the 'most entertaining' pile. It's too bad he went up against frat-boy crooner Kris Allen who went on to star in many-a-car commercial.
This was when 'Idol' really exploded and probably the only finale that was an absolute toss-up. I don't remember there ever being quite as much buzz going into a finale and while the pair may not be that great on their own, the hype surrounding them certainly made them one of the more entertaining duos.
Ah, remember little David Archuleta? Of course you do. He was the most exciting boring contestant ever. If that makes any sense. Pair him
4: Season 5 – Taylor vs. Katharine
This finale was always an afterthought. This was 'Idol's' biggest season and was more remembered for Daughtry's early exit than anything else. These two contestants didn't help matters with the gray-haired howler versus the pretty non-singer not really making for much excitement.
3: Season 3: Fantasia vs. Diana
Isn't it weird that Diana DeGarmo came within 2% of actually winning 'American Idol'? I guess that just shows home forgettable both these contestants were.
'American Idol' was in panic mode after this one and with good reason. We got the less-talented and less-charismatic version of David Cook vs. a subway busker. Neither of whom exactly screamed "Idol".
Jordin was all right if a bit ordinary, but just having Blake on any finale instantly puts them as the worst pair ever. After all, Blake's strongest musical tool was his ability to beat box. And I'm sure that sentence just made you say, "Oh yeah, that guy."
So how did this year's final two rank in this pantheon? Closer to a Kelly/Justin or in the beat box doldrums of Blake-ville? It won't truly be known until after their final performance show and you'll have to read on to find out the final verdict…
Random Thoughts Waiting for the Actual Show to Start:
What a way to begin! A non-charismatic doctor sharing personal medical information about Lauren Alaina
The 'Idols' own Idols will choose segment: Seems like a cool idea but at first I thought he said the "Old Idols" will choose meaning that the other finalists would vote on which song they thought each contestant should sing. Wouldn't that be awesome? Kind of like a Survivor jury system for this show? And if somebody picked 'You're Having My Baby' for one of the contestants you'd know they were all out to sabotage him or her. Oh the scandal!
And, for the last time this season, here we go…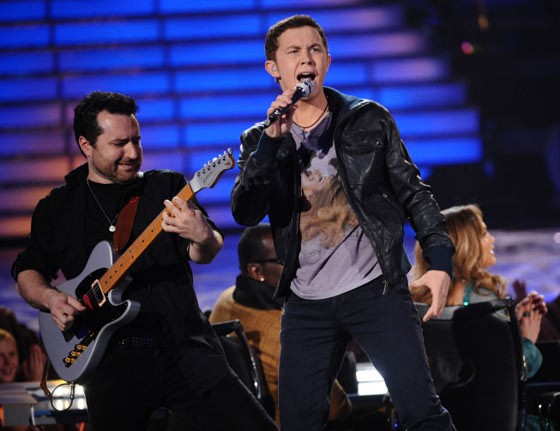 Scotty McCreery's First Performance: "Gone" by Montgomery Gentry
The Verdict:
This is not the song I would have chosen if I were Scotty. It does not showcase his country crooner strengths in any way at all and actually forces him to step far out of his register and strain for much of the chorus.
The other problem with this song is that it's one of those lyrically quick songs like the pre-refrain in 'You Oughta Know' where it's more about spitting out the lyrics than it is about actual singing. This is great for a catchy number on the radio but it doesn't serve a singing competitor well at all.
The performance itself really wasn't anything much. It almost seemed like Scotty's victory lap before the show had even begun. He just came out and sang through it in as lazy a way as he could without actually falling asleep on stage. This is how he chooses to lead off the final show? With a half-sung performance that sounded like he was singing karaoke at his high school graduation party?
This didn't seem like Scotty was trying to win – it seemed like he already thought he'd won. And this is just the first song.
Grade: D
Lauren Alaina's First Performance: "Flat on the Floor" by Carrie Underwood
Another mysterious song choice. Lauren has never done much with these "fun" songs as she always appears so nervous that she can't really lose herself in the way required to really rip into a party number like this.
She has that same problem here. It's not as glaring as she comes out like a house on fire really sinking her vocal chords into the opening lyrics, but once she hits a flat note she retreats back in herself and gets completely overwhelmed by the backing track. Just an incredibly flat and dull performance that does very little to demonstrate her vocal ability.
I'd write more but that performance must've been the shortest of the season by anybody.
Grade: D
Round One Winner: Nobody
Two lame performances and not even a word from the judges. What was the point of even trotting through those songs again? Just play the old videos.
Scotty McCreery's Second Performance: "Check Yes or No" by George Strait
Steven Said:
J-Lo Said:
Randy Said:
The Verdict:
And here's a vintage Scotty performance. Except without all that pesky charisma and ability to connect with the song.
Yes, Scotty sounds great here and is in his full on country rock star mode with the guitar at an angle and his hands held high when he needs to hear a scream, but he doesn't do much else beyond that. This was the type of vocal an old pro delivers when he's been handed a song by a loathsome record executive to record as the last throw-in track on his album: He's got the pipes so it'll sound good, he just won't seem interested in what he's singing.
And that's the vibe I got from Scotty here. Maybe he resented George Strait's choosing this song for him. Maybe he thought there were dozens of other country songs that would allow him to better stretch out his deeply smooth pipes. Maybe he's sick of performing and just wants to go home and sort his collection of plaid shirts by color. I don't know.
Whatever it was, Scotty was unusually distant in this performance and while his voice sounded fine, everything else was missing.
Grade: D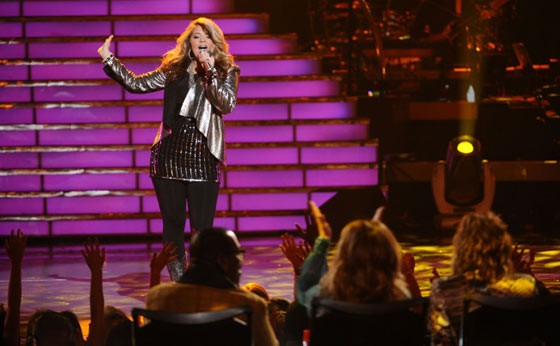 Lauren Alaina's Second Performance: "Maybe it was Memphis" by Pam Tillis
The Verdict:
Lauren started this performance so stiff I thought she'd been replaced by a mannequin. I was ready to just fast forward and give her an 'F' assuming that she just wasn't going to change her wooden style even on this big stage.
Then something strange happened: She stood up and turned into a completely different Lauren Alaina. Here was that Lauren capable of delivering a searing vocal and completely selling the song. She suddenly found a way to make a connection with the lyrics and it showed through in both her voice and her overall performance.
Suddenly I was watching a version of Lauren that was both entertaining and compelling. She hit some great runs and had some excellent raw moments in this song allowing herself to get messy with the country feel of this song.
Finally, a Lauren I can get behind. The type of singer who could create a few hits in Nashville. She still needs to take a few steps farther forward, but this was definitely the right direction for her.
Too bad she's just starting to hit that groove so late.
Grade: B
Round 2 Winner: Lauren
Scotty's boring performance is lapped by Lauren's solid effort.
Scotty McCreery's Third Performance: "I Love You This Big"
Jimmy Said: If Scotty brings his cool tonight, there's no reason that confetti doesn't fall on him.
Steven Said: You ran with it and you nailed it again.
J-Lo Said: I think you did an amazing job with that song.
Randy Said: That was a perfect song for you and a great range.
The Verdict:
Wow. What a terrible song. What an absolutely horrendous treacly piece of flat candy this song is. The hook is about as exciting as an algebra exam and the verses as sleepy as a pillow on Ambien. Just two minutes of utter boredom.
I guess Scotty does okay with it. His voice sounds solid and he does manage to make a connection with this record unlike his first two performances, but the song was so dreadful that it's very hard to judge him here. The one problem here is that the range is again too big for Scotty, but this time he doesn't make it seem too big, reaching for those high notes and occasionally hitting a few.
I don't think anybody could have made that song interesting. It's hard to blame Scotty, but I guess I'll just give him a…
Grade: C
Lauren Alaina's Third Performance: "Like My Mother Does"
Jimmy Said: This song will showcase her in her best light.
Steven Said: You are in my eyes the American Idol.
J-Lo Said: With that song you may have just won.
Randy Said: Lauren Alaina has arrived, America!
The Verdict:
I guess this song just has two notes in it. Two flat notes. At least that's what Lauren's vocal performance would tell us.
Seriously, Lauren didn't move but about four steps on the staff as she sang this song. Sure, a couple times she whispered those notes and a few other times she tried to belt them out, but this song didn't showcase any sort of range. Lauren just sat there in a very tiny comfort zone and yawned her way through the song with as little charisma as is humanly possible.
And it's a shame, because she was actually given a better song than Scotty, but made it much duller. That alone should cost her the title.
Grade: D-
Round 3 Winner: Scotty
By default.
Final Thoughts:
Before I wrap the show I must make mention of that heinous Taio Cruz song and the fact that his mic not only went out during the performance but they didn't find a way to correct it with an overdub for the West Coast Feed. Still, having the mic go out was probably the best thing that could have happened to this song.
And as for last night's show, I think the soothsayers were right – this was as dull a finale as I can ever remember. Five bad performances and one kinda good performance from Lauren Alaina. And that's it and that's all for the season. That's how we go out of a season that gave us Jacob's soul gusto, Pia's perfect pop voice, James' blowing up the stage, and Molly DeWolf Swenson's insane beauty.
But it wasn't just the singers that blew this show – the producers are very much to blame as well. Whose idea was it to basically eliminate the judges from the entire show? They only really broke down one performance and were pushed aside for Taio Cruz's technically flawed performance. And when they finally did get a chance to speak they predictably praised the somnambulistic contestants to no end.
Come to think of it, maybe this was the finale the season deserved, or at least the judges deserved: A microcosm of this season's theme of no matter how bad the song was, the judges would opt not to actually evaluate or criticize the singers but just think of another way to heap praise upon them. I guess that means it was always completely up for America to decide.
Speaking of which, I believe America goes for Scotty this week. I've had him on top for the better part of two months and see no reason that should change. But Lauren certainly made it interesting tonight.
What Did Everybody Else Think of Last Night's Show?